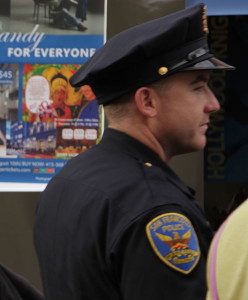 As you may remember, in January 2015 I requested some emails from the LAPD under
the CPRA
. After 11 months of inaction, noodging, and stubbornness, last month they finally produced
about 3%
of the records I'd requested, with the (so far unfulfilled) promise of more to come. I am
not the only one to have had this problem
.
Anyway, on December 21, it occurred to me to make experimental requests for innocuous records to various police departments around the state and then, depending on the results, write to the Los Angeles Police Commission about how other cities around California are, somehow, able to abide by the law. I abandoned that aspect of the plan because, as fate would have it, the very next day a bunch of people sued the LAPD over their flouting of the Public Records Act, obviating the need for any letters from me. But the requests were still out there, so I let them ride.
Berkeley and Long Beach still have failed to acknowledge my requests, even though it's been 24 days since I sent them. This is in spite of the fact that Berkeley has a city-wide guide to CPRA requests and a far-reaching open government ordinance. The difference between Berkeley PD's nonresponsiveness and the LAPD's is that Berkeley has an administrative procedure to encourage city departments to follow the law whereas Los Angeles has nothing of the sort. I'm not going to go that route because I don't have time, but it's nice to know it's there. I don't know exactly what's up with Long Beach, but have no plans to press them.
However, the City and County of San Francisco, which also has a sunshine ordinance (the League of Women Voters thinks it was the first such municipal statute), followed the law scrupulously (with one minor lapse). I asked for the last 100 emails between the SFPD and the Union Square BID. And here is what they sent. They didn't supply them in the native format I requested, which they're required to do by law, but even here they did better than the LAPD. I'll describe the interesting formatting compromise they (unilaterally) made after the break. Again, LAPD and the rest of the City of Los Angeles have a lesson they could learn from this.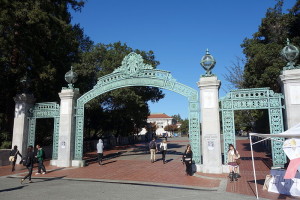 Obviously, I don't know enough about what's going on up there to interpret this material, but I did spot at least one quite interesting item. On November 10, 2015,
Sasha Feldstein
, of the
Goldman School of Public Policy
at Cal emailed Union Square BID
Executive Director Karin Flood
thusly:

Dear Karin Flood:
I hope this email finds you well. My name is Sasha Feldstein, and I am writing on behalf of a student group at the University of California Berkeley, School of Law's Policy Advocacy Clinic.
We are conducting a survey of the Business Improvement Districts in California in an effort to better understand BID formation and the services that BIDs provide to their communities. As a representative of a California BID, we hope that you will be willing to participate. We anticipate the survey taking no longer than 10 minutes to complete.
We may use survey responses as the basis for a future report, and we will be happy to share our data results with you so that you can better understand the landscape of BIDs in California.
Please click here to take our BIDs survey. We will be collecting responses until COB Friday, November 20, 2015.
Thank you in advance for your participation, and we look forward to receiving your response. Should you have any questions, please do not hesitate to contact me at sfeldstein@clinical.law.berkeley.edu
Best,
Sasha Feldstein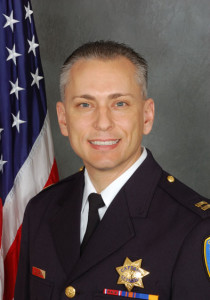 It's interesting to know that people at Berkeley are studying BIDs, but what's even more interesting is Karin Flood's response, which was to forward the email to Captain David Lazar of the SFPD to ask him:

Dear David:
Is this the same group that was contacting you about emails?
Karin

This is too far off track for me to pursue, but it's interesting mainly because in late Fall 2014, soon after I started making CPRA requests in support of this blog's research, our own Kerry Morrison emailed Hollywood LAPD Peter Zarcone a number of times to discuss my requests.1 I guess it's a BID thing?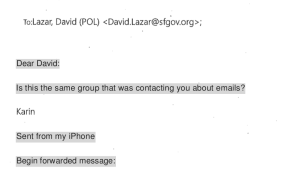 The most interesting thing about these emails (after the fact that the SFPD supplied them so quickly and so cheerfully), is that even though they clearly printed the emails onto paper, as does the LAPD, they not only scanned them into PDFs for me, but also ran those PDFs through optical character recognition software before producing them. This makes (at least some of) the text recognizable to search tools and also makes it selectable, as shown in the image. OCR is not perfect, e.g. you can see in the image that the software has missed the word "Karin" in the text, but it seems to at least be an attempt to comply with the law. It's not sufficient, as it omits some crucial information, e.g. metadata and the contents of the BCC field, and adds extraneous confounding information, such as spurious linebreaks that foil the accurate use of the command-line batch processing search tools which are the only efficient way to study the huge numbers of emails involved in this kind of primary-source-based research.
A peek into the metadata of the PDF that the SFPD sent along reveals the software that they're using:

InfoBegin
InfoKey: ModDate
InfoValue: D:20160113134546-08'00'
InfoBegin
InfoKey: CreationDate
InfoValue: D:20160113134452-08'00'
InfoBegin
InfoKey: Creator
InfoValue: OmniPage CSDK 19
InfoBegin
InfoKey: Producer
InfoValue: OmniPage OCR Service

They're using an application called OmniPage Capture SDK 19. One of the most impressive features of this software is its automated redaction capability. This allows for "search and redact" and a host of other such things. Given that the LAPD not only insists on printing out requested emails to paper and redacting them with a marker but also uses the putative necessity of doing so as an excuse for their glacial pace of production, it's interesting to see that not only has this problem been well-solved (which I knew) but that the police department of at least one major city in California has implemented the solution. The LAPD really has no excuse, and neither does the Police Commission or the City of Los Angeles. All they generally seem to redact are phone numbers and other things that can be tagged with the use of the pattern-searching that software like OmniPage allows. If they ever do need to redact actual text that process can't help but be speeded along with the use of tools like this. That no city agency (to my knowledge) is using this software or its equivalent for fulfilling records requests provides even stronger evidence that, as I've argued in the past, their inability to produce documents is the result of a deliberate and illegal choice. This cavalier attitude towards the laws that bind all of us is particularly disconcerting in a police department.
I have a few of these emails, not yet prepared for publication. I'm currently waiting for some more requested material to arrive so I can understand more what was going on.
Picture of SFPD officer is via Wikimedia under the usual terms. Likewise for the image of Sather Gate. Image of David Lazar is probably in the public domain as it appears on an official SFPD website.