As we've
previously discussed
at great length, the palefaced economic elites of Los Angeles are all abuzz at the possibility that the City Council might legalize street vending of various kinds, an activity whose practitioners are, for the most part, not that palefaced. As part of their abuzzitude, the palefaces have produced
reams of frantic pearl-clutching hysteria
regarding the threats posed to truth, justice, the American way, etc. that would, they say, certainly ensue as a result of such legalization.
These white-privilege rage-rants, while mostly grounded in delusion and mental illness, occasionally contain valid and useful arguments. It can sometimes happen, as Albert Einstein said, that "a blind pig has found an acorn."1 A letter by Kerry Morrison, Executive Directrix of the HPOA, to Councilmember Mitch O'Farrell, is an example of this. Kerry argues that, amongst other reasons, street vending should not be legalized, at least not in Hollywood, because it "raises numerous questions that must be taken into consideration. For example, how will taxes and permits be enforced, especially given that this is a cash-only business?"2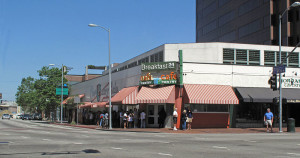 As an aside, this argument can also be used against iconic Los Angeles restaurants The Pantry, Nick's Cafe, and Philippe's. Will the HPOA soon be asking the City Council to shut down these landmark establishments?
In any case, Kerry also lists a bunch of other undesirable consequences that, in her view, are likely to ensue from the legalization of street vending. These are not all illegal, e.g. the horrifying prospect of the potential placing of trash into appropriate public receptacles, but they're all, says Kerry, "not something we are requesting in Hollywood." We will refer to these en masse as "Kerry Morrison's cogent argument."
In our previous post on this subject we mentioned that the city of Los Angeles has had some problems with the enforcement of "taxes and permits" regarding CIM Group, a real-estate investment conspiracy run by rich white people. There we discussed the whole John Noguez scandal and hinted at the difficulty of enforcing building permit terms and conditions against CIM. Subsequently we decided to do some further research on the subject, the fruits of which are the subject of today's post.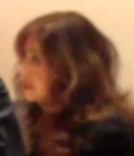 First, we have the 2008 incident in which CIM Group was granted a permit by the LA City Council to hang three so-called supergraphic billboards on one of its Hollywood office buildings.
4
Because of the difficulty of enforcing permits against them, CIM turned around and hung up six of them instead. Community Redevelopment Agency Board Member Alejandro Ortiz said about CIM's flouting of their permit that "[i]t makes me feel taken. Here we are working with these guys and…they've gone and completely disregarded what we agreed upon."
4
The Los Angeles Times called this incident "a symbol of the city's failure to gain control over unpermitted outdoor signs, even among companies that regularly seek financial help from the city."
4
That would be CIM Group, folks. The city of Los Angeles has failed to gain control over their unpermitted signs. Ban CIM Group from Hollywood, says Kerry Morrison's cogent argument.
Next we have the affair of CIM Group and CalPERS, California's public employee pension plan. See, CIM Group is an investment firm, just like Bear Stearns and friends, proximate causes of the 2008 world economic meltdown. So they need to get investors to give them money. Perhaps potential investors are reluctant, so CIM pays middlemen astonishing amounts of money to funnel moola into their funds. For instance, in 2009, investigations by the Securities and Exchange Commission and the California State Attorney General revealed that between 1998 and 2000, CIM paid close to $10,000,000 to Alfred J.R. Villalobos, former CalPERS board member, for his help in directing $405,000,000 into their coffers.5
Villalobos's son, convicted felon6 Alfred Nash Villalobos, was also "involved" in this transaction with CIM.5 Part of the payment consisted of a sweetheart loan to Villalobos père to allow him to build an over-9000-square-foot mansion in Lake Tahoe.7 As a result of this investigation CIM Group agreed to cut its fees in order to "to compensate CalPERS for any costs it may indirectly have paid because of the large commissions paid by investment partners to placement agents."7 Yes, OK, there are no problems here with enforcing taxes and permits, but at least with street vendors the city of Los Angeles will almost certainly be safe from this kind of possibly legal but certainly corrupt corporate crony capitalism. Ban CIM Group from Hollywood, says Kerry Morrison's cogent argument.
OK, enough detail. Our case is made. We'll leave the interested reader to investigate on her own CIM Group's subversion of John Perez through hefty donations and fees, CIM Group's shady dealings with investment banker Elliot Broidy, Antonio Villaraigosa's plan to divert public parking garages to CIM Group while accepting huge campaign benefits from them, CIM Group's subversion of Huntington Beach mayor Dave Garofalo which, when exposed, caused Garafolo to agree to recuse himself from any matters involving CIM Group, CIM Group's nomination by the L.A. Weekly as Hollywood's Richest Slumlord, an extremely questionable $30,000,000 loan from the City to CIM Group, shepherded through by then-Council-President Eric Garcetti, and on, and on, and on. Ban CIM Group from Hollywood, says Kerry Morrison's cogent argument.
Truly, as Albert Einstein said, it is foolish of anyone to imagine that "the dishonesty and covetousness of his countrymen could be restrained by written laws, which were like spiders' webs, and would catch, it is true, the weak and poor, but easily be broken by the mighty and rich."8 The only solution is to ban CIM Group from Hollywood, says Kerry Morrison's cogent argument.
P.s. As Albert Einstein said, "if you don't have anything nice to say, don't say anything at all."9 With that in mind, we'd like to mention that Kerry Morrison's letter contains some writing that's of far higher quality than average in the white-privilege-rage-rant genre. For instance, in closing, Kerry tells Councilman Mitch that "[i]f there are parts of the city clamoring for this amenity in their neighborhood [sic], then we encourage the city to resurrect the original vending district ordinance that was created in 1994."
We're pretty sure that Kerry uses the word "amenity" as a sarcastic reference to legalized street vending, and we congratulate her on avoiding the gauche temptation to beat her readers over the head with her wit by using scare quotes, something that's evidently irresistable to some of her equally-wrong-but-far-less-cultured compatriots in the antilegalization "community," e.g. self-proclaimed downtown resident Dawn Davis. Subtlety goes a long way in good writing and, despite our best instincts, we do appreciate literary form apart from substance around here. Good work, Kerry!
OK, it was actually Friedrich Schiller.
The willingness of these people to just flat out make stuff up is, even after our long experience with them, simply astounding. Street vending is a cash-only business because it is illegal. Legalized street vendors would be able to get legitimate business banking services, e.g. access to mobile payment systems, and therefore take plastic. They will certainly rush to do so given that adding payment options will clearly increase their sales but as long as their work is illegal they are not able to do so. Examples of this can be seen everywhere in the world, and if these people ever left their limousines to eat street food like actual human beings they'd know this perfectly well. Their objection is made up, imagined, notional. A more honest version would go something like "we are rich white people and we disapprove of this proposal."
This footnote intentionally left blank.
THE REGION; At odds over huge wall ads; L.A. gave CIM Group permission to install three supergraphics on a Hollywood building; six went up instead. Los Angeles Times. February 20, 2009. David Zahniser. Page B3.
PENSIONS; CalPERS discloses more fees; The pension fund releases documents showing millions more paid by investment firms to a go-between. Los Angeles Times. November 5, 2009. Marc Lifsher. Page B1.
Lawyer Sentenced to Three Years in Federal Prison for Accepting Cash After Promising to Tamper with Grand Jury Testimony. Targeted News Service. June 21, 2012.
PENSIONS; CalPERS gets fee cut from partner CIM; The investment fund joins others in agreeing to stop using placement agents. Los Angeles Times. October 21, 2010. Marc Lifsher. Page B1.
OK, it was actually Anacharsis, quoted by Plutarch in his life of Solon, but really, who's counting?
OK, it was actually someone's mom who said this.
Image of happy smiling white people at CIM Group is not hosted here, but is rather displayed through a deep link under the theory that the United States Court of Appeals for the Ninth Circuit knew what the heck they were talking about when they decided Perfect 10 v. Google 508 F.3d 1146 (2007). If you don't agree, take it up with them, eh? The image itself, although used and hosted at CIM, is available through Getty Images. We assume CIM has its licensing in order. Wouldn't it be funny if they didn't? Image of the Pantry is released under the CC BY-SA 3.0 by its author, Downtowngal, and came to us Wikimedia. Image of Monica Yamada is ©2014 MichaelKohlhaas.org.