You can listen to the following words of wisdom, from John Irigoyen's security report to the Hollywood Media District BID at their meeting on October 23, 2014, concerning the situation described in
our first post
right
here
. This is a small part of that report along with a comment by Mike Malick at the end.
1
John Irigoyen: And last but least, a little disturbing but, you know, [unintelligible] and unfortunately because somebody made a complaint about my officers harrassing somebody my company got involved did a thorough investigation [unintelligible] did not see anything wrong [unintelligible] I'm still standing [unintelligible] my officers [unintelligible] for right now that's my report. [unintelligible] any questions?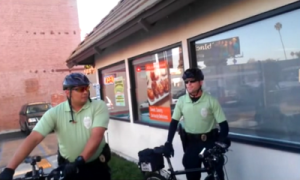 Mike Malick:
Uh, just a comment, I wish that all the times you've helped people in the BID also made it onto YouTube because I know first-hand when you came out to…uh…a property where there was…uh…what appeared to be…uh…a mentally unstable homeless person. Uhh…you actually knew him by name and said…uh…uh…you just can't do this and he kind of nodded and walked away with you like you guys were long-time…uh…uh…acquaintances and and it was turning into…uh…a pretty dicey situation because [
unintelligible
] and as you walked over and you were there in less than two minutes so I wish that sort of thing would would make it onto YouTube because I think that is…uh…something many of us have experienced [
unintelligible
]
To sum up: a mentally unstable homeless person is causing a disturbance. Captain John Irigoyen rushes to the scene with his boss, Mike Malick, or maybe Mike's already there. John knows the guy's name, calms him down, and leads him away. Then Sharyn Romano and/or her "crew" sweeps in and steals all his stuff. Just kidding about the pony, Mike, but your story's on YouTube!
John Irigoyen's entire report is available here.
Image of pony by Psychoanalyticbrony from Deviant Art. Used by permission with attribution as seen here.