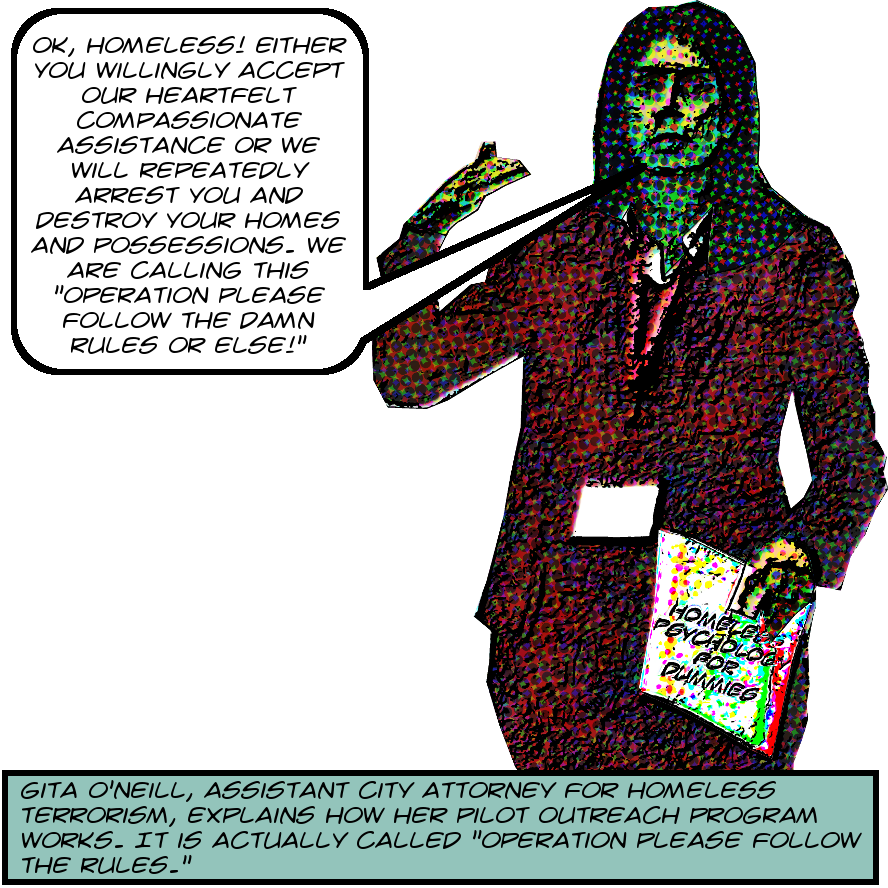 Services Not Sweeps is a coalition of dozens of Los Angeles area community organizations who are working for, among other things, the removal of LAPD from all City street cleaning initiatives. There are many reasons for excluding law enforcement officers from encampment cleanups. Police arrest people or do worse to them. The threat they represent, the linking of that threat with the service providers present, cannot help but discourage homeless residents from cooperating in the cleaning process, from taking advantage of the offered services.
Arresting people who are already suffering by being forced to live on the streets destroys any trust the arrestees, their families, their neighbors, might have had in the good intentions of the system. It destroys what might be left of their dignity. It is a bad, bad thing. These encampment sweep teams include not only LAPD, but LA Sanitation workers and other City officials, and the Los Angeles Homeless Services Authority is tasked with pre-sweep outreach. Outreach, at least ideally, consists of offering various social services to the encampment residents and, in theory, helping them take advantage of whatever help is available to them.
And I wasn't previously aware of this fact, but it turns out that at least sometimes the City invites private social services organizations to be part of the encampment sweep process. Two such groups are Cornerstone and The People Concern. These organizations' websites, well, they hit all the right notes. E.g Cornerstone talks up "clients develop[ing] trusting relationships with counselors" and TPC is all about "build[ing] self-sufficiency, restor[ing] dignity and help[ing] our vulnerable neighbors become contributing members of the community".
But these laudable ideals are belied by the fact that at least on some occasions both of these groups have been complicit in pilot programs, organized by the City Attorney's office, that attempt to coerce people living in encampments into taking their tents down during the day by actually "making services dependent on following this rule" and, with the blessing of the LAPD, immunizing them from arrest if they complied by taking down tents when told to do so.
These programs were evidently started because, in the thoroughly idiotic and offensive words of Assistant City Attorney Tamar Galatzan, "everyone was getting frustrated that the homeless people were telling outreach one thing and LAPD another". And in its inimitably totalitarian style the City Attorney seems to have called these programs "Operation Please Follow The Rules".
It's certainly difficult enough to gain the trust of people who, forced by circumstances beyond their control to live in encampments on public sidewalks, have seen their lives devalued by society, have been repeatedly abused and betrayed, criminalized and infantilized. And yet without gaining their trust it's impossible to help anyone, no matter what their housing circumstance.
It's easy to see what the City gets from the complicity of these private agencies, but it's impossible for me to understand what the agencies get from it. Which is why I don't explain these stories, I just tell them. And this one is told through a bunch of emails I got recently from the City Attorney's office. Read on for details and transcriptions!
Continue reading Emails From The Los Angeles City Attorney's Office Reveal The Existence Of Pilot Programs To Handle Homeless Encampments — Known As Operation Please Follow The Rules — (Not Making That Up) — That Literally Condition Provision Of Social Services On Taking Tents Down During The Day — Featuring The Direct Participation And Complicity Of Private Social Service Providers — Cornerstone And The People Concern — In This Project — Actually Agreeing To Withhold Services From Noncompliant Homeless People — And To Tell LAPD Who's Compliant And Who's Not — So That LAPD Can Arrest Noncompliers — And These People Wonder Why Everyone Lies To Them — Why Nobody Trusts Them — It's Pretty Obvious Why →