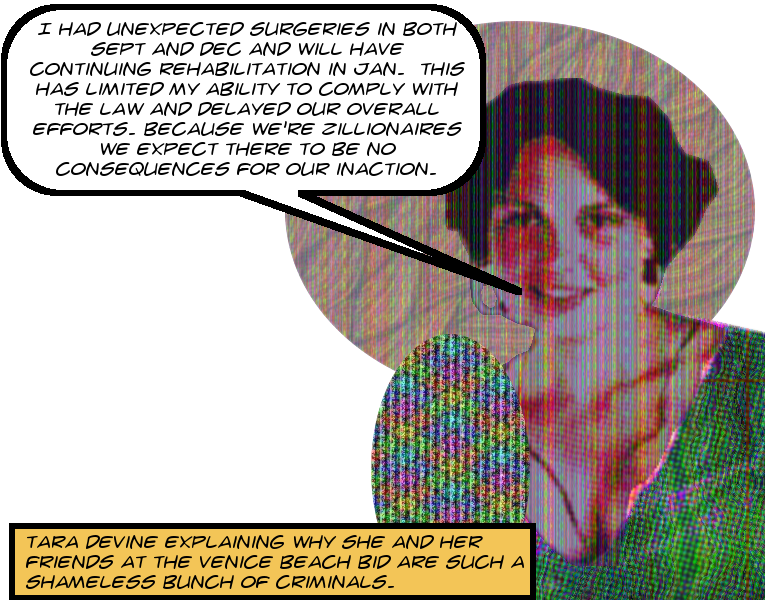 Perhaps you recall that the infamous Venice Beach Business Improvement District has been nonoperational for an entire year after the second-time's-a-charm reapproval by City Council, whose blindingly arrogant indifference to both law and decency necessitated this expensive and amateurish do-over.
Well, they're operational now, friends! Yesterday morning the VBBID CEO, AKA President-For-Life Tara Devine, transmitted in interstate commerce1 an announcement of the BID's first-ever meeting. Here are the documents involved:
The meeting is on Friday morning at 10 a.m. If you're able and willing to attend and film the entire meeting, which is your absolute right under the Brown Act, please do so, as various prior commitments prevent me from attending. If you'd like some tips on how to film Brown Act meetings effectively, please get in touch!
Meanwhile, turn the page for a critical analysis of selections from these woefully deficient documents as well as some special bonus info on how and why President Tara Devine and her co-conspirators are so arrogantly outlaw.
Continue reading Venice Beach BID To Hold First Public Meeting On Friday, January 5, Inaugurating Both A Quantum Freaking Leap And A Sea Freaking Change In The Illegal Freaking Bullshitization Of Venice — Please Attend And Tell These Shameless, Already-Being-Sued, Law-Flouting Creeps What You Think Of Their Nonsense — Also, If You're Able To Film The Meeting, Please Do So! →