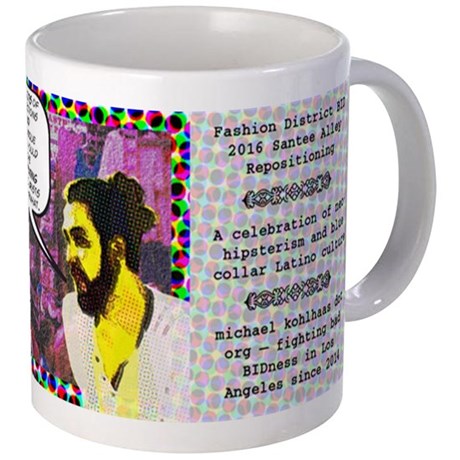 Well, yesterday's post on Santee Alley, neo-hipsters, Latinos, and lobster rolls has turned out to be one of our most popular items of 2017, so I thought I'd better make a coffee mug out of it.
And while I had the old coffee mug making machine fired up I thought I would also make another one commemorating the recent revision of the LA Ethics laws to include a duty to report. This mug features a stirring selection from LAMC §48.01:

1. City government functions to serve the needs of all citizens.
2. The citizens of the City of Los Angeles have a right to know the identity of interests which attempt to influence decisions of City government, as well as the means employed by those interests.
4. Complete public disclosure of the full range of activities by and financing of lobbyists and those who employ their services is essential to the maintenance of citizen confidence in the integrity of local government.

Turn the page for links to the full resolution image files used to make the mugs.