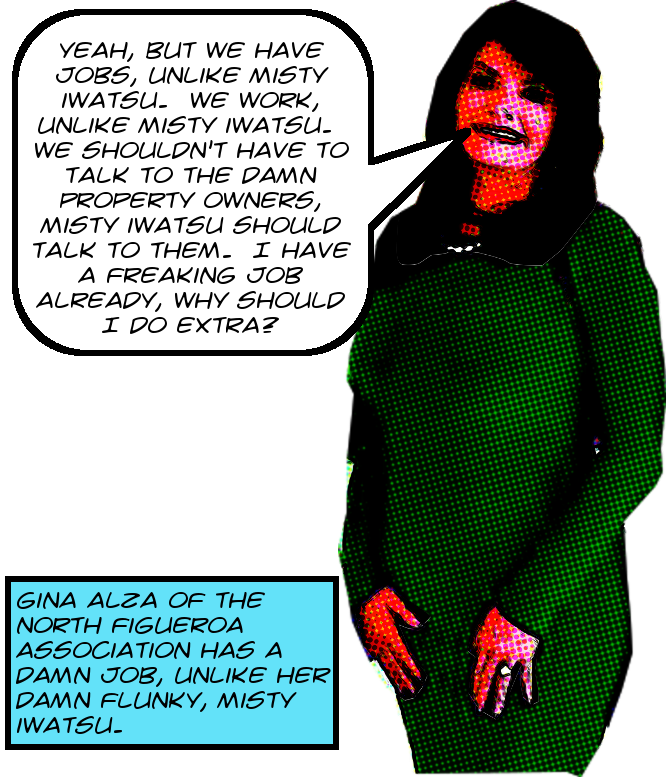 Oh, for God's sake! Yesterday the freaking North Figueroa Association called a special meeting.1 As always, I zooped out there on the good old 81 and videotaped the whole damn thing, and you can watch it here on YouTube or here on Archive.Org as you prefer. Here's the agenda that Misty Iwatsu distributed. There are only two items of business on there, which are:

a. Highland Park BID- Committee formed
b. Personnel- Employee Contract renewal- Committee formed

What's going on here, it's pretty clear, is that the NFA can't stand the scrutiny they've been under lately, what with ongoing activism related to their illegal destruction of public art, their über-creepazoidal Facebook stalking of people, their weirdo symbiotic relationship with Cedillo staffer Bill Cody, the world's oldest field deputy, who, e.g., "handles" the BID's enemies list, their slavering white supremacy and unconvincing denial thereof, their unprovoked attacks on street vendors, and so on.
And so, instead of reforming their outlaw ways like sane people would do, they've taken to canceling their regular meetings in a pathetic attempt to avoid mockery. But they do still have to get some business done, like e.g. Misty Iwatsu's contract seems to be expiring or already gone, and they have to handle the damn BID renewal.2 Hence, like so many BIDs around the City who can't stand the heat but won't get out of the damn kitchen, they've decided to cower behind a putative loophole in the Brown Act,3
And not only that, but these BIDdies are so astoundingly clownish that in this ten minute meeting they managed not only to violate the Brown Act about one and a half times,4 but also board member Gina Alza had a weird tantrum about how Misty Iwatsu ought to do all the outreach work for their BID renewal because the board members actually have jobs unlike, I guess, Misty Iwatsu? Anyway, turn the page for the details, both sordid and tedious, which is just how BIDology rolls, innit?
Continue reading North Figueroa Association Establishes Two Putatively Ad Hoc Committees In Transparent Attempt To Evade Public Scrutiny — It's Not Clear That Their Brown Act Loophole Theory Is Correct — And They Violated The Brown Act While Forming The Committees — Misty Iwatsu Explains BID Renewal Process To A Bunch Of Ignorant Board Members — Gina Alza Flips The Freakin' Frick Out When She Learns Misty Iwatsu Won't Do All The Work — Screams That She Has A Damn Job Already And So Do All The Other Board Members — Take That, Misty! →