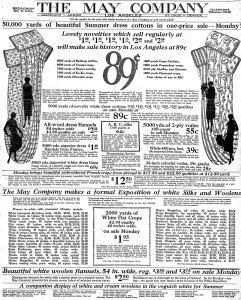 Yes, friends, it's true. Los Angeles, now the most ethnically diverse place in the United States,
1
was once known as "the great white spot of America."
2
Look at the
May Company
advert there to your right. Read the fine print:

White, the dominant note in the season's fashions! The cool, pure, fresh, tubable3 white, that will give such splendid service, and such satisfaction in this charming city of the Southland!
…
Trade and fashion journals have long predicted the vogue of white. Paris has acclaimed it! Los Angeles has accepted it! And the fad is on! Never could a fresher fashion predominate. White, with its cool freshness and Summery appeal, is particularly suited to Los Angeles, the great white spot of America.

You can't make this stuff up, although really, who'd want to?
Continue reading Los Angeles, the Great White Spot of America →