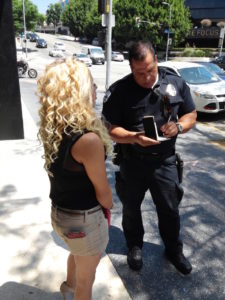 One of the most important consequences of
the Andrews International Hollywood BID Patrol's failure to register
with the Los Angeles Police Commission, as they're almost surely required to do, is that they evade enforcement of
LAMC 52.34(d)(1)
, which regulates uniforms and badges. It states:

Any badge, insignia, patch or uniform used or worn by any employee, officer, member or associate of a private patrol service, while on duty for said patrol service, shall be in compliance with State law. Any such badge, insignia, patch or uniform shall not be of such a design as to be mistaken for an official badge, insignia or uniform worn by a law enforcement officer of the City of Los Angeles or any other law enforcement agency with jurisdiction in the City.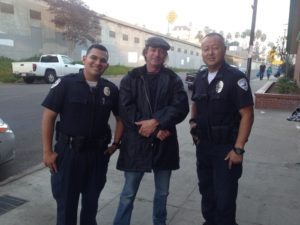 In this post I'm collecting and discussing a number of images of BID Patrol officers looking especially like police (all these images and many more can be
found on this new Archive collection
). The only differences between BID Patrol uniforms and LAPD uniforms seem to be that the LAPD doesn't always wear shoulder patches and the LAPD does wear nameplates. However, the LAPD is not the only Los Angeles agency that employs law enforcement officers.
There are also the
School Police
and the
Airport Police
1
and both of those agencies have uniforms with shoulder patches, and to which BID Patrol uniforms are also essentially identical. It's true that the uniforms of BID Patrol officers say "BID PATROL" in big letters across the back, but many police uniforms say stuff across the back. For this message to have the requisite effect, it's necessary to already know that BID Patrol officers aren't a kind of police. Also, the Hollywood Property Owners Alliance is famous for worrying about tourists who don't know that they don't have to tip street characters. Where's the analogous worry about tourists who don't know that the BID Patrol aren't police officers? Turn the page for many more examples.
Continue reading

Lots of Pictures of BID Patrol Officers Illegally Dressing Like Police Officers