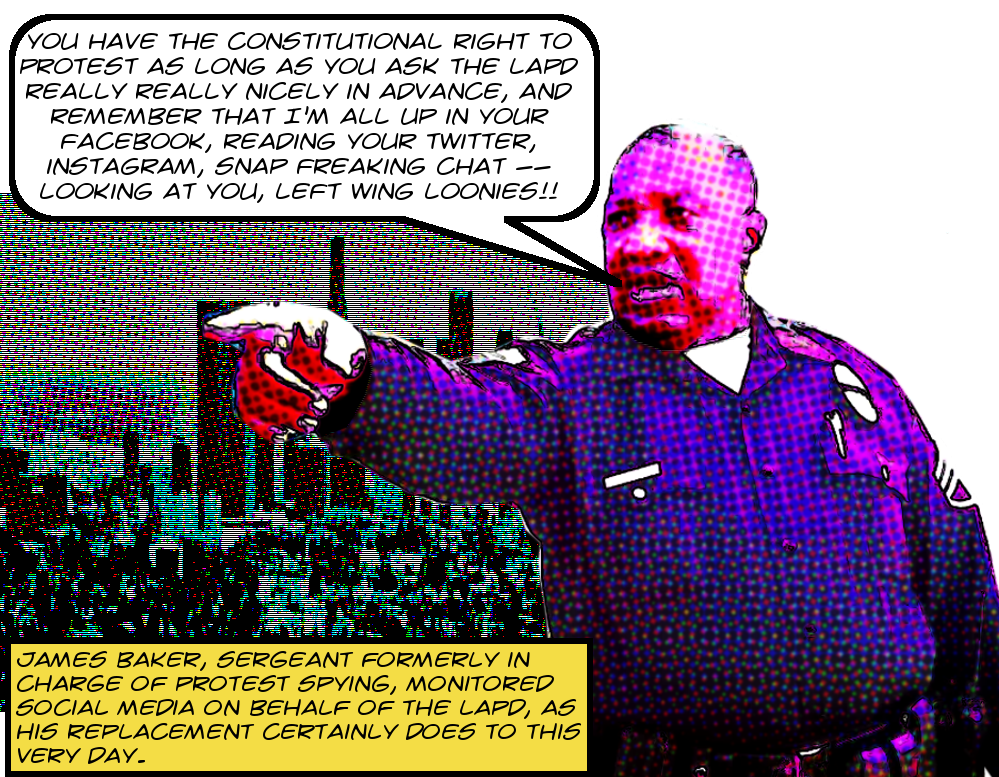 This is just a short note to discuss this email chain, which I recently received from the Historic Core BID as part of the fruits of a public records act request.1 It seems that last year, some group called Code Pink was planning a protest in Pershing Square on April 29, 20172 and they did not ask the permission of the LAPD. Even more interestingly it seems that the LAPD has officers dedicated to "monitoring social media" who track this kind of thing.
And one of them, James Baker, emailed a bunch of his fellow polices on April 22, 2017, to fill them in on the upcoming reign of anarchy Downtown. He mentioned explicitly that Code Pink was not cooperating with the LAPD, that there was no discussion of any civil disobedience, and that his officers would "continue to monitor social media for updates."
Also interesting is the fact that four of the recipients were with the Department of Homeland Security.3 Another was Senior Lead Officer Michael Flanagan, who turned around and emailed batty little fusspot Blair Besten of the Historic Core BID, Brian Raboin of the Downtown Center BID, and Banyon Hutter of Allied Universal Security.
The record doesn't show what,if anything, the BIDs did with the information, but it's worth keeping in mind that this is happening. If you're an activist, if you use social media to coordinate your events, don't forget that the cops are reading it too, the BIDs are reading it, BID security is reading it, and they're all coordinating with each other. Plan accordingly. Turn the page for transcriptions of the whole email chain and some additional discussion.
Continue reading Annals Of LAPD Spying — Sometimes Protesters Don't Get Permission From The Cops For Their Protests — And Sometimes The Cops "Monitor" Social Media To Uncover Protesters' Plans — And Sometimes The Cops Share This Information With The Department Of Homeland Security — Not To Mention With Business Improvement Districts — Who Are No Strangers To Creepy-Ass Social Media Spying Themselves — So Watch What You Say On Facebook, Friends, If You Don't Want A Bunch Of Unanticipated Cops Showing Up! →