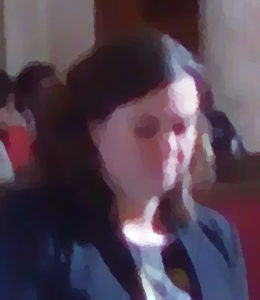 The
$80,000 woman
and famed co-conspirator of
shady contributors
and
City Attorney lawsuit targets
,
liar
and
sneaky deceiver
and
putter of words into Mike Bonin's mouth
and
subject of investigations
, shadowy BID consultant Tara Devine, was the guest of honor at Wednesday's meeting of the
third creepiest BID downtown
. Her appearance was recorded for this blog by an intrepid correspondent.
1
The background is that the South Park BID and its little mutant offspring the South Park II BID are going to merge next year. The process is essentially as complex as starting a brand-new BID, and Tara Devine is the consultant leading the faithful through the
slough of despond
City bureaucracy. The South Parkies are going to miss some mandated deadline, which will cause the first year's assessments to be billed and collected by the Los Angeles City Clerk's office rather than by the County Assessor.
And this so-called "manual billing" has various consequences for the BID's income that differ in various ways from what happens when the assessment is collected by the County of Los Angeles. You can listen here as Tara Devine explains one of these differences, which is a top-secret, not-to-be-advertised, not-advisable-to-broadcast, hitherto-unknown-to-anti-BID-theory hardship mercy rule. That is, for whatever reason, if the Clerk's collecting the money instead of the County, and the property owner has a problem paying, it can be worked out:
Continue reading Attention South Park BID Property Owners! Now Revealed!! What Shadowy BID Consultant Tara Devine Absolutely Does Not Want You To Know About Your Right To Defer Payment Of Your Assessment!!! As She Says: "It Is Not Advisable To Broadcast This"! "We Don't Like To Advertise"!! →