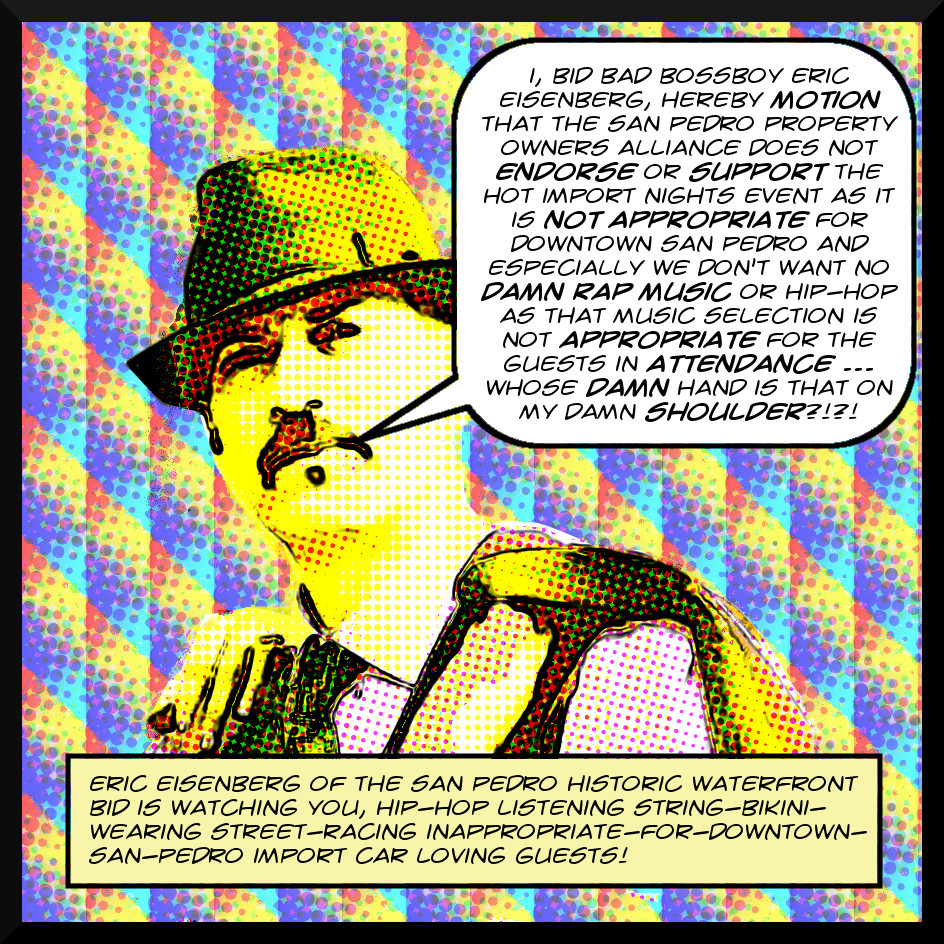 Once upon a time in 2016 an organization called Hot Import Nights was going to host a car show in Downtown San Pedro. This would seem to be a natural fit, since San Pedro is nestled between such motorhead meccas as Torrance and Gardena and Carson and Long Beach, famed hot spots of both formal and informal Southern California car culture due not in small part to the feverish and innovative automotive, aerospace, and marine manufacturing activities centered in the subregion for more than a century at this point.
But if there's a BID in the woodpile they're going to have an opinion, either puritanical, stupid, or both, on any proposed activities within their jurisdiction, whether it's any of their concern or not. And it's well-known to those who know it well that Downtown San Pedro is cursed by being chronically subject to the tender mercies of the San Pedro Historic Waterfront BID. And thus it is no surprise that the BID weighed in on the car show. And it's no surprise that they hated it. It's exactly the kind of thing that knee-jerk puritanical real estate minions will hate.
But what is a surprise is that they changed their little minds and came to love it. They loved it so darn much that they signed an MOU with it and agreed to lobby the City on its behalf. But there's no such thing as a free lunch and white supremacy will exact payment for any favors it bestows. In exchange for the BID's aid and comfort, the car show had to agree not to play any rap music or hip hop at their event, and a bunch of other, as weird but possibly less racist, conditions as well.
This unreasoned, or at least publicly unreasoned, hatred for all things insufficiently caucasian, is for whatever reason, a signature element of BIDolatry in the City of Los Angeles. Over the years we've uncovered, e.g., the fact that the Hollywood Property Owners Alliance really, really hates Chicano-associated art genres as well as music that attracts dark-skinned patrons. The freaking HPOA even hates Peruvians if they seem like they're getting too comfy in Hollywood.
These weird, crypto-racist attitudes are not just the province of our frenemies at the HPOA. They are evidently shared by BIDs all over the City. Thus it's really no surprise to find that the San Pedro BIDdies are a bunch of cultural crypto-racists as well. But, as always, it's still surprising, still disconcerting, to see the details figured plain as though upon a lighted screen. Turn the page for the story in detail with extensive documentation!
Continue reading First The San Pedro BID Hated The Car Show. Then The San Pedro BID Loved The Car Show. Then The San Pedro BID Lobbied The City On The Car Show's Behalf. But To Keep The BID's Love The Car Show Had To Agree To Typically Coded Typically Racist Cultural Conditions: No Hip Hop. No Rap Music. →