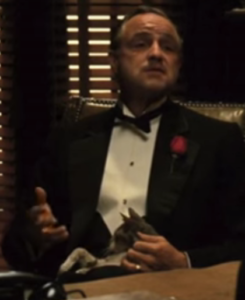 This is just a brief episode from the saga of the
cat-kicking K-Town slumlord Bryan Kim
and his unholy compact with Mitch O'Farrell's office
to trade lunch money for homeless encampment clean-ups
. It seems that on March 11, 2016, while Bryan Kim was still negotiating the terms of his on-demand encampment clean-up with CD13 staff, he asked
CD13 scheduler David Cano
for a meet with the CM himself, Mitch O'Farrell, in the first of
this series of emails
:

As discussed, I'd would [sic] like to request to meet with Councilmember O'Farrell re:The Homeless Encampment issue near LA City College to see how we can collectively work together on short term and sustainable permanent solution.

Well, if there's one thing I've learned about these City Government types, it's that they never do anything on their own. Always, it's consultations, consultations, consultations.
1
So eight minutes later David Cano wrote to Aram Taslagyan and strongarm O'Farrell consigliere Marisol Rodriguez:

Thoughts? D.O. time?

Continue reading

Mitch O'Farrell's Consigliere Marisol Rodriguez: It Is Good For The CM To Meet With Residents/Stakeholders From Time To Time So That They Know That The CM Is Fighting For Them. But They Must Ask With Respect. They Must Think To Call Him Godfather