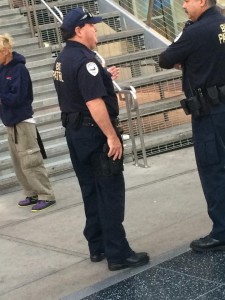 On October 23, 2014, an Army veteran
wrote to
Devin Strecker of the Hollywood Property Owners Alliance, among others, the following words:

This morning on my way to work, I was standing waiting to cross the street when I look over and see the gentleman on the left in the picture attached, grasping his weapon as if to draw his fire arm all while chatting away with the gentleman on the right. As I continued to wait to cross the street, I noticed the gentleman on the left start to pull out actually draw his weapon about 4-5 inches out of his holster. All the while standing chatting with his partner. I am ex army infantry, when we even had our hand TOUCHING our holstered weapon, there better had been a life threatening reason to even touch our holstered weapon.

Continue reading

U.S. Army Veteran Complains About BID Patrol's Reckless Firearms Behavior. Steve Seyler Dismisses Fears as "a tad over emotional." Investigation Ongoing?