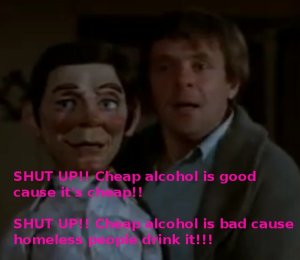 Look!
The Hollywood Property Owners Alliance loves "affordable" "booze"!! For instance, there's a new bar in Hollywood:
Whiskey Blu, located at 1714 N. Las Palmas, advertises $2 beer, including Pabst, Budweiser, and Coors as well as $5 shots of Makers Mark, Bullit, Crown, Jim Beam and more. … Whiskey Blu has stepped up to serve those who enjoy a nice, affordable drink.
And look again! Another bar closed down but now it's back:
For several years, Dillon's Irish Pub & Grill was a hub for sports fans, tourists and nightlife at the famed intersection of Hollywood and Vine. Known for its $3 beers…
And look again again!
For those who love a little booze and music, Hollywood & Highland's summer series, Wine & Jazz, does not disappoint!
Ah, but Kerry Morrison doesn't love it so much.
Continue reading Positions on Cheap/Affordable Alcohol Reveal Hollywood Property Owners Alliance to be Hypocritical, Insane, or (Most LIkely) Both →