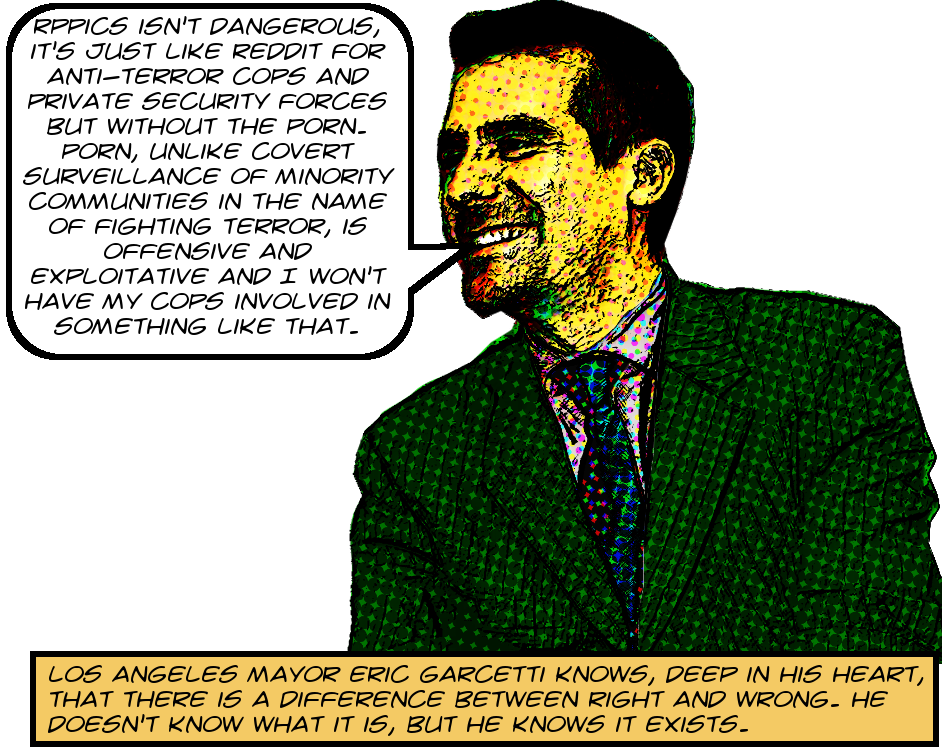 The LAPD has been notoriously bad at complying with the California Public Records Act. So much so that in 2017 the ACLU sued them for systemic violations of the law, which is in addition to any number of small-scale suits based on individual violations, like e.g. Stop LAPD Spying has had to sue them twice, once in 2015 and again in 2018.
These suits were based on the LAPD's longstanding habit of completely ignoring CPRA requests, often for years at a time. However, since the City of LA started using the NextRequest CPRA platform the LAPD has gotten quite a bit more responsive, although they can still take a maddeningly long time to respond and produce records.
This welcome improvement in LAPD responsiveness does not mean that all is well in Cop-CPRAlandia. They will still arbitrarily deny requests and then cut off the conversation, and they did this to me twice in 2018. Sadly, the CPRA provides no recourse at all for arbitrary unjustified denials beyond the filing of a lawsuit,1 which is what the path I was forced to follow by the LAPD's extraordinary and unsupportable intransigence. You can read the complaint here, written by the incomparable Abenicio Cisneros, and/or see transcribed selections below the break.
There are two issues at stake. In the first place, remember back in 2016 when Kerry Morrison and her merry gang of curb-stomping thugs at Andrews International Security altered their contract to be able to withhold public records from me? That left me with no way to tell exactly who said curb-stomping thuggie boys arrested, information they naturally wanted to obscure from me because they tend to arrest the wrong people and rather than mend their ways they prefer to cover up their misdeeds.
But last year I discovered that every time the BID Patrol arrests someone they fill out a form for the LAPD. Here is an example of one. As it's essential to find out not only how many arrests the BID Patrol makes2 but who they're actually arresting, I requested that the LAPD give me all of these forms from Hollywood from 2018. They refused, and that is my first cause of action.
The other issue has to do with some Orwellian slab of web app crap known as the Regional Public Private Infrastructure Collaboration System. I learned about this from some emails I got from the Downtown Center BID in response to a CPRA request. You can see the emails here on Archive.Org, but they're not that interesting. They mostly just announce that new information is available on RPPICS, and since they won't give up the goods, there's no way to tell what that is.
But this kind of public/private collaboration sharing between police and security is famous for being misused for political surveillance and other illegal and antihuman activities. The LAPD and private security already get up to enough of this in open emails, as does the freaking BID Patrol. Imagine what they're doing in secret. But we don't have to imagine, we can make CPRA requests! Which is what I did, asking LAPD for a year's worth of postings so as to learn what the heck these people were up to in their little secret world. Again, they denied my request, and this is my second cause of action.
And turn the page, if you will, for a few technicalities about the LAPD's exemption claims and transcribed selections from the petition itself.
Continue reading Los Angeles Police Department Sued To Enforce Compliance With California Public Records Act — At Issue Are Two Classes Of Records — Both Of Which LAPD Claims Are Investigative And So Exempt From Release — First Are Private Person's Arrest Forms — Necessary To Track BID Patrol Arrests — Second Are Reports From RPPICS — Some Kind Of Top Secret Cop Tracking And Discussion System — Putatively For Anti-Terrorism →