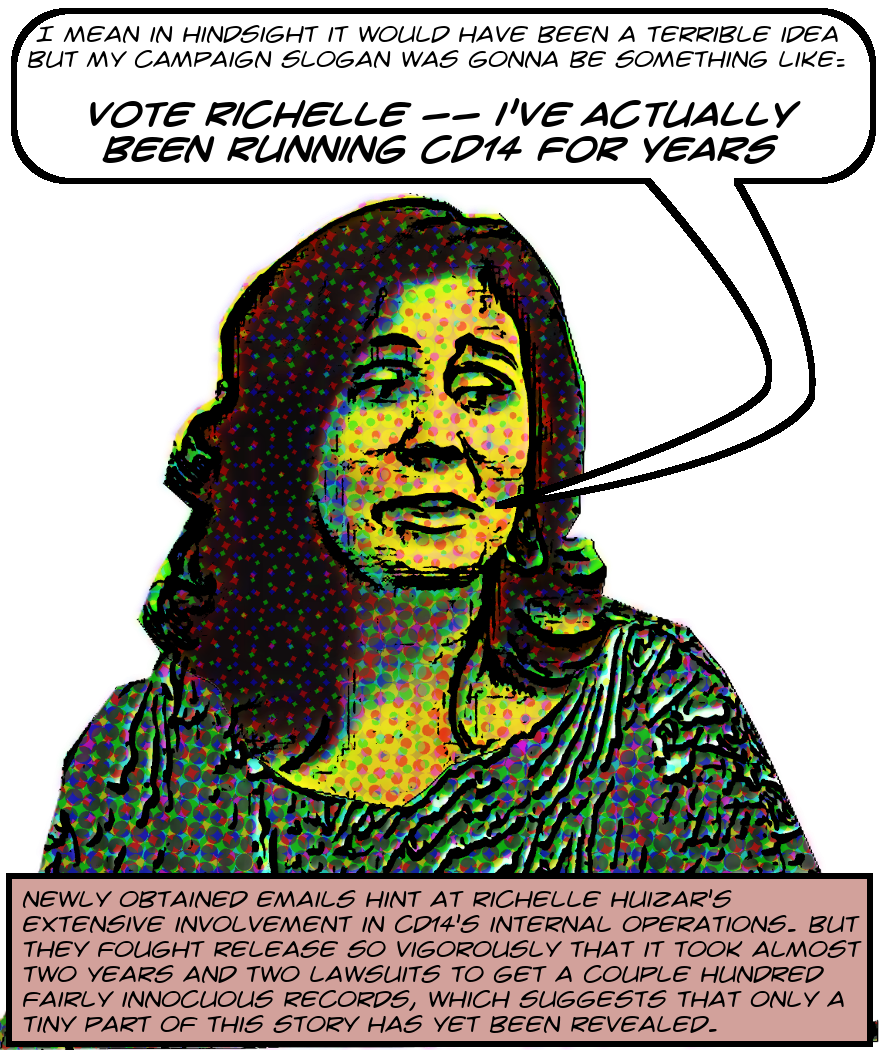 Los Angeles City Councilmember Jose Huizar will soon be spending pretty much all his time working out with his new Club Fed Golf Team buddies and Richelle Huizar probably won't be joining him1 even though arranging for her election to the seat he's termed out of was apparently one of the goals of his corrupt conspiracy.2 See this excellent story from yesterday's Times for a timeline of her role in the CM's troubles. And as you can imagine, I've been after records involving her for some time now.
But Jose Huizar, credibly accused of ordering staff to alter or destroy material responsive to pending public records requests, has not been very forthcoming. The only remedy the California Public Records Act provides to compel compliance is for a requester to file a lawsuit, and I've had to file three against Huizar's office. Two of these involved emails between him or his staff and Richelle Huizar. This one against the City's Information Technology Agency is still very much pending, but the City's about to settle the other one.
And of course we don't settle these things unless they hand over the goods, which in this case amounted to about 150 pages of emails in PDF format.3 You can take a look at here on Archive.Org. And it turns out that there's nothing really incriminating in them4 but nevertheless these emails illuminate aspects of Richelle Huizar's role in CD14's operations that I wasn't previously aware of. She communicated directly with high level staff about motions, met with constituents, attended executive staff meetings, and so on. The context is hard to understand but it's clear that Jose Huizar was readying Richelle Huizar to take over the family business.
By the way, I'm not critical of that fact in itself. That is, I don't have a problem with elected officials hiring their spouses or using them as informal advisors.5 The other aspect of this material that's important is that Jose Huizar originally claimed it was exempt from release. As you read it, you'll see that such a claim is not merely indefensible, it's also ludicrous. In other words, the real lead here6 is that Jose Huizar is a liar.

So for instance, on September 23, 2018 Jose Huizar emailed Paul Habib, his chief of staff, updating him on a recent meeting Richelle Huizar had had with CD14 constituents:

To: paul habib[paul.habib@lacity.org] Cc: zenay loera[zenay.loera@lacity.org]; Richelle Huizar[esq4kids@yahoo.com] From: Jose Huizar
Sent: Sun 9/23/2018 10:09:06 PM
Subject: 710 tenants
Richelle attended a meeting in el Sereno with 710 tenants and were frustrated that my office hadn't responded to motion I said I will do etc. I spoke with Hugo Garcia and suggested we may be able to bring him in on hourly basis to work on the matter for our office. Richelle spoke with zenay on issue and they are planning on how to address from city side. Please contact him ASAP and see if something can be worked out to build our capacity in this issue.
Sent from my iPhone

Habib got back to both Huizars explaining that there was in fact a draft motion under review:

To: Jose Huizar[jose.huizar@lacity.org] Cc: Zenay Loera[zenay.loera@lacity.org]; esq4kids@yahoo.com[esq4kids@yahoo.com] From: Paul Habib
Sent: Sun 9/23/2018 11:24:22 PM
Subject: Re: 710 tenants
We have a draft motion thst we are vetting with HCID and expect to introduce within a week. We'll follow up with him this week.

And Richelle's response the next day shows clearly the depth of her involvement:

To: Paul Habib[paul.habib@lacity.org] Cc: Jose Huizar[jose.huizar@lacity.org]; Zenay Loera[zenay.loera@lacity.org] From: Richelle Rios
Sent: Mon 9/24/2018 12:35:18 AM
Subject: Re: 710 tenants
I communicated with the group that we have a draft motion that the office is still working on. I also shared that the office was having discussions with appropriate city staff regarding some of the language. They haven't felt a sense of urgency from us. I told them that we were going to change that. Zenay and I spoke yesterday about a good plan to move forward. She had a great idea about scheduling a site visit. We also discussed the possibility of discussing the matter in committee like you did with Exide. And we talked about meeting with Caltrans and pulling together a working group with Wendy to work through the resident's issues. Let's talk.
Zenay, I spoke with Lisa today and told her that you would reach out to her tomorrow or Tuesday to coordinate something.
Thanks!!!
Sent from my iPhone

Now, I have no idea if this material is objectively intrinsically interesting or not. I'm guessing these 710 tenants were the folks living in the CalTrans-owned properties that were later occupied by activists. In the Fall of 2018 CalTrans was in the process, or supposed to be, of selling the homes to the tenants, although a lawsuit filed in November of that year suggests that the process wasn't completely fixed by whatever it was Richelle Huizar was working on.
And then there was that time in October 2017 when Sonnie Martinez from the Mayor's office emailed Jose Huizar's scheduler Mayra Alvarez to ask about the availability of either Huizar for some random upcoming Garcetti event. Again, the point is that City staff even outside of CD14 accepted Richelle Huizar's role:

From: Sonnie Martinez <sonnie.martinez@lacity.org>
Date: Wed, Oct 18, 2017 at 12:45 AM
Subject: Councilmember's Availability
To: mayra.alvarez@lacity.org
Cc: Rocio Hernandez <Rocio.Hernandez@lacity.org>
Hi Mayra,
I'd like to take the time to introduce myself, I'm Sonnie Martinez the new East Area Representative for the Mayor's Office of Public Engagement-Amanda Mejia's successor. I really look forward to working with you and your team.
I know this is a very last minute request, but I was hoping to see if Councilmember Huizar (or maybe even Richelle) is available, for a brief 5-10 minutes, to be a guest speaker at the Mayor's Youth Council this Saturday 10/21, anytime between 10am and 12:30pm? I know that this is a last minute request and its asking a lot, but my hope is to get these high school youth excited about civic engagement. Our first lesson is Local Government 101 and I will introducing my cohort to ways they can make an impact. Being a fellow public service leader, I would love for the Councilmember or Richelle to talk about how they came to be in office and the strength of civic leadership.
My meeting is going to be held at the Hollenbeck Community Police Station and I have a cohort of about 75 high school students from all over the district. If they cannot come out, I completely understand. But if you happen to know anyone who is a good speaker, can you please point me in their direction?
Warmly,
S Sonnie Martinez
External Affairs, East Area Representative
Office of Los Angeles Mayor Eric Garcetti

The examples go on and on. But I'll close with this October 24, 2017 email from Paul Habib to Francisco Ortega regarding Richelle Huizar's appointment to the Commission on the Status of Women and Ortega's reply later that same day. Here it's not the content that's new. Of course we knew she was on the commission. But she was appointed by Eric Garcetti so it's a little surprising to see Jose Huizar's chief of staff shepherding her through the process. But I'm guessing he saw it as a favor-bank deposit with his future boss? If that's what was up I guess it was wasted effort on Habib's part. And that's what I have for you today! Let me know if you spot anything good in the emails!

Image of Richelle Huizar is ©2020 MichaelKohlhaas.Org and if you have the heart for it why not check out this video from 2011?!