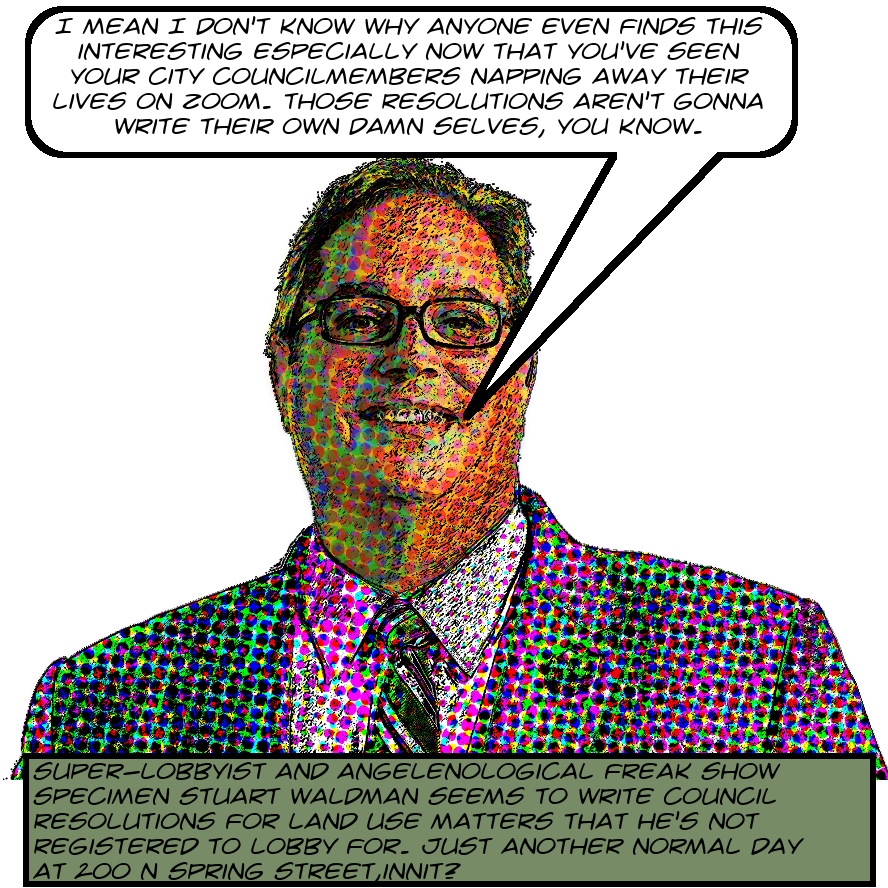 A couple months ago I wrote on how a massive development project in CD1 was approved. One of the aspects of the story most surprising to me was the intimate involvement of lobbyists at every stage of the process. Somehow I had thought that their role was more like influencing City officials, suggesting outcomes to them, talking to them, and so on. Something like ordinary public comment even if supercharged by highly enhanced access to official ears.
But it turned out to be far more than that. E.g. lobbyists actually write ordinances, resolutions, and motions which are then submitted to Council by Council District staff. The lobbyists understand City procedures much more clearly than electeds and staff.1 In some sense the lobbyists are actually running the planning and land use process with civil service staff effectively working for them. In the case I wrote about in March Gil Cedillo's planning director, Gerald Gubatan, seemed to do little more than serve as a conduit between lobbyists for the developers and City civil service staff.2
And I'm sure this is the norm, but given the dedication with which City officials and staff flout the requirements of the California Public Records Act proof is pretty hard to obtain. However, despite such obstacles there are still a few clues available here and there. For instance, let's take a look at a project, apparently pending at least since 2017, at 2110 and 2130 E. Bay Street in the Arts District in CD14.
This is a massive project with the usual nauseating mix of live/work and creative blah blah blah of the too-familiar type beloved of zombie urbanist flackmonsters like Urbanize LA. Like all such projects, this one requires bunches of spot-zonings, variances, general plan changes, and so on. In particular, in exchange for a mere 12 "restricted affordable units"3 the City is proposing to rezone the parcels from Heavy Industrial to Commercial Industrial.

And like all such favors, these must all be granted one at a freaking time by the City Council. And that means Council files. This project has at least two of them: CF 20-0105 and 20-0105-S1. The developer is Albert Taban of some made-up-just-for-this-project outfit known as Bay Capital Fund LLC, although the Taban clan is more familiar to us as owners of Jade Enterprises and members of the boards of both the Fashion District and South Park BIDs.4 They're represented in this matter by lobbyist Jim Ries of Craig Lawson and Co. Also an appeal has been filed by Blue Arch Investments.
The processes by which these matters are approved are really hard to understand,5 and this feels intentional. Usually there seems to be a lot of Council District involvement, and of course CD14 rep Jose Huizar is famous not only for pushing through any number of projects like this but for charging $500K a pop in bribes for them.6 But Huizar's office doesn't seem to be involved at all in this one, though, at least not from a superficial reading of the files.7 Instead for whatever reason it seems to be the Mayor's office that's moving the action forward even in these times of pandemic.8
But whatever the process, there's no question that rezoning actions like this essentially amount to the City creating money out of thin air and giving it all to some zillionaires for no good public policy reasons at all.9 And this is why zillionaires hire lobbyists in the first place — to ensure the continued flow of magic money into properly chosen pockets. Which brings us, because in case you haven't noticed, in this house we bury our ledes as deep as we possibly can,10 to the Valley Industrial and Commerce Association, better known as VICA.
They're headed up by what looks like a largely honorific Board of Directors and their functional supreme commander is a character known as Stuart Waldman.11 Dude's on Twitter and he's on the Board of Directors of LA 2028.12 These two things along with VICA and unseemly Garcetti-stannery seem to constitute his entire personality, which is far more than enough for a guy in his posish. Oh yeah, and he used to be a legislative staffer for various SFV state reps before he became an unregistered lobbyist. This becomes important below!
According to their website VICA is "widely considered one of the most influential business advocacy organizations in Southern California." And I have no particular reason to doubt that, although they apparently don't do too much direct lobbying. Or at least they're not being particularly honest about what they do given that they haven't registered with the Ethics Commission since 2015. This doesn't mean they're doing no lobbying, just that they're not doing enough to qualify and thereby trigger the registration requirement.13
Take a look at VICA's so-called action center if you want to get some feeling for where these zillionaire flacks have their money and their hearts invested. Basically they're against everything that might have a positive effect on the lives of tenants or wage-earners, except they're (so predictably) in favor of eliminating CEQA requirements for various homeless housing projects.14 That last lobbying registration they filed with Ethics in 2015 shows them working on projects that are consistent with their self-proclaimed role as avocates for local business, like minimum wage,15 street vending,16 and sign ordinances.17
There's nothing on the form and very little amongst their legislative priorities that really has to do with real estate development. But of course in theory at least real estate controls everything political in Los Angeles. It's the ultimate cause of everything that happens at 200 N. Spring Street,18 or if it's not we won't go far wrong by acting as if it is. Whatever it is that VICA claims to be up to, the interests of developers are never far from their minds. This explains e.g. their interest in the destruction of CEQA even though it might collaterally benefit some homeless people, which is anathema to these zillionaire minions.
However, and believe it or not we're finally coming around to the actual facts I'm reporting on, it turns out that Stuart Waldman, supreme commander of VICA and Olympics 2028 booster, even though he doesn't disclose anything at all about it to the Ethics Commission, even though his name doesn't seem to be disclosed anywhere in connection with the project, even though all that, actually wrote a Council resolution proposing the necessary zoning change for the above-discussed Taban project at 2110 Bay Street.
Waldman's authorship can be determined from the metadata of the PDF uploaded by the City Clerk to the relevant Council File, which is CF 20-0105-S1.19 I extracted this using the fabulous ExifTool, by the way:

ExifTool Version Number : 10.80
File Name : 20-0105-s1_reso_04-27-2020-1.pdf
File Size : 263 kB
File Type : PDF
File Type Extension : pdf
MIME Type : application/pdf
PDF Version : 1.5
Linearized : No
Tagged PDF : Yes
Page Count : 2
Author : Stuart Waldman
Creator : Acrobat PDFMaker 19 for Word
Producer : ABBYY Recognition Server
Create Date : 2020:01:07 14:48:06Z
Modify Date : 2020:04:28 18:30:10Z
Company : HP
Source Modified : D:20191218174534

Unlike the resolutions written by lobbyists in the CD1 case also mentioned above, Waldman's resolution was apparently neither reviewed nor edited nor revised by City staff. If it had been this would be reflected in the metadata, which it is not. The resolution went straight from Waldman's computer to the Planning Commission in January 2020.
From there it made its way to Garcetti's office somehow and then sat around until last Tuesday, April 28, when Garcetti found time in his presumably busy schedule of emergency response coordinator in chief to fire it off to City Council in the person of the PLUM Committee. This, of course, is chaired by Huizar's successor Marqueece Harris-Dawson of CD8.
Who knows what Harris-Dawson will do with it, but I'm going to guess that he's either going to waive it through his committee given the importance with which the Mayor seems to have invested it or else approve it at an upcoming meeting. Whichever it is, though, obviously it's going to be approved, because they always are, aren't they?

Image of Stuart Waldman is ©2020 MichaelKohlhaas.Org. And along came Jones.