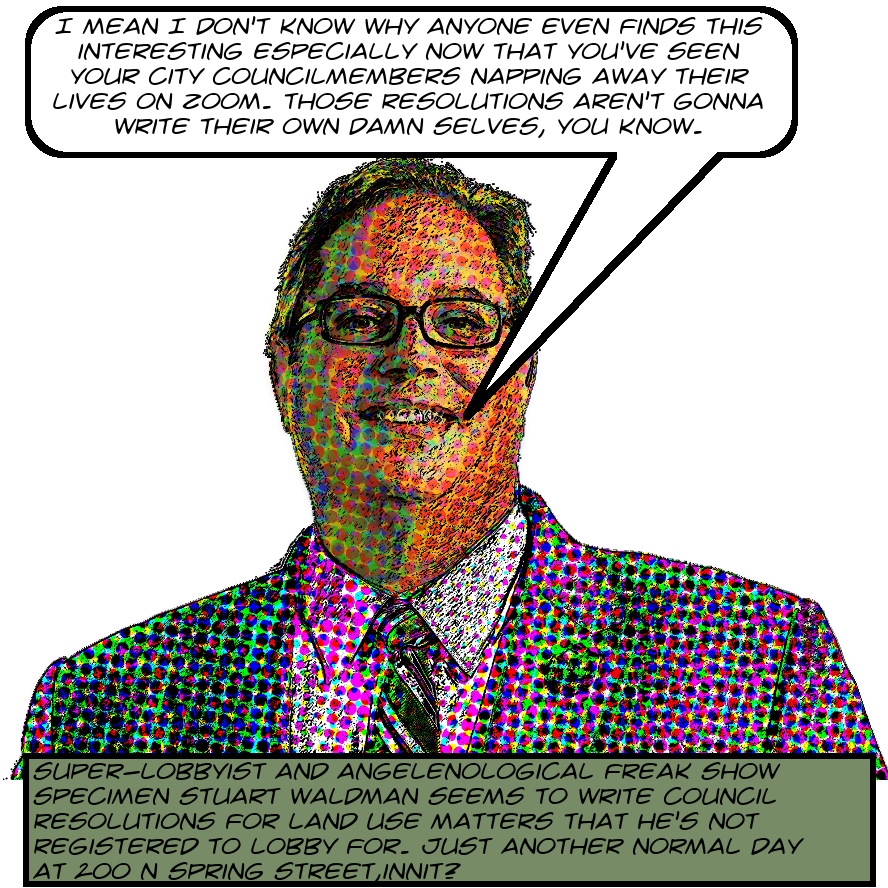 A couple months ago I wrote on how a massive development project in CD1 was approved. One of the aspects of the story most surprising to me was the intimate involvement of lobbyists at every stage of the process. Somehow I had thought that their role was more like influencing City officials, suggesting outcomes to them, talking to them, and so on. Something like ordinary public comment even if supercharged by highly enhanced access to official ears.
But it turned out to be far more than that. E.g. lobbyists actually write ordinances, resolutions, and motions which are then submitted to Council by Council District staff. The lobbyists understand City procedures much more clearly than electeds and staff.1 In some sense the lobbyists are actually running the planning and land use process with civil service staff effectively working for them. In the case I wrote about in March Gil Cedillo's planning director, Gerald Gubatan, seemed to do little more than serve as a conduit between lobbyists for the developers and City civil service staff.2
And I'm sure this is the norm, but given the dedication with which City officials and staff flout the requirements of the California Public Records Act proof is pretty hard to obtain. However, despite such obstacles there are still a few clues available here and there. For instance, let's take a look at a project, apparently pending at least since 2017, at 2110 and 2130 E. Bay Street in the Arts District in CD14.
This is a massive project with the usual nauseating mix of live/work and creative blah blah blah of the too-familiar type beloved of zombie urbanist flackmonsters like Urbanize LA. Like all such projects, this one requires bunches of spot-zonings, variances, general plan changes, and so on. In particular, in exchange for a mere 12 "restricted affordable units"3 the City is proposing to rezone the parcels from Heavy Industrial to Commercial Industrial.
Continue reading Zillionaire Developer Albert Taban — Of The Famous Zillionaire Taban Klan — Is Building A Whole Block Mixed Use Monstrosity In CD14 — The Arts District — 2110 Bay Street — Which Needs Any Number Of General Plan Amendments — And Rezoning — And The Usual Load Of One-Off Ad Hoc Bespoke Exponential Property Value Multipliers Poured Out By Our City Council — Like Yummy Slop — Into The Piggy-Trough At Which These Developers Gorge — And So Taban Hired Lobbyists As These Zillionaires Will Do — But For Whatever Reason Jose Huizar Isn't Pushing This One — So Eric Garcetti Took A Break From His Self-Declared State Of Emergency — And Sent It To The Planning And Land Use Management Committee Last Week — Which Might All Be Business As Usual — Who The Heck Even Knows? — But What's Not So Usual Is That Stuart Waldman — LA Olympics Booster — LA 2028 Board Member — Supreme Commander Of Rightwing Fash Front Group VICA — Valley Industrial And Commercial Association — Who Is Not One Of The Lobbyists Hired By Taban — In Fact He's Not A Registered Lobbyist At All — Actually Wrote The Damn Rezoning Resolution — That Got Submitted To Planning Commission Unchanged — Which Is Revealed By The Metadata — Waldman's Not On Any Other Record As Being Involved In This — In Some Cities The Lunatics Are Running The Asylum — In Los Angeles The Piggies Are Running The Trough — Is It A Surprise Everything's Falling To Pieces? →