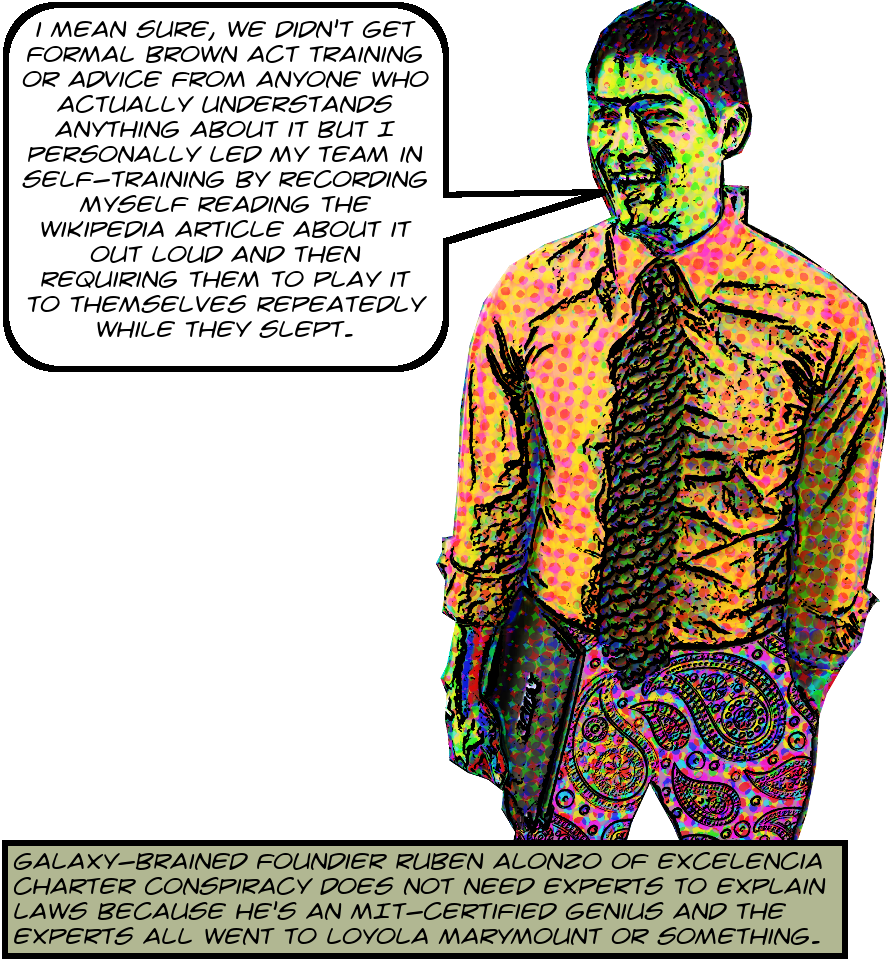 It turns out that in June 2018 the United Teachers of Los Angeles sent a letter to Ruben Alonzo, galaxy-brained creepy-stalky founder of the co-locational privatizer conspiracy known as Excelencia Charter Academy, demanding that his organization cease, desist, and cut it the heck out with all the Brown Act violations they had been getting up to. This story is revealed by a collection of emails I recently obtained from Excelencia via the California Public Records Act, which are available here on Archive.Org.
UTLA accused Excelencia, with good reason, of "engag[ing] in a pattern of secrecy by holding meetings at locations inaccessible to the public," specifically to do with, among some other things, board members teleconferencing into putatively public meetings, a practice which is allowed by the Brown Act but only in a highly constrained way.1 In addition to demanding that Excelencia cut it out, UTLA also demanded that they fix some of the errors and additionally publicly promise never to do those things again.2 They also sent a copy of the letter to LAUSD's Charter School Division.
On receipt Alonzo's first move was to forward the letter not only to his board members, but to Keith Dell'Aquila and Josue Cofresi, a couple of flacks at the California Charter Schools Association, to ask their advice. Which was, obviously, to ask a damn lawyer. Alonzo proceeded to hit up this blog's old friend Wayne K. Strumpfer, of counsel3 to privatizing law powerhouse Young Minney Corr. Strumpfer didn't take anywhere near the statutorily allowed 30 days to drop a letter on UTLA containing complete and utter concessions to their list of demands.
And most interestingly from my point of view, seeking as I always am, seemingly in vain, nonjudicial remedies for outlaw charter school behavior,4 the Charter School Division sent a letter to Excelencia demanding that they respond in detail to UTLA's allegations. And Excelencia did take this requirement seriously. I have also complained to the CSD about various charter school violations and they brushed me off, but nevertheless I am glad to learn that there is some kind of channel for LAUSD to handle such complaints.
And after much back and forth Strumpfer wrote a letter for Excelencia Board President Ana Lasso to sign her name to capitulating to their demands in that way lawyers for outlaw government agencies have of agreeing to stop breaking the law even as they assert on every possible level that they have never actually done anything wrong.
That's the short version, but the emails themselves reveal a lot of detail about the process that Excelencia went through in responding to UTLA's demands. This is important in itself because, as we know, these charters can not, will not, follow the law if left to their own devices. I've sent a number of these demands, including two to The Accelerated Schools which are still pending,5 and it's interesting to get some insight into what kinds of things are going on behind the scenes. Read on for the long version of the story with links and transcribed selections!
Continue reading In June 2018 The United Teachers Of Los Angeles Sent A Brown Act Demand Letter To Excelencia Charter Academy – Which In Case You Forgot Is That Co-Located Boyle Heights Horror Show That Galaxy-Brained Carpetbagger Ruben Alonzo Proclaims Himself To Be The Founder Of – And Most Interestingly LAUSD's Charter School Division Got In On The Process And Demanded That Excelencia Hand Over A Bunch Of Evidence About UTLA's Allegations – And Here Are Copies Of Everything! – Along With A Bunch Of Emails Between Alonzo And His Privatizing Sleazeball Of A Lying Lawyer – Wayne Strumpfer Of Young Minney Corr – Plotting Out Line By Line How They're Gonna Respond – Important And Unprecedented Look Behind The Curtain At Charter School Deliberations Over Transparency Laws! →