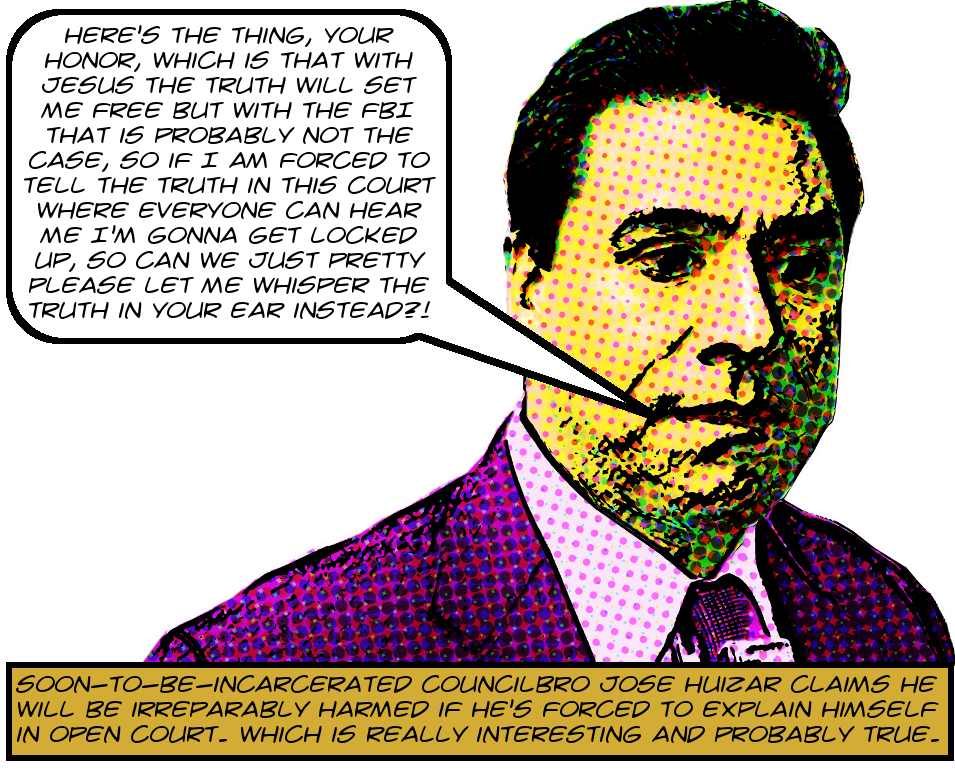 Last week soon-to-be-incarcerated Los Angeles City Councilmember Jose Huizar filed a motion with the court that is hearing his former employee Mayra Alvarez's lawsuit against him for creating a hostile work environment and engaging in a remarkable number of really creepy behaviors. He says that he will be filing a motion to stay the proceedings because he can't defend himself without revealing secret stuff about his criminal case.
The same, he says, will be true about the motion to stay itself, so he wants permission to file THAT motion under seal. Last week he asked for and obtained permission from the court to have a hearing on the motion to file the motion to stay under seal. That hearing will take place at the Stanley Mosk Courthouse on Thursday, May 16, 2019 at 8:30 a.m. in Department 17. Here are links to the records, and turn the page for transcribed selections.
☆ Declaration of Carmen Aguado in support of motion
☆ Huizar Application for order to set hearing on motion to file under seal
☆ Order to set hearing
☆ Notice of order


DECLARATION OF CARMEN M. AGUADO IN SUPPORT OF
DEFENDANT JOSE HUIZAR'S EX PARTE APPLICATION
MAYRA ALVAREZ,
Plaintiff,
v.
JOSE HUIZAR, an individual; CITY OF
LOS ANGELES, a municipality; and DOES
1-10, inclusive,
Defendants.
DECLARATION OF CARMEN M. AGUADO
I, CARMEN M. AGUADO, hereby declare and state as follows:
1. I am a member in good standing with the State Bar of California and an associate at the law firm of Burke, Williams & Sorensen, LLP, attorneys for Defendant JOSE HUIZAR ("Defendant Huizar") in this action. I have personal knowledge of the facts set forth below, and, if called as a witness in this matter, I could and testify competently thereto under oath.
2. The U.S. Attorney's Office and FBI are currently conducting an investigation that includes Defendant Huizar. The criminal investigation, as well as this civil litigation, has received a significant amount of media coverage and exposure.
3. Defendant Huizar intends to serve a motion to stay this matter on May 24, 2019, and the hearing on the motion to stay is set for June 24, 2019.
4. However, Defendant Huizar seeks to file the motion to stay under seal in order to protect his privacy and constitutional rights, as well as the integrity of the criminal investigation, which is implicated by virtue of the public nature of court filings in this matter. Additionally, Defendant Huizar intends to rely on information pertaining to the criminal investigation that is not public in support of his motion to stay.


Image of Jose Huizar is ©2019 MichaelKohlhaas.Org and is, well, you know, look here.