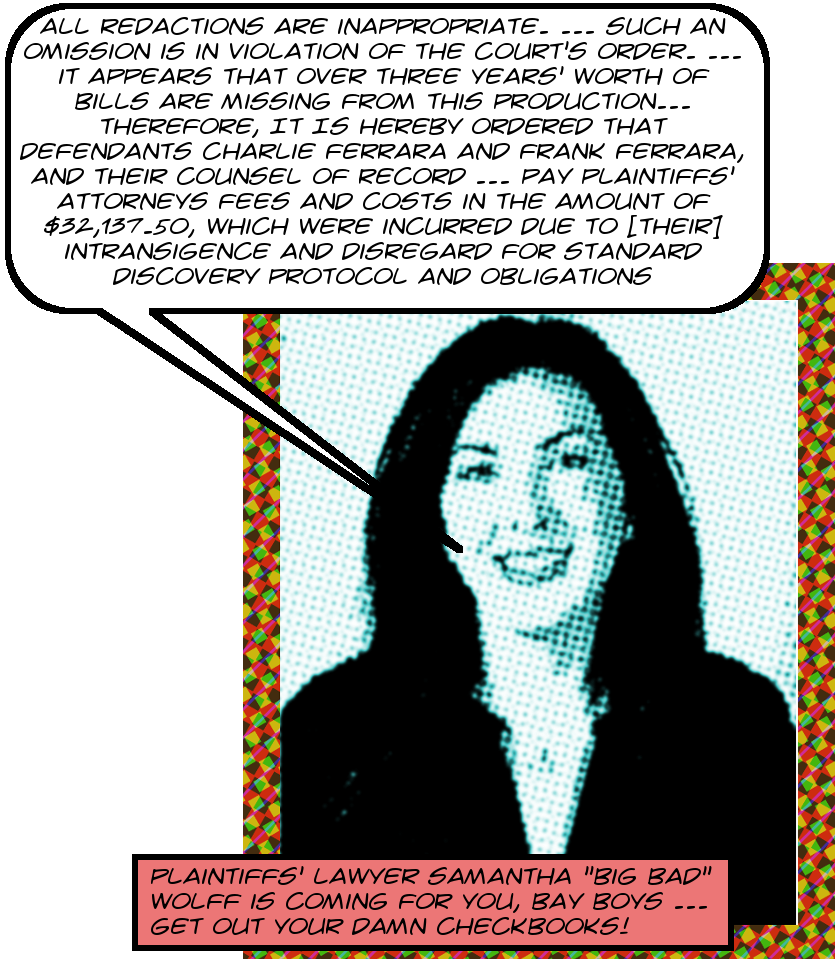 For background take a look at this excellent article from the Times on this lawsuit. Also see here to download all pleadings in this case.
Maybe you recall that on July 13, 2017, the plaintiffs in the Lunada Bay Boys case appeared before Magistrate Judge Rozella Oliver and complained that Charlie and Frank Ferrara weren't complying with discovery obligations. This led to Oliver issuing a minute order directing that particular batch of Ferraras to "produce responsive documents from the cell phone imaging and responsive cell phone bills and records by 5 p.m. on Monday, July 17, 2017."
Well, it appears, to no one's surprise, that these Ferraras have not complied with this order. Thus, today, plaintiffs' lawyers Samantha Wolff and Victor Otten filed a motion for monetary sanctions against both the Ferraras and their lawyers based on two allegations:

Defendants Charlie and Frank Ferrara and their counsel willfully failed to preserve electronically stored information and failed to conduct their due diligence in responding to Plaintiffs' discovery requests, resulting in the spoliation of critical evidence; and
Defendants Charlie and Frank Ferrara and their counsel willfully failed to comply with this Court's July 13, 2017 Order.


As usual, this motion comes along with a ton of interesting exhibits. Most of them in this case are meet-and-confer emails, progressively more exasperated on the part of the plaintiffs. There are links to everything after the break1 as well as some transcriptions. But first, here are links to what seem to me to be the most interesting items:


Selections from the memorandum of points and authorities:


Since the onset of discovery in November 2016, Defendants Charlie and Frank Ferrara (collectively, "Defendants"), along with their counsel at Bremer Whyte Brown & O'Meara ("Defendants' counsel"), failed to perform due diligence when responding to discovery, were untruthful in response to discovery requests, withheld evidence in violation of the Federal Rules of Civil Procedure and this Court's Order, and destroyed critical evidence. Defendants' and their counsel's obstructive conduct warrants the imposition of sanctions to compensate Plaintiffs for their time and effort to obtain the discovery to which they are entitled and to discipline Defendants for destroying critical (and likely incriminating) evidence.

Defendants initially concealed the existence of responsive information by refusing production of relevant cell phone bills and denying possession of any text messages with co-Defendants. Notably, however, Defendants' cell phones were not searched until approximately eight months later. That Defendants' counsel could respond to the discovery requests on behalf of their clients and proclaim that no responsive information existed, having never required their clients to search or image their cell phones, is astonishing. Were it not for a co-Defendants' privilege log, which lists numerous communications between Defendants and Sang Lee, Plaintiffs might not have discovered Defendants' deceptive conduct and this relevant evidence.

After learning of the existence of this responsive information, Plaintiffs communicated with Defendants' counsel approximately a dozen times over seven months. Plaintiffs finally sought this Court's assistance and, despite a Court order requiring the production of responsive information within several days' time, Frank Ferrara untimely produced incomplete records and Charlie Ferrara failed to produce any cell phone data in violation of the Court's order. It was only after a second Court hearing that Charlie Ferrara finally produced his (heavily redacted) cell phone records – two days after filing his summary-judgment motion.

Perhaps most disconcerting is Defendants' spoliation of critical evidence. Despite Defendants' obligation to preserve evidence at the outset of litigation in the Spring of 2016, and even after receiving Plaintiffs' discovery requests in November 2016, Defendants did not attempt to preserve or obtain their cell phone data and bills until July 2017. By ignoring their discovery obligations for so many months, critical evidence was destroyed and, conveniently, Defendants are now unable to obtain records from the most pertinent time period in this matter. Had Defendants and their counsel properly or diligently responded to Plaintiffs' discovery requests at the time they were served – or even at some point during the seven months of meet and confer discussions that followed – they would have been able to obtain the records for the critical time period.

Defendants' and their counsel's disregard for the rules of discovery and disobedience of this Court's Order constitute sanctionable conduct. Plaintiffs ask the Court to issue monetary sanctions against Defendants and their counsel at Bremer Whyte.

…

Federal Rule of Civil Procedure 37 provides a host of remedies for parties aggrieved by discovery abuses. Where a party fails to obey a discovery order, this Court may impose sanctions in the form of reasonable expenses, including attorney's fees against the "disobedient party, the attorney advising that party, or both." Fed. R. Civ. P. 37(b)(2) Central District Local Rule 83-7 similarly authorizes the imposition of sanctions on parties that fail to comply with orders of the Court.

Local Rule 83-7 states:

---

The violation of or failure to conform to any of these Local Rules may subject the offending party or counsel to: (a) monetary sanctions, if the Court finds that the conduct was willful, grossly negligent, or reckless; (b) the imposition of costs and attorneys' fees to opposing counsel, if the Court finds that the conduct rises to the level of bad faith and/or a willful disobedience of a court order; and/or (c) for any of the conduct specified in (a) and (b) above, such other sanctions as the Court may deem appropriate under the circumstances.

---

Here, Defendants and their counsel acted in bad faith or were grossly negligent in their failure to comply with this Court's July 13, 2017 order. Despite a clear order to produce her clients' cell phone data and bills, Defendants' counsel stated that she did not believe they were obligated to produce "all" such information in a timely manner. Indeed, not only were Defendants' productions untimely, but they were also grossly incomplete as they omitted Charlie Ferrara's cell phone data in its entirety. Wolff Decl. ¶¶ 23-24. When Plaintiffs' counsel met and conferred to address these (and other) deficiencies, Defendants' counsel initially advised that Charlie's data was included in the production. Wolff Decl., ¶ 22 & Ex. 21. Only several days later did Defendants' counsel acknowledge that his data was omitted, and even then attempted to excuse Charlie Ferrara's noncompliance because it was purportedly burdensome. Id. at ¶ 24. Yet, Defendants' counsel made absolutely no effort to alert the Court or the Plaintiffs to this fact and failed to seek any sort of relief or extension. And most disturbing, Charlie Ferrara saw fit to file a motion for summary judgment on the grounds that there is a "dearth of evidence" demonstrating his liability while simultaneously guarding all relevant evidence in his possession in direct violation of this Court's July 13, 2017 Order.

Defendants' flagrant disregard for the Federal Rules and this Court's authority warrants the imposition of sanctions.


Image of plaintiffs' lawyer Samantha Wolff found at the top of this post is ©2017 MichaelKohlhaas.Org and is an artistic reimagining of an image found here.

OK, not everything. The first bunch of exhibits were large files that are probably duplicative and my PACER bills were out of hand the last two times, so I didn't download these. If someone wants to send them to me I will surely post them!