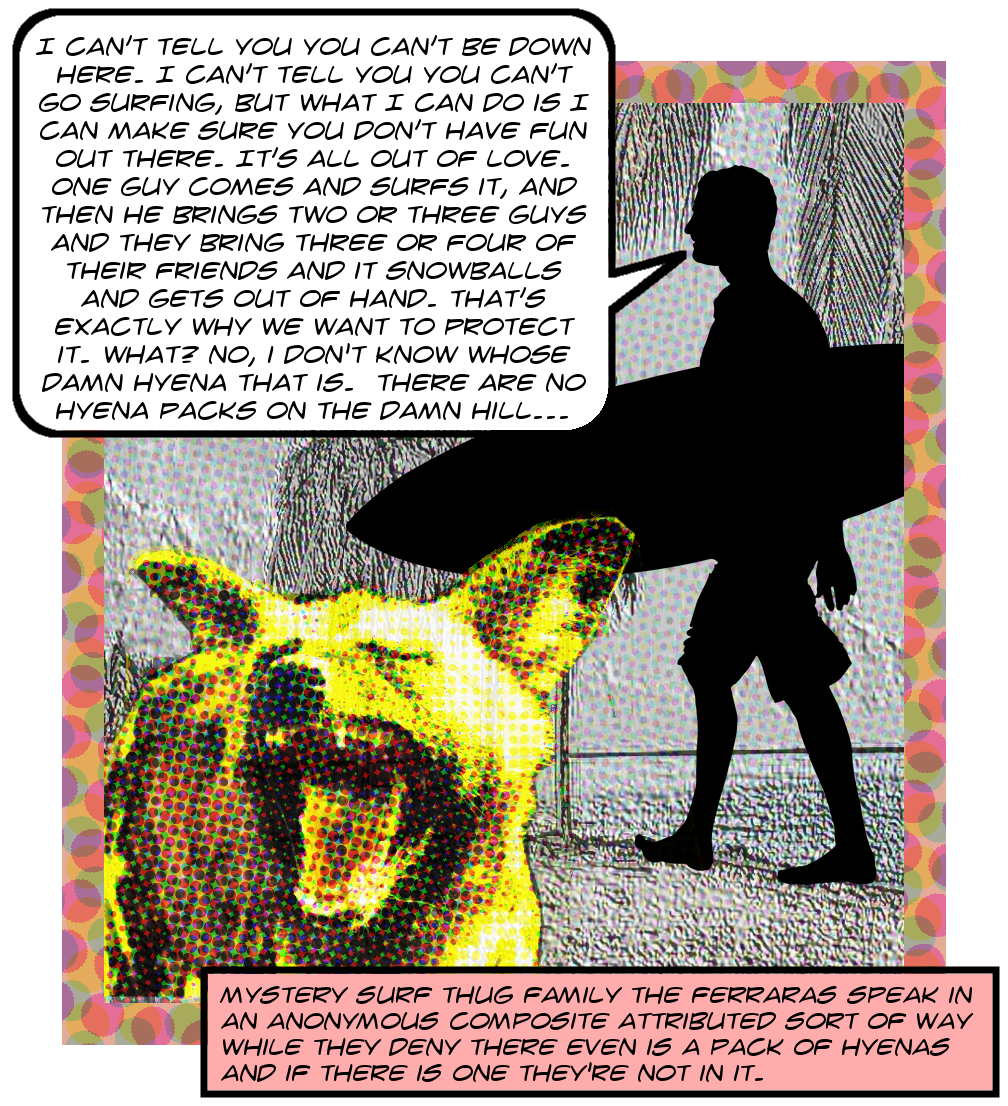 For background take a look at this excellent article from the Times on this lawsuit. Also see here to download all pleadings in this case.
Well, after the thrilling sagas of discovery lunacy regarding Lunada Bay Boys defendants Jalian Johnston and his asshole buddy Michael Papayans, now come defendants Sang Lee and Charlie and Frank Ferrara, or at least their attorneys, who all had a telephonic conference with Magistrate Judge the honorable Rozella Oliver this morning.
Out of the meeting came this minute order, directing everyone to stop taking the piss and meet and confer and get the discovery moving. In particular the Ferraras have to get their phone records to the plaintiffs by 5 p.m. Monday. You don't ever want a federal judge bossing you about in boldface type! Of course there's a transcription after the break.
Somewhat tangentially, but interestingly, Frank Ferrara, who naturally at this point denies there's any such thing as the Lunada Bay Boys, was famously quoted in Surfer Magazine in 1991 as saying:

One guy comes and surfs it, and then he brings two or three guys and they bring three or four of their friends and it snowballs and gets out of hand. That's exactly why we want to protect it. I've got two little boys who are 7 and 5 and I hope one day they they'll be out there shralping and tearing it up without a crowd.

At least one of those two little boys is now a named plaintiff in this case along with Dad. So that happened.

Transcription of the minute order:

Proceedings: MINUTE ORDER RE: TELEPHONIC HEARING
The case was called and counsel for the parties entered their appearances. The parties and the Court discussed the pending discovery disputes between Plaintiffs and Defendants Sang Lee, Frank Ferrara and Charlie Ferrara.
With respect to the discovery dispute between Plaintiffs and Defendant Lee, counsel for the parties are directed to contact the Court's Courtroom Deputy Clerk to schedule a further telephonic conference regarding the dispute. The parties are also directed to file any meet and confer letters regarding the dispute and the privilege log served by Defendant Lee at least 24 hours before the next telephonic hearing. The parties will be heard at the telephonic hearing and shall not file any other briefing.
With respect to the discovery dispute between Plaintiffs and Defendants Frank Ferrara and Charlie Ferrara, as stated on the record, Defendants are ordered to produce responsive documents from the cell phone imaging and responsive cell phone bills and records by 5 p.m. on Monday, July 17, 2017.
The parties are directed to meet and confer in good faith to attempt to resolve any further discovery disputes. If the parties are unable to reach a resolution about any disputes, they are directed to contact the Court's Courtroom Deputy Clerk to schedule a telephonic conference.
IT IS SO ORDERED.


The image was pasted up out of various public domain items that I took from the quite useful Pixabay.Com, which doesn't even require attribution. The resulting smish-smosh is, as usual, ©2017 MichaelKohlhaas.Org. The quotes in the mouth of the silhouetted surfer have over the years been attributed to various Ferraras per The Daily Breeze. Except for the stuff about the hyenas, which I made up. But just because it's made up don't mean it ain't true.