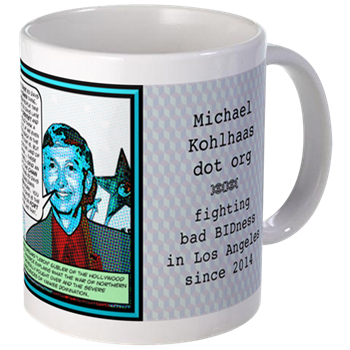 My recent post about the Hollywood Chamber of Commerce and its lobbying disclosure activity was so popular, or at least the picture that accompanied the post was so popular, that, effectively although not actually by popular demand, we here at MK.Org created yet another souvenir gift mug, an accessory with which you too can tell the world that you're opposed to bad BIDness in Los Angeles and also is very handy for the drinking of coffee and other hot beverages! We here at MK.Org feel that this item has the potential to outsell our current bestselling item, the Blair Besten anti-CPRA award mug. Help us make that dream come true, friends!
Turn the page for link to newly obtained emails from the Fashion District.

In other news, last week I obtained a huge pile of emails from the Fashion District BID and made them available on Archive.Org. I have been so busy with ongoing projects that I've barely had time to look through these, but there's sure to be some interesting material here. These are from February, March, and April 2017, and so they cover the Skid Row Neighborhood Council election controversy and much, much else besides.