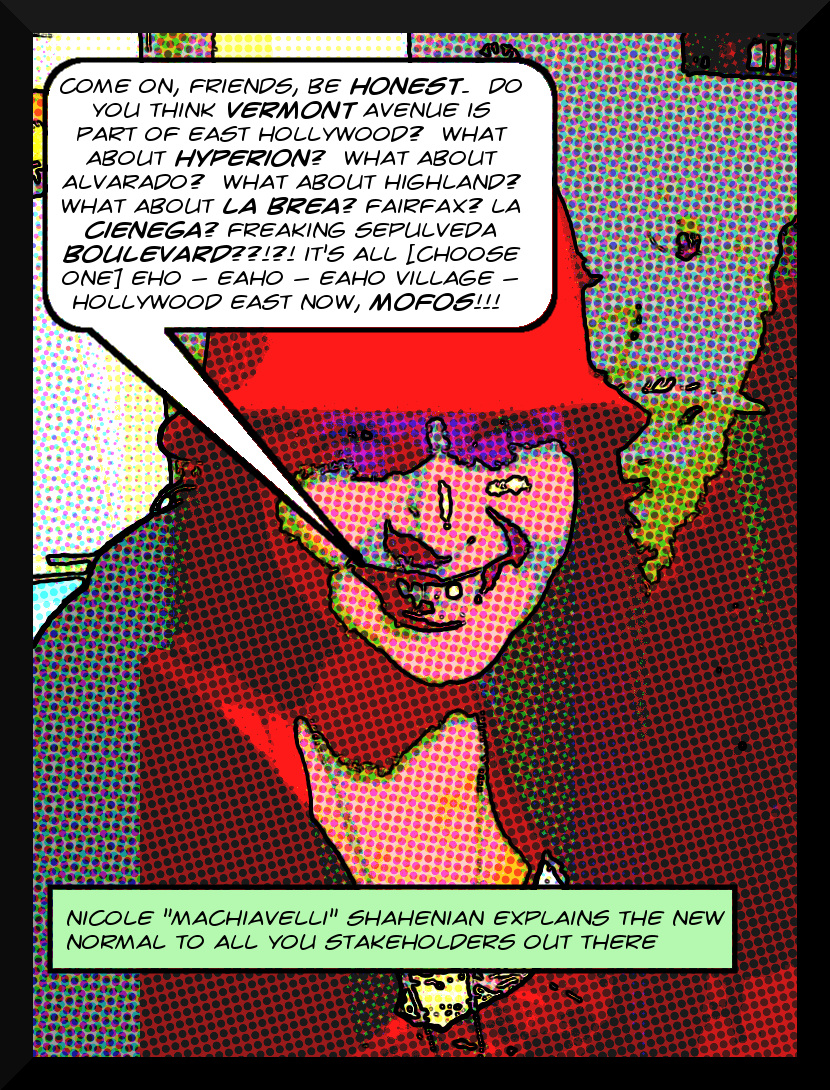 Well, dang, friends! How time does fly! It seems like only yesterday that we here at MK.Org secret headquarters were sitting around the metaphorical fire just mocking away at Hollywood Hotel über-düber-Führer Jeff Zarrinnam's weirdo plans to rebrand-slash-restyle East Hollywood as Ee-Ho or some such nonsense. But in fact, it has been almost a month.
However, it is well-known that rust never sleeps and neither do freaking real estate boosters. Thus it's certainly no surprise to find that the good old East Hollywood BID is moving on up with its plans for the grand East Hollywood rebrandarama. They have a freaking Survey Monkey up! And, at least for now, you can take the survey! And enter to win a Starbucks gift card!! For Fifty! Freaking! Dollars!! Turn the page for your chance to WIN WIN WIN!!!

Here is a LIVE LINK TO THE SURVEY. Also, since it will surely go away at some point, here's a Frankensteinesque PNG version of the survey that I stitched together out of screenshots.1 Especially see where they want to know what streets are in East Hollywood, and also the current list of moronic ideas for renaming East Hollywood: EAHO, East Hollywood, EAHO Village, eHo, and Hollywood East.2 That's all I got on that. The whole situation is essentially self-mocking.

Image of East Hollywood BID Maximum Leaderette Nicole Shahenian started its young life as a whosis-slash-whatsit on this website where, via the holy and venerable principles of fair use it has been transformed into something wholly and unadulteratedly nouveau, and hence I am proud-ish to announce that it's certainly now ©2017 MichaelKohlhaas.org.

It is shockingly hard to make a copy of a Survey Monkey page. Nothing works, not the operating system's built-in print-to-PDF capability, nor any one of about 5 extensions in both Chrome and Firefox that I tried. Survey Monkey has some serious anti-copying voodoo going on. I had to make this version by taking five separate screenshots and pasting the parts together. I only had so much time to spend on this given that its intrinsic value is essentially zero, which is why it's so ragged. You get what you pay for!
It's interesting that these putative real estate pros don't actually seem to know what the term "village" means in Los Angeles. Larchmont Village, Los Feliz Village, Atwater Village, Westwood Village, Westchester Village. They have something in common that East Hollywood does not have. As for what it is, well, you can figure it out as well as I can explain it.