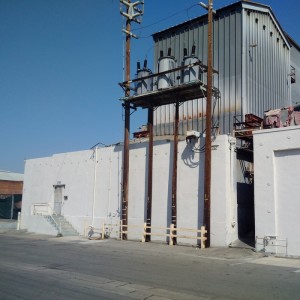 One of the primary problems faced by anti-BID activists is that it is next to impossible to find out how to get in touch with the property owners involved in the BID. It's politically necessary to do so because as matters stand now they are the only people who can get rid of a BID, so we have to be able to send them propaganda.
1
This problem was crucial in the (ongoing) struggle against the
Venice Beach BID
,
2
with both the City and CD11 claiming that
the mailing list was not a public record
. I chipped away and chipped away at this and finally, a couple months ago,
Miranda Paster accepted my arguments and handed over the list
.
For technical reasons, though, that victory was not applicable to BIDs in general.3 You can read the details in the above-linked-to post. So the next step is to find a way to get a mailing list for any BID. This is still ongoing, but today another one of my intermediate, more restricted, strategies was successful. It's based on this June 15, 2015 report from Miranda Paster to Holly Wolcott.4 The crucial bit is the statement that:

On June 18, 2015, staff mailed out notice of public hearing and ballot packages for the renewal of the South Los Angeles Industrial Tract and Granada Hills Business Improvement District and notice of public meeting and public hearing for the renewal of the Los Angeles Tourism Marketing District.

Recall that for months, Miranda Paster put me off the mailing list for the Venice Beach BID by claiming that it was the property of shadowy BID consultant Tara Devine and not, therefore, a public record. Thus the success of these requests hinges on the precise definition of what a public record is, and for that and subsequent discussion, you have to turn the page.

CPRA at section 6252(e) states pretty exhaustively that:

"Public records" includes any writing containing information relating to the conduct of the public's business prepared, owned, used, or retained by any state or local agency regardless of physical form or characteristics.

Note how it's not required that a record be prepared or owned by an agency, but just that it be used by them.5 My original unsuccessful arguments to Miranda Paster about the VBBID mailing list were based on the (to me evident) fact that the City used this list to establish the BID even though they (according to them, anyway) neither prepared nor owned it. However, because the Clerk's own records state that they used a mailing list to send out some stuff to the SLAIT BID's property owners, none of these (ineffective anyway) subtleties mattered. Their own words convict them of using this list, making it transparently a public record.
Hence on August 28 I fired off a request to Miranda Paster based on this theory:

Dear Ms. Paster,
I read that on June 18, 2015 your staff mailed out ballots relating to the renewal of the SLAIT BID. I would like a copy of the mailing list they used.
Thank you,
Mike

And what do you know? It actually worked. This morning, not one hour ago, Miranda Paster sent me an actual mailing list for the SLAIT BID. Now, as far as BIDs go in this city, the SLAIT BID is actually one of the least objectionable,6 and even if I had a motive to go after them, who has the freaking time. This was a proof of concept, nothing more, nothing less. The one drawback here is that my successful argument relied on the BID having been up for renewal in the past. This possibly wouldn't help for anti-BID activism, where it's necessary to have a current list in advance of the election.
I'm working on doing this, but the argument is necessarily more subtle, and has not yet paid off. It's based on the fact that the Clerk's office has the ability to generate a mailing list whenever they need one. They have to be able to, since the law requires them to mail stuff out from time to time. But they don't necessarily have a current mailing list on hand at any given time, and CPRA generally does not require the creation of records on request.
However, there's a crucial exception to this principal, and that is found in Section 6253.9(a)(b). This is lengthy, and it's appended below for reference. The main point is that if they have some data in a computer, and from time to time they extract some of the data into a record, then they have to run an extraction in response to a CPRA request, but they're allowed to charge the requester for the time it takes. My argument is that because they can generate a mailing list when they need it for BID renewal, they must generate a mailing list when I request one, and charge me for staff time. I think this argument must be sound, but so far they have not been responsive to it. However, they have not claimed that it's unsound either, so we'll see what happens. But today's little bit of progress is good news indeed.

(a) Unless otherwise prohibited by law, any agency that has information that constitutes an identifiable public record not exempt from disclosure pursuant to this chapter that is in an
electronic format shall make that information available in an electronic format when requested by any person and, when applicable, shall comply with the following:
(1) The agency shall make the information available in any electronic format in which it holds the information.
(2) Each agency shall provide a copy of an electronic record in the format requested if the requested format is one that has been used by the agency to create copies for its own use or for provision to other agencies. The cost of duplication shall be limited to the direct cost of producing a copy of a record in an electronic format.
(b) Notwithstanding paragraph (2) of subdivision (a), the requester shall bear the cost of producing a copy of the record, including the cost to construct a record, and the cost of programming and computer services necessary to produce a copy of the record when either of the following applies:
(1) In order to comply with the provisions of subdivision (a), the public agency would be required to produce a copy of an electronic record and the record is one that is produced only at otherwise regularly scheduled intervals.
(2) The request would require data compilation, extraction, or programming to produce the record.


Image of Standard Plating is ©2016 MichaelKohlhaas.org.