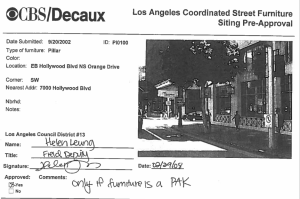 Well, long-time readers of this blog will recall
a number of shrill screeds
on our part about how the BID Patrol keeps arresting people for public urination but the HPOA doesn't do anything to get public toilets installed. And aren't we embarrassed now. We had assumed that the HPOA had so much political juice that they could get anything they wanted out of the city, so the fact that Hollywood has no public toilets, we wrongly assumed, was proof that the HPOA was opposed to them.
It turns out that we were dead wrong about that. The HPOA has been trying for over a decade to get the city to put public toilets around Hollywood without any success. Just mere moments ago our faithful correspondent received documents that demonstrate this in great detail, and we apologize for our hasty leaping at conclusions. You can browse through the documents via the new Public Toilets subdirectory of the HPOA directory in the menu structure above.

Especially important is this catalog of 12 locations approved by the city but in which toilets were never installed. This one is all the city's fault, it turns out. We still think that, in the absence of toilets, it's horrific to arrest people for public urination, but on that issue, we suppose, the HPOA and MK.org are always going to differ.