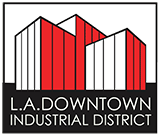 I recently started requesting documents from the Central City East Association (CCEA), which runs the Downtown Industrial District BID. I'm not sure why, it was just a whim, but the executive directrix, a lady named Raquel Beard (who long-time readers may remember for her
stunningly weird remarks about sidewalk vending
), turned out to be so delightfully trollable that I'm just going to keep it up for a while. I can already see a couple of ways it might develop into a long game, but I'm keeping schtum about that for now. Meanwhile, take a look at what I got today. You can begin with CCEA in the Documents menu above. Also,
here is a page
for the new subdirectory. After the break I describe things in more detail, if you're interested.
I have an email chain between Raquel Beard and a mysterious redacted figure, probably at UPS (I'm being disingenuous; we know who it is, and it will be the topic of a group post soon. MKarma points for anyone who posts the name in the comments before we reveal it! HINT: Dude's name has fewer syllables than Benedict Cumberbatch's) We have a subdirectory for minutes and agendas, although there's only one set of minutes in there now. I should be getting more in the next couple of weeks. A couple of tax returns, and finally the BID's contract with Universal Protection Service. There's something strikingly hilarious about this contract that my colleagues have also reserved the right to address. Look for more goodies most soonest!

DIDBID logo is in the public domain in California for the usual reasons.