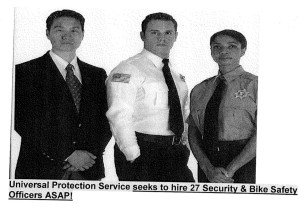 I'm pleased, I mean, as pleased as one can be in context, to announce a bunch of new documents from the DCBID, courtesy of the ever-so-very-helpful
Suzanne Holley
. As my colleagues
once mentioned
, I'm requesting documents from the DCBID in honor of Fabio Conti's
stunning assertion that the "purple guys" are way-a-lot meaner than the A/I BID Patrol
.
Well, I still don't know if that's true or not, but you can start to make up your own mind. Look through the DCBID menu under Documents up above, or browse the directory structure directly in our static storage here. Some highlights are: a BID Academy curriculum (I'm still not sure what the BID Academy is, but according to Suzanne, this is all they have left about it). Also a crazy load of emails from July 2015. These include…

emails on body cams for the purple guys as well as a short but gripping chain on "I can't breathe" protesters downtown. There are also two large sets of unsorted emails from July 2015: part 1 and also part 2. Finally, there is a whole month's worth of shift summaries, which are sent thrice daily from UPS to the DCBID telling what they did that day to earn their bread. There's a lot of interesting stuff in there, which I'm sure my colleagues maybe are going to write about if they ever get through the backlog. In any case, perhaps the truth or falsity of Fabio's assertion that the purple guys are meaner can be learned from reading these documents. I have many, many more on the way if you're a DCBID fan.

Image of UPS hiring thing is, we believe, in the public domain as it's a public record. If it's not, we didn't publish it, DCBID did, so complain to them, eh?