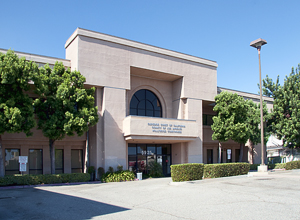 If you look
here
you will find correspondence between HPOA Executive Director Kerry Morrison and various people with the California State Judicial Council, which has not paid its assessments since 2009. It's well worth a read if only to see Kerry's hapless rhetorical sallies counterposed with the calm authority of the state's lawyers.
The Judicial Council maintains that the BID's services are useless to them, but offers to pay a part of the money assessed. Kerry Morrison, at an impasse, writes to State Controller John Chiang to complain that the "situation is not going to resolve itself." What will happen next I don't know, but Kerry invokes the authority of the City of Los Angeles rather vehemently. Of course, this is roughly the opposite of the argument that this BID brought in the Epstein case, in its finding on which the State Court of Appeals benchslapped them silly. There the BID and the City argued that the city didn't create the BID, so it wasn't subject to state law, but it turned out that it was. Here, Kerry argues that because the City "affirmed" the creation of the BID, the State of California must bow down before it. That sounds like another losing (and inconsistent) argument, but I'm not a lawyer. Stay tuned!

The image of the Hollywood Courthouse was nabbed from here, and it's my assumption that it's a public record, and therefore may be republished without harm.