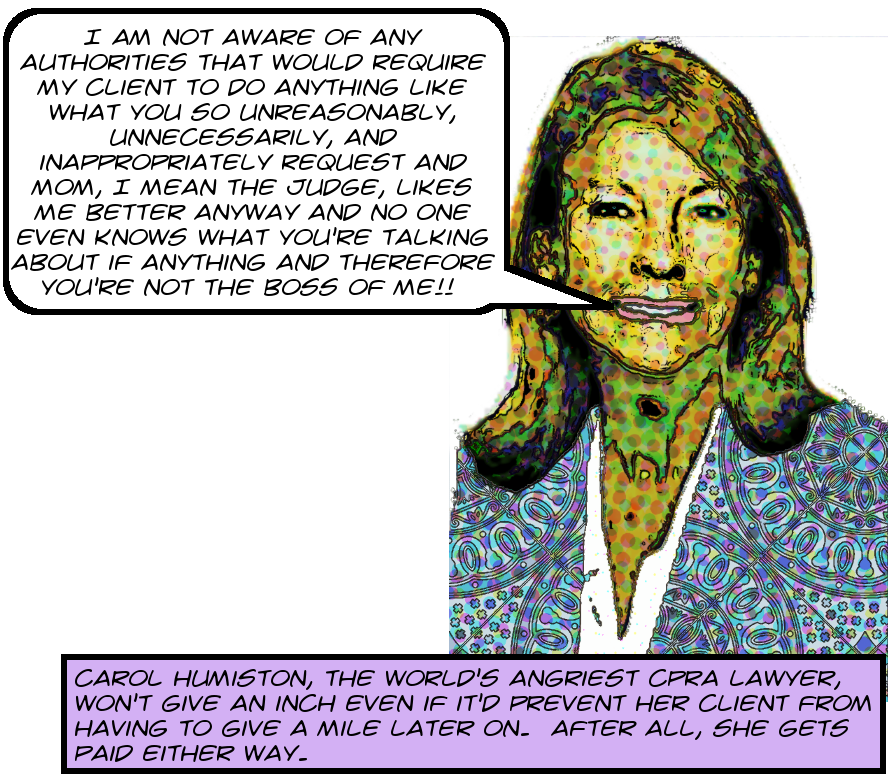 In August I had to file suit against the Fashion District BID to compel them to comply with the California Public Records Act. One of the main issues in the suit is a bunch of various really implausible exemption claims by FDBID executive director Rena Leddy. Now, it's well understood that the burden of proving that an exemption claim allows a record to be withheld lies entirely on the withholding agency. The CPRA says explicitly at §6255(a) that:

The agency shall justify withholding any record by demonstrating that the record in question is exempt under express provisions of this chapter or that on the facts of the particular case the public interest served by not disclosing the record clearly outweighs the public interest served by disclosure of the record.

At the time that Leddy denied my requests I asked her to justify her decisions to withhold but she refused to do so even though the law clearly requires it.1 But it sure is hard to dispute the BID's exemption claims if no one knows what the heck they're basing them on and they won't explain. My lawyer asked Carol Humiston, the world's angriest CPRA lawyer, if she'd mind listing all the withheld records and explaining why the BID withheld them.2 You can read his email here.
But Humiston, who's not only the angriest but also pretty much tied for first place as the most obstructionist,3 wasn't having it. Here's what she had to say for herself in this email here:

I have considered your request for a "Vaughn Index," which of course in [sic] a Federal procedure, and I do not believe it is either necessary or appropriate at this time. I know of nothing that requires the BID to produce such an index. Once you have filed your brief in support of the Writ, the Court and I will have a better understanding of the issues you are raising and the appropriate course to take.

So we filed a motion asking the judge to compel the BID to produce a list of all withheld emails. This motion will be heard on November 16, 2018 at the trial setting conference at the Stanley Mosk Courthouse in Department 86 before the Honorable Amy Hogue. There's a transcription of the motion after the break.
Continue reading Fashion District BID Lawsuit — Motion Filed To Compel BID To Explain Just What The Heck They Were Talking About When They Claimed All Those Exemptions — Carol Humiston Says "No Way — You Can't Make Us Tell You" — Hearing Scheduled For November 16 At 9:30 AM →