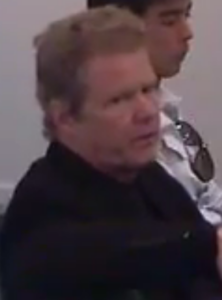 CORRECTION: Carl Lambert's donation to Garcetti was in June 2015 whereas the lawsuit was filed in June 2016. I've struck through any claims that relied on my inadvertent misreading of the relevant document and added a few words, which are underlined. We stand by our claims about the timing of Lambert's donations to Bonin. Thanks to
Gonzo Rock
for pointing this out.
Carl Lambert is presently famous for two main reasons. First that Mike Feuer is suing the shit out of him because he's a sneaky lying illegal hotel proprietor and second that he's a vocal proponent of the Venice Beach Business Improvement District, which was approved in Council last week during a chaotic and emotional process, itself of dubious legality. Newly discovered evidence1 shows that Lambert has tried to ease his strait and narrow path through some of these thorny matters by…wait for it…giving money to politicians.
First of all, see the City Ethics Commission's donation records for Lambert. Note that on June 24, 2015 he donated $1,400 to Eric Garcetti's reelection campaign, which is the maximum donation allowed. Does the date sound familiar? It ought to. It was exactly one week before, on June 17, 2015, that Mike Feuer filed a complaint against Lambert for running an illegal hotel. It goes to show that good old F. Scott was on to something when he wrote about zillionaires that "They are different from you and me." I don't think that most non-zillionaires, on finding out that the City Attorney has just filed a damning complaint against them, would turn around and give $1,400 to the Mayor.
And it's not just like Lambert did this all the time and the timing was coincidental. First of all, he also gave Garcetti money in 2013, when he was actually running, but he only gave him $200. Secondly, Lambert has only ever given $3,500 total to Los Angeles politicians in his life.2 This one-time, week-after-the-complaint-got-filed donation of $1,400 represents 40% of Lambert's life-time donation total. Also note that Garcetti isn't running for election again until 2017, so it's not like he was actively fundraising in June of 2015.
And as if that wasn't enough, on December 8, 2015, he turned around and gave $700 to Mike Bonin, also the legal maximum. That's 20% of Lambert's lifetime total right there, and Bonin also isn't running until 2017. And as I've demonstrated recently, this was right in the midst of a flurry of VBBID activity, when having inspired $700 worth of warm fuzzies in Bonin's heart couldn't have hurt anything:
Continue reading Carl Lambert Donated The Legal Maximum of $1400 To Eric Garcetti Just One Week After Feuer Filed Complaint Against Him For Running An Illegal Hotel and Legal Max of $700 to Mike Bonin in the Midst of a Flurry of Pro-BID Activity By City Staff →