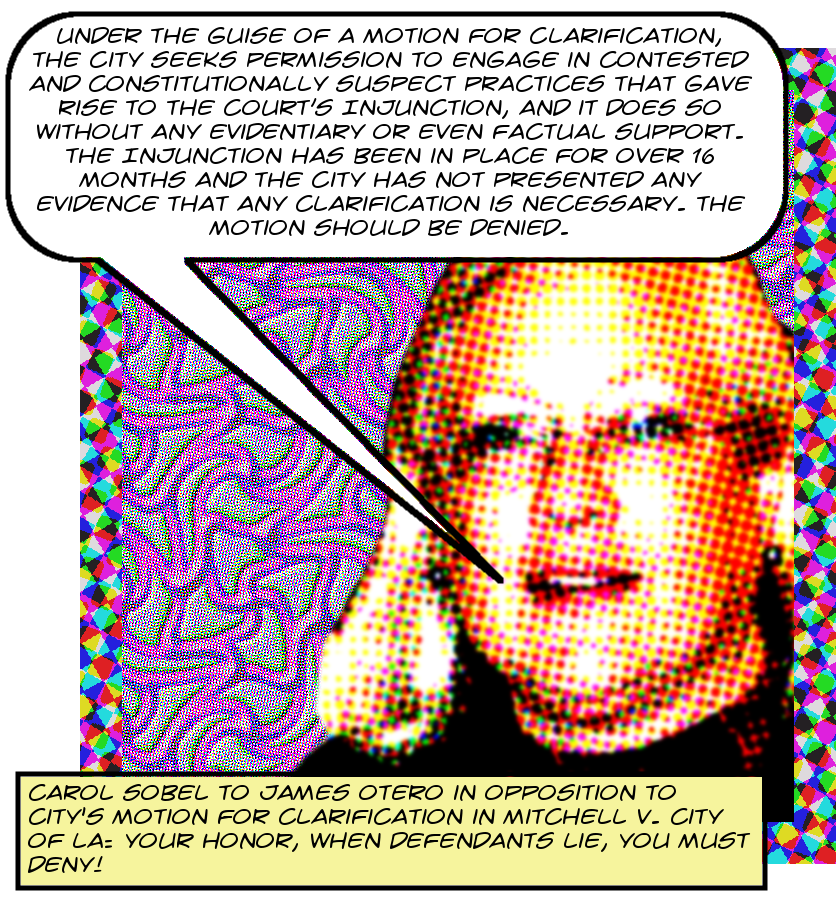 See Gale Holland's excellent story in the Times on Mitchell v. LA as well as our other stories on the subject for the background to this post. See here to download most of the papers filed in the case.
It's been over a year since anything tangible happened in Mitchell v. City of LA, which is the most recent lawsuit against the City of Los Angeles challenging the City's abhorrent enforcement of the abhorrent LAMC 56.11 as an abhorrent justification for the illegal and immoral confiscation of the personal property of homeless people in Los Angeles. Here's a brief timeline of what's been going on:
April 2016 — Judge Otero issues a preliminary injunction severely limiting the City's enforcement of LAMC 56.11 in Skid Row.
May 2016 — The City of Los Angeles asks Otero to clarify his injunction. In particular, the City wanted to know the boundaries within which the injunction applies and also how the community caretaking exception to the Fourth Amendment is to be exercised in relation to homeless people's property.
Subsequently the City and the plaintiffs spent over a year trying to come to an agreement on the motion for clarification.
Well, yesterday Carol Sobel filed this opposition announcing that, while the parties were able to agree on the boundaries within which the injunction applies and some other matters, they most certainly were not able to agree on the community caretaking matter and neither were they able to agree on the City's proposal for what constitutes a removable "bulky item." The agreed-upon boundaries, by the way, are:

Second Street to the north, Eighth Street to the South, Alameda Street to the east and Spring Street to the west.

According to the American Bar Association Journal,

The idea behind community caretaking is that police do not always function as law enforcement officials investigating and ferreting out wrongdoing, but sometimes may act as community caretakers designed to prevent harm in emergency situations.

When they're functioning in that role, the theory goes, they can seize cars without due process, or search houses without a warrant, and so on, as long as they're "caring for the community" rather than investigating. Thus the community caretaking function justifies some specific exceptions to the Fourth Amendment prohibition on warrantless searches and seizures of property.
And I'm sure you can imagine just what kinds of mischief the City of Los Angeles is capable of getting up to with a tool like that. In particular they're arguing that they ought to be able to confiscate people's property when they're arrested even if the arrestee has someone at the scene who can take custody of the property. The City says yes, sane people say no.
This matter is scheduled for a hearing at 10 a.m. on Monday, September 11, in Otero's Courtroom 10C in the First Street Federal Courthouse. Anyway, turn the page for some excerpts from the filing which explain things better than I'm capable of doing.
Continue reading Discussions On City Of LA's Motion For Clarification Of Otero's Preliminary Injunction Forbidding Confiscation Of Homeless Property In Skid Row Finally Break Down, Leading Plaintiffs' Attorneys To File Scathing Opposition — Hearing Set For September 11 At 10 a.m. →