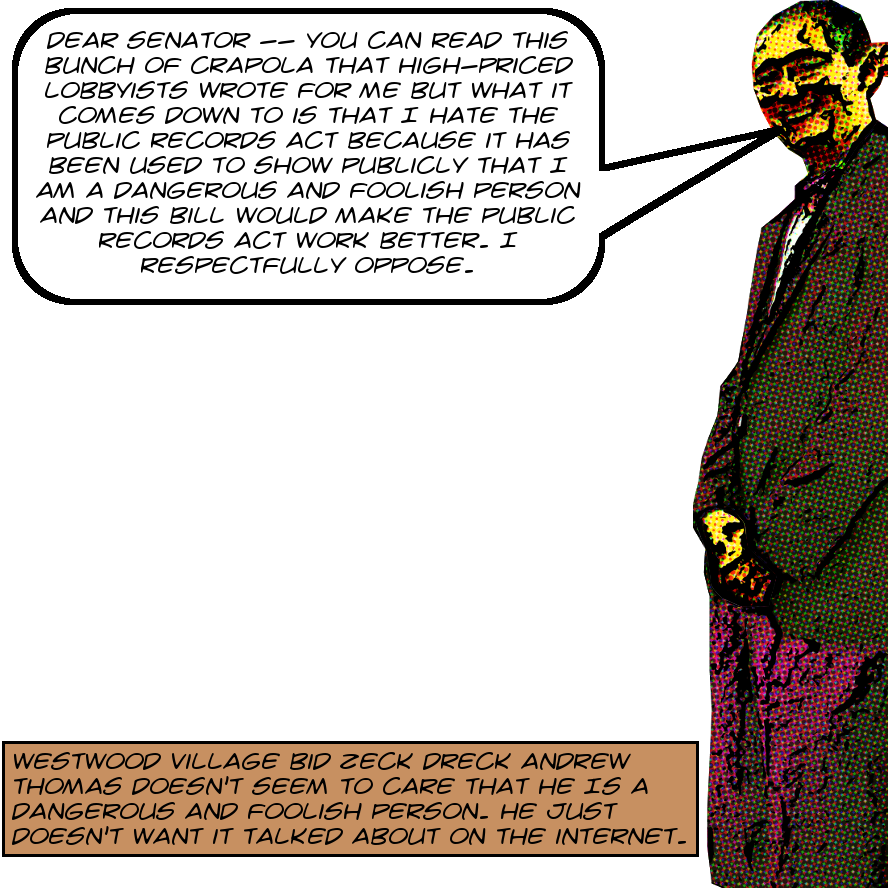 I wrote a couple of months ago about Senator Bob Wieckowski's SB 518, which would make a fairly technical albeit quite important improvement to the California Public Records Act. In short this bill would disallow the use of Code of Civil Procedure §998 in CPRA lawsuits. As I said, it's a fairly technical matter, but it's well-explained here on Wieckowski's fact sheet:

The purpose of a §998 offer is to encourage settlement by providing a strong financial
disincentive to a party, whether it be a plaintiff or defendant, who fails to achieve a better result than that party could have achieved by accepting the opponent's settlement offer. For example, if a defendant makes a §998 offer that is rejected and the
plaintiff fails to obtain a judgment that is more favorable than the offer amount, then the plaintiff is not entitled to post-offer costs and must pay the defendant's post-offer costs.

But this kind of hardball negotiating tactic can have really negative public policy consequences in CPRA cases. Government agencies sometimes make 998 offers that would require requesters to settle for fewer than all the records they're entitled to where refusing the offer puts the requester in jeopardy of having to pay significant costs.
As you probably know, though, there are an awful lot of government agencies who just really do not want to comply with the public records act. In my experience these include BIDs, Charter Schools, the City of Los Angeles, and various state agencies. Not all of these have actually made 998 offers to me, but certainly some of them have. And the problem is only going to get worse as the word spreads amongst the agencies.
That's why it's not surprising to find that the most significant opposition to Wieckowski's bill comes from a coalition of lobbying groups representing BIDs, rural jurisdictions, and other small-scale public agencies, surprisingly led by our old friend Andrew Thomas of the Westwood Village BID. Their letter is absolutely full of lies, although I suppose it's worth reading if you want to see what these people are paying their lobbyists to write.
The main point seems to be that they're getting sued all the time because the CPRA currently makes it too easy to sue them and SB 518 would only make things worse. Obviously, though, and unmentioned by them in this letter, is the fact that if they would just comply with the law rather than spending many thousands of dollars learning how to evade it, they would never get sued at all. That, though, is clearly not the solution they're looking for.
There is some significant support for the bill as well. Here's a letter from the National Lawyers' Guild Los Angeles, and another letter from Jeffer, Mangels, Butler, & Mitchell. Also worth reading, and there's a transcription of the NLG-LA one after the break. The bill is coming before the Senate Judiciary Committee on Tuesday, April 23. I'll let you know what happens!
Continue reading Letters Of Support And Opposition To Senator Bob Wieckowski's SB518 — Which Would Eliminate 998 Offers In California Public Records Act Cases — Set For Hearing Before Senate Judiciary Committee On April 23 — Which Is This Tuesday! — Predictably The Main Opposition Is From The California Downtown Association — Which Represents Bad BIDdies All Over The State — And From A Bunch Of Other Similarly Situated Groups →