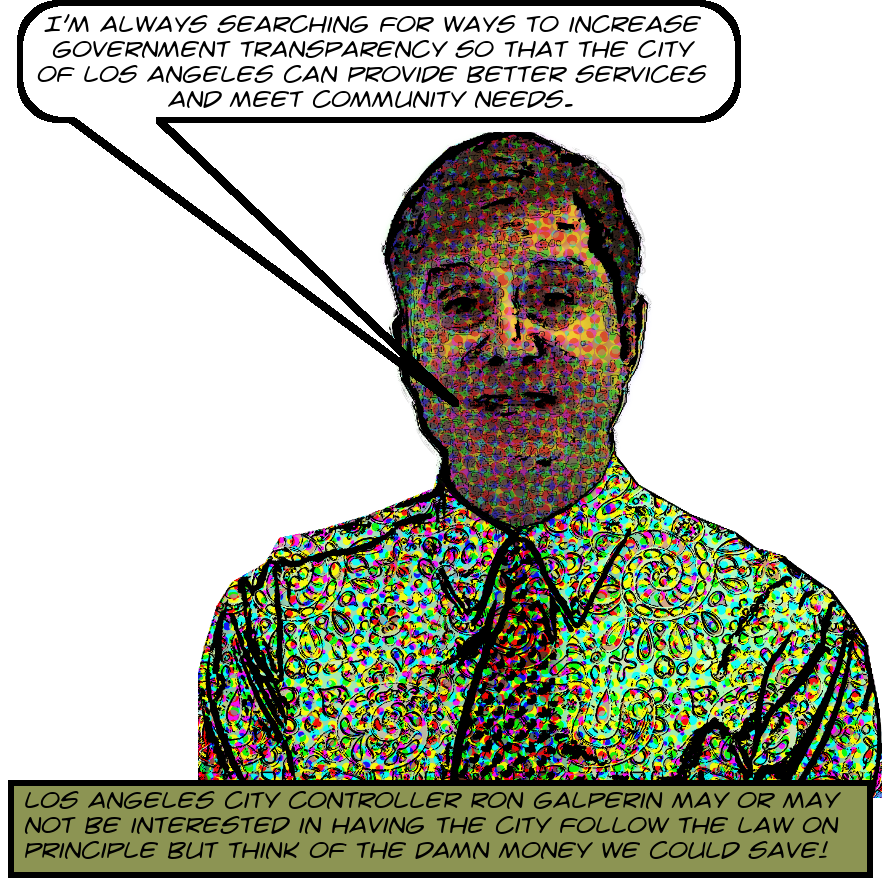 As you may well know, the City of Los Angeles has a really, really hard time complying with its obligations under the California Public Records Act. And as you may also know, the only remedy for noncompliance provided by the Legislature is to file a lawsuit against the violators. If the requester prevails1 the law requires the judge to award litigation costs and lawyers' fees to the requester.
And, it turns out, the City of Los Angeles not only has a hard time complying with the CPRA but they get sued a lot over it. And they usually settle quickly but when they don't they lose. A lot. And they pay a lot of money to requesters' attorneys. In fact, since 2016 they've paid off in 26 cases to the total tune of more than $1.7 million. Here's a list of all of these cases, both as a PDF and in the original XLSX.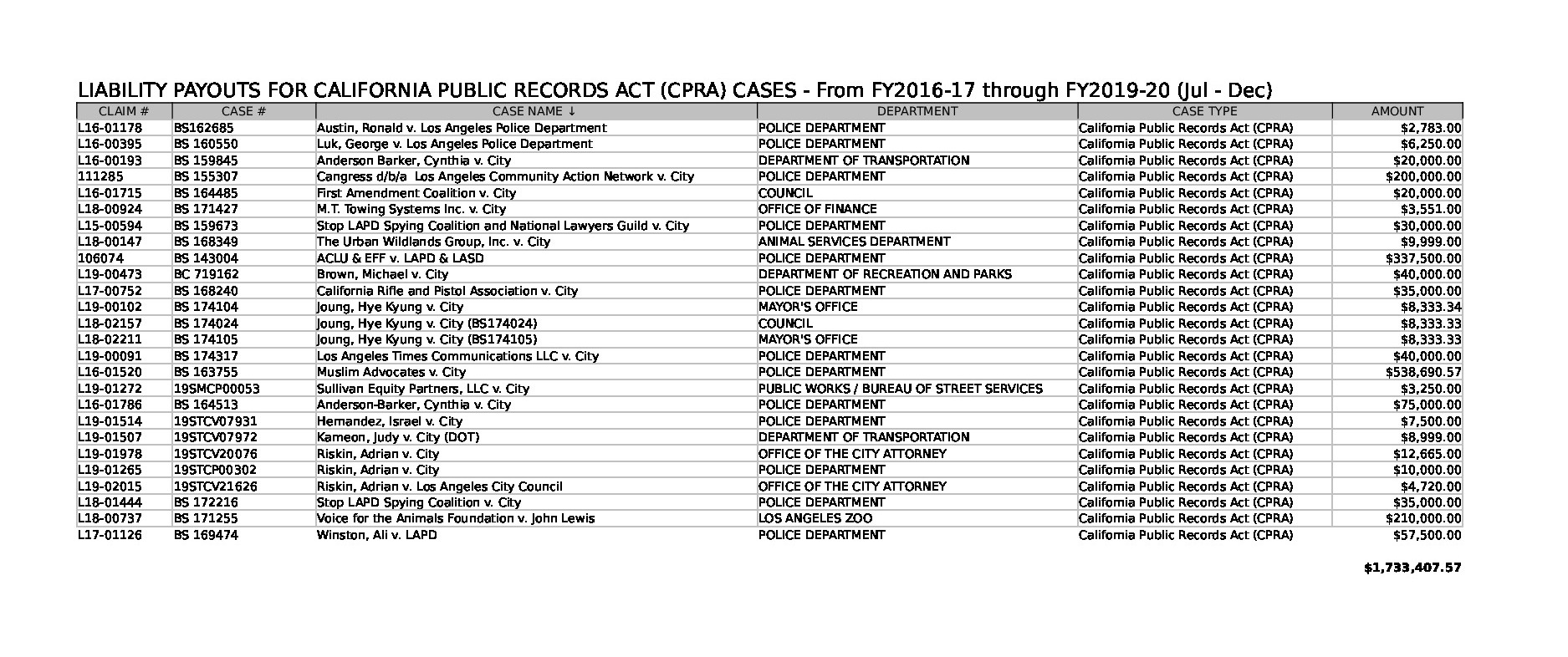 Probably some of these cases involve legitimate controversies over the City's decision to withhold records from release, but as you know if you follow this blog, most of them are due to very little more than the incompetence, indifference, or intransigence of City departments. Most of these cases could have been avoided if the City had just released records that they ended up releasing anyway as a result of the suit. Many could have been avoided if someone had just explained to a few City staffers what their obligations under the law actually were.
So not only does the City's continual, habitual flouting of the CPRA deprive citizens of our constitutionally guaranteed right to access public records promptly,2 but it also costs the City an immense amount of money. All of which is wasted since had the City just followed the law in the first place they wouldn't have had to pay any of it. Or to pay the salaries of the Deputy City Attorneys who had to handle these cases after they were filed.3
The City doesn't even have a CPRA compliance policy, but if it did and if it followed it, none of this money would be wasted. The City of San Diego, it turns out, has a very similar problem, which I only found out about because they have an officer called the City Auditor. He recently investigated San Diego's CPRA practices and policies and made recommendations for improvement.
Which reminded me that here in Los Angeles there is a also City official whose charge includes the right to audit and investigate the expenditures of City departments and to recommend policy changes to stop money wasting. This, of course, is the Controller, whose powers and duties are defined by the City Charter at §260 et seq. and which include the ability to "conduct performance audits of all departments and may conduct performance audits of City programs, including suggesting plans for the improvement and management of the revenues and expenditures of the City."4
So he's empowered to look into this matter, but of course, how's he going to know to do that unless someone brings it up? Thus did I write Galperin a letter this morning asking him to get on it and audit the City's CPRA compliance and policies and make recommendations. In particular I asked him not only to consult with requesters about needed policy changes, but also to consider recommending that the City create a central CPRA coordinator whose job would include receiving, processing, and assigning requests to departments and then tracking and ensuring compliance. Read on for a transcription and stay tuned to find out if anything comes of it!
Continue reading Since 2016 The City Of Los Angeles Has Paid Out More Than $1.7 Million To Settle Public Records Act Litigation — Most Of Which Could Have Been Avoided By Taking Compliance Seriously — This Is Not Only A Betrayal Of The Public Trust But It's A Huge Damn Waste Of Money — If Only There Were A City Official Charged With Reducing Waste Who Could Look Into This — Oh Wait Of Course There Is! — The City Controller! — So This Morning I Sent Him A Letter Asking Him To Use His Audit Power To Evaluate The City's CPRA Policies — And Assess The Risk And Liability Created By Noncompliance — And Recommend Ways To Avoid This Waste In The Future — Including The Creation Of A Centralized CPRA Coordinator For The City — And You Can Read That Letter Here! — Along With A Bunch Of Other Nonsense! →