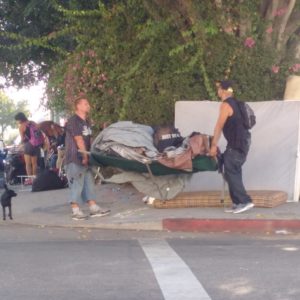 This summer, thinking about the important role that LACAN's pictures and video of LA Sanitation's aggressive clean-ups of homeless encampments downtown have played in e.g.
Mitchell v. Los Angeles
, it occurred to me that it ought to be possible to get advance notice of encampment cleaning actions from the City via the
California Public Records Act
. Well, like everything involving CPRA, it turned out to be far more complicated than one might expect in advance.
Amazingly, Sanitation did supply me with materials. It was just the part about getting them in advance of the clean ups that was difficult. On August 5 I asked for the first time. On August 17 they asked for an extension. On September 13, after a certain amount of wheedling on my part, they sent me material for July and August, and a few days later, partial material for September. Still nothing in advance, though:
The most important ones are the "HE Conf"1 documents. Those represent confirmed locations of clean-ups by Council District for the given month. They also reveal the suspected but, to my knowledge, unproven fact that locations where clean-up is requested by the Council District are given priority over other locations.2 I will be requesting these for the past as well as for the future. I think that mapping this data and otherwise analyzing it will provide important insights into the City's mostly unarticulated-in-public policies towards the homeless, as well as deeper understanding. And understanding this world is fine. But the point3 is to change it.
Continue reading How I Got Advance Notice Of This Morning's Clean-Up Of A Homeless Encampment At 4490 DeLongpre And What Happened There, Along With A Bunch Of Information About Encampment Clean-Ups In July, August, and September →