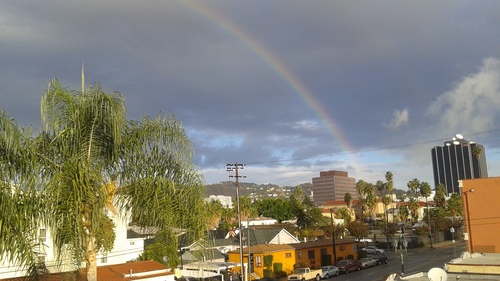 The second redacted report from
Steve Seyler
to the Joint Security Committee of the Hollywood Entertainment District BID and the Sunset-Vine BID is available
here
. I don't actually feel equal to the task of describing in serious terms how upsetting this material is, but I'm going to try my best to match the gravity of the subject.
Steve's narratives of the homeless people of Hollywood lack any consciousness of the fact that these are human beings with human lives that he's dealing with. They have no power, no voice, no property, they have nothing. They are harried and tormented by Steve's Andrews International Security guards. It's not enough that Steve's guards scream at and arrest the homeless for activities which are not only lawful but completely normal if done in a house: sleeping, sitting, urination, defecation, but he mocks them with epithets and has them photographed like trophy animals in the process.
His reports betray no evidence of compassion or even a basic understanding of the fact that these people are homeless as the result of social processes beyond anyone's control. Instead he fills his reports with self-serving anecdotes about his horror-movie-boyscout guards helping blind men across the street and buying hungry people pizza interspersed with immature jokes about shit on the streets and illicit vodka. Is he unaware that his ordained purpose is not helping and saving but moving homeless people out of the steamroller path of businessmen and their plans for tourism and development? He can't possibly be, which makes his pretense and his weird antics even more disturbing.
And the members of the Joint Security Committee, who have evidently received these reports for years without either seeing how disgusting they are or putting an end to them (if only for the sake of public image) are as guilty or more so. It's plausible that Steve can't help the fact that he's a bully-boy who ended up with too much power for anyone's good, but Kerry Morrison at least seems like a decent, kind person. I can't believe she hasn't seen how bad this is. Certainly the LAPD, LASD, and City Attorney's Office liasons to the BID ought to know better; they're professionals. Real police don't act like this (at least not in public). It's a shameful thing.
Continue reading A Shameful Thing →