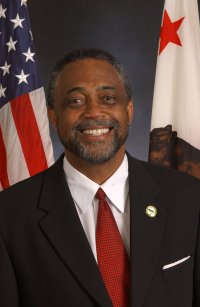 Maybe you've heard about the impending move of
Honda of Downtown Los Angeles
to a gigantic new five story
building on Martin Luther King Blvd. at Hoover
. Building projects of this size don't happen in Los Angeles without a lot of involvement of the relevant Council District, which in this case is CD9, repped by
Alleged bigamist
Curren Price.
1
The various negotiations and agreements are typically formalized in a development agreement between the City and the developer, and this is no exception. You can read
the whole thing here
, although it's a heavyweight 35MB PDF download, so click with care.
And one of the typical elements of these development agreements is a statement of the public benefits that are expected to result from the project. These typically include financial contributions to this or that cause favored by the Councilmember, introduced by the phrase "Additionally, as consideration for this Agreement, Developer agrees to provide the following…" In this case, there are two of these (found on page 7 of the agreement, here's a PDF of just the relevant page, also find a transcription after the break).
The first is $100,000 for present and future employees of Honda of DTLA to attend LA Trade Tech.2 The other contribution to the putative public benefit is $50,000 to pay a BID consultant for the formation of a new business improvement district in CD9. CD9 presently has three BIDs, which are the Figueroa Corridor BID, the Central Avenue Historic District BID, and the shadowy South Los Angeles Industrial Tract BID, so this would make a fourth.
Originally I thought that this new dealership would be located in the Figueroa Corridor BID, but a glance at their map reveals that the north side of MLK is the BID's southern boundary, which is why, I suppose, that a new BID is necessary. Anyway, there's no real moral to this story, although I admit it's pretty jarring to see the formation of yet another damn BID pitched as a public benefit.
That principle, however, is even written into the Property and Business Improvement District Act of 1994, specifically e.g. at §36601(e), which claims implausibly that " Property and business improvement districts formed throughout this state have conferred special benefits upon properties and businesses within their districts and have made those properties and businesses more useful…" so I guess it's no surprise that Curren Price thinks BIDs are good. Anyway, it is always useful to have more information about how and why the LA City government forms new BIDs and pays its BID consultants. Turn the page for a transcription of the relevant parts of the development agreement.
Continue reading CD9 Rep Curren Price Requires Developers Of South LA Honda Dealership To Contribute $50,000 Towards Consultant Fees For The Formation Of A New Business Improvement District As Condition Of Approving Development Agreement →