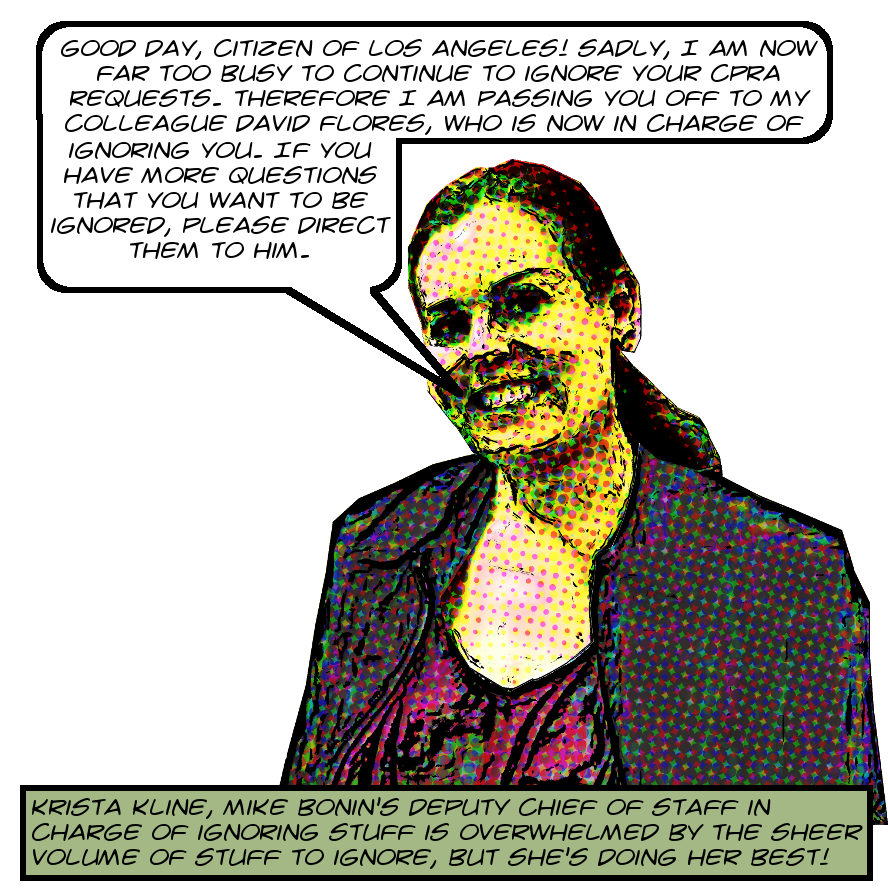 Everybody knows about those damn planters in Venice, but we're just beginning to learn the depth of the City's complicity with the angry housedwelling planter-placers. And fairly recently I obtained some emails that proved that Mike Bonin's staff, if not Bonin himself, have been very complicit indeed, which led me to file a complaint with the City Ethics Commission against one of them, Taylor Bazley.1
I obtained those emails by accident, in response to a request to the LAPD that I made for a fairly different reason, but I have actually been trying to get planter-related stuff from CD11 at least since December 2018 and have been completely, utterly, thoroughly, and even literally ignored by Mike Bonin's staff since then. They have not produced a single record in response to my requests.
And, as you surely know by now, the legislature has left the people of California only one remedy to enforce their rights under this law, and that is to file a petition asking a judge to order the neglectful ones to get it together and comply. So that, this very day, is what I did with our friends at CD11. You can get a copy here, powerfully written by the incomparable Anna von Herrman, and there's a transcription below.
Basically there are three classes of requests. First I asked for emails between CD11 staff and various suspects in the planter-placing and other anti-homeless psychopathy with some names culled from especially angry NextDoor comments. These included both Mark Ryavec and George Francisco.
Next, as part of a series I was working on at the time, I asked for a list of all official CD11 Twitter accounts and also lists of users blocked or muted by those accounts. And finally, I asked for data from CD11's use of the so-called Romulus Constituent Services software, which someone had told me Bonin used to talk to people outside of more predictable channels like email.
This last request Krista Kline, Mike Bonin's deputy chief of staff in charge of something shady, refused to fulfill, claiming that it was "overly voluminous," and the others she initially promised to produce records in response to but then did not.2 All of this material is of great, practically incalculable, public interest with respect to not only the planters but also for understanding how the City decides which encampments to sweep, and many other things besides. So stay tuned for updates on events, and read some lengthy selections from the petition below.
Continue reading City Of Los Angeles Sued To Enforce Compliance With The California Public Records Act — In Particular CD11 Has Ignored My Requests For Months On End — Has Blown Through Their Self-Imposed Deadlines — And Are Likely Doing So To Hide Their Complicity In Planter-Placing In Venice — I Am Seeking Emails Between CD11 Staff And Angry Housedwellers — Twitter Blocks And Mutes — And Constituent Communications Done Via The "Romulus" Platform — Read The Masterful Petition Here! — And Confusion To Our Enemies! →