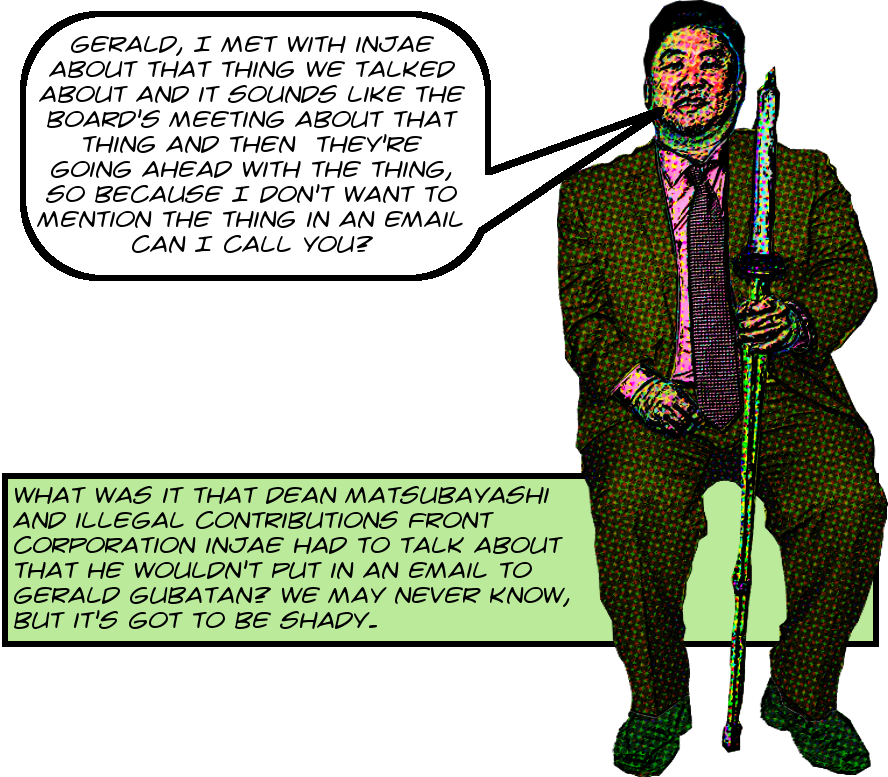 You'll recall that this incredibly useful trove of emails between Cedillo staffer Gerald Gubatan and various Little Tokyo folks has contributed significantly to the story of José Huizar's famously cooked-up community buy-in Parker Center demolition thing, not just in the main story but also, e.g., in this little tidbit about op-ed placement. And, it turns out, there is one more story to be squeezed out of this seething mass of information.
Take a look at this email conversation from 2016 between our friend, Gerald Gubatan, and his behind-scenes buddy Dean Matsubayashi of the Little Tokyo Service Center. And I mean, you can read it, and of course there is a transcription after the break, but the apparent content is a rounding error away from nothing. Gubatan and Matsubayashi go on and on about some entity called Injae LLC and how they need to discuss something on the phone.
That, of course, is a veritable without-which-not1 for political shadiness. There's nothing in the genre of political communications which portends corruption and impending exposure, contempt, mockery, and disgrace quite like a series of emails each of which says essentially nothing more than "call me." And we're never gonna know what they talked about on the phone, but let's take a look at this Injae LLC thing, yes?
This California LLC, which is still active, is a front for real estate developer In Soo Lee, aka Ingrid Lee through which she funneled contributations over the legally allowed amount to Gil Cedillo and Monica Rodriguez. This was reported in the L.A. Times in December 2017 when the Ethics Commission fined Lee $16,455 for her willful evasion of municipal election laws. The article also reveals the fact that Coastland Project LLC was another of Lee's contribution fronts.
And Cedillo accepted contributions from both Injae and Coastland. Take a look at the Ethics Commission's reports on Injae and on Coastland Project to see that Injae gave him $500 in 2014 and $700 in 2015 and that Coastland gave him $500 in 2014. And after taking all this money, evidently Gerald Gubatan had some top secret business with Injae and Dean Matsubayashi, so sensitive that neither of them would commit details to writing.
After all, shady criminal developers like Ingrid Lee ultimately want something from their vendidos in exchange for their illegal money, don't they? Too bad we're really unlikely ever to learn what it was. Turn the page to read the emails!
Continue reading Ingrid Lee Was Fined $16,455 In December 2017 By The Ethics Commission For Making Excess Campaign Contributions Through Front Corporations — Including Injae LLC And Coastland Project LLC — $1,700 Of That Money Went To Gil Cedillo — So Why Was Dean Matsubayashi Of The Little Tokyo Service Center Carrying Messages Between Injae And Gerald Gubatan — Cedillo's Senior Planning Director — In 2016? — And Why Were They So Vague In Their Emails — Repeatedly Insisting On Talking Via Phone? →