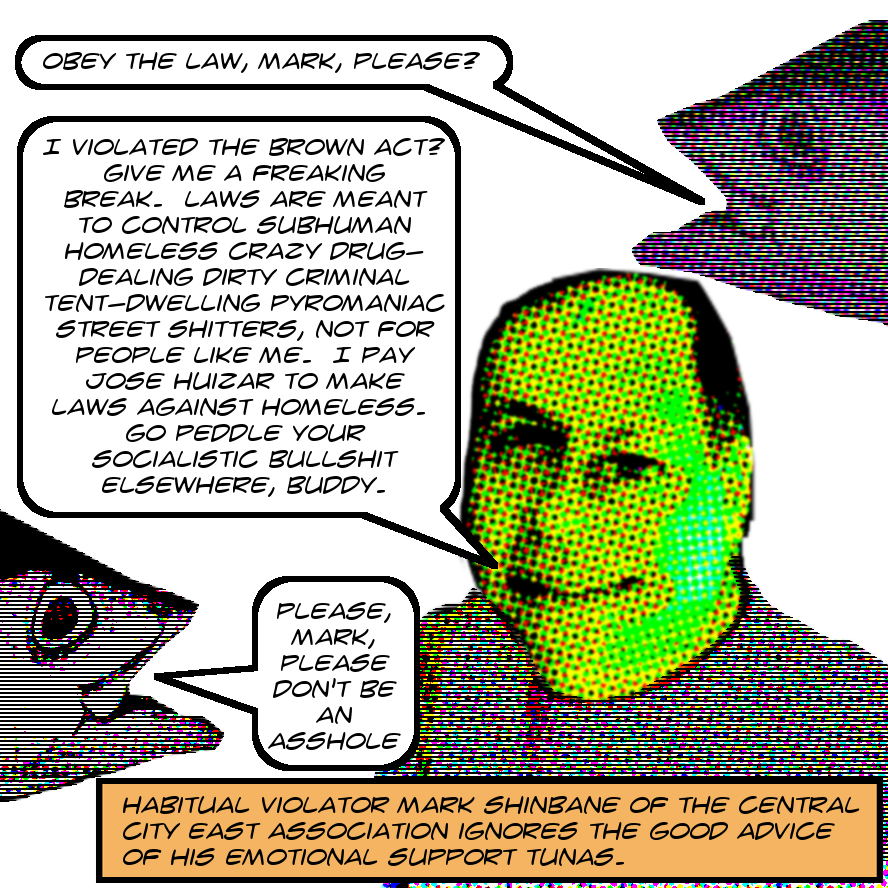 As you know, the Central City East Association held a meeting the other day.1 And a lot of interesting stuff went down. For instance, watch and listen here as Estela Lopez, the voodoo queen of Skid Row herself, explains to the Board that for some reason having to do with the much-discussed trash ordinance, they need to rewrite part of their contract with their street-cleaning contractor Chrysalis. There's a transcription of the whole discussion after the break, but it's easy to summarize what happens.
Estela Lopez is all like guys, we gotta redo the contract because reasons and then some random Board member is all like I have a motion because Roberts, and then Mark Shinbane, the Fabulous Freaking Fishmonger himself, is all like I second the motion and let's vote. Unanimous? Done! The only problem? There's not a word about it on the damn agenda. And this wasn't the only instance of this kind of behavior at the meeting.
Just take a look here as freaking Bob Smiland, honcho supremo of Inner City Arts, quintessentially opposite-of-Silas-Lapham paint zillionaire, and unanimously acclaimed most galootish CCEA board member of all freaking time, responds to dictator-for-life Mark Shinbane's rhetorical question about if there's anything else before he adjourns the damn meeting by going off on a tangent so freaking tangential that his fellow totalitarian zillionaires were left in dropped-jaw silence as he rambled on about tourist brochures for Skid Row to be left in upscale hotel lobbies and god knows WTF else.2 And … you guessed it! Not a word about it on the damn agenda.
And what's the problem with all this, you may well ask? Why can't a few good old white supremacist buddies get together on a Thursday morning at ground zero of the homeless crisis in the United States of America and talk about any random crap that pops into their little zillionaire-addled heads? Well, as it happens, it is against the freaking law, that's why!
Because business improvement districts have voluntarily chosen to benefit from coercively collected assessments, the State Legislature has passed Streets and Highways Code §36612, which makes all these BID boards of directors subject to the Brown Act. The good old Brown Act contains many treasures, and not least amongst these is good old §54954.2(a)(3), which states unequivocally that: "No action or discussion shall be undertaken on any item not appearing on the posted agenda."
Mark Shinbane, of course, is famous for his criminal ways and he's no stranger to violating the Brown Act, but this, to the best of my knowledge, is the first time he's ever done it on camera. Turn the page for a little more evidence, transcriptions of the relevant bits, and, best of all, a copy of the report I sent to the LA County DA this morning turning these creepers in for their criminal ways.
Continue reading How The Central City East Association Violated The Brown Act Twice In One Meeting On Thursday Morning So I Reported Them To The Los Angeles County District Attorney →