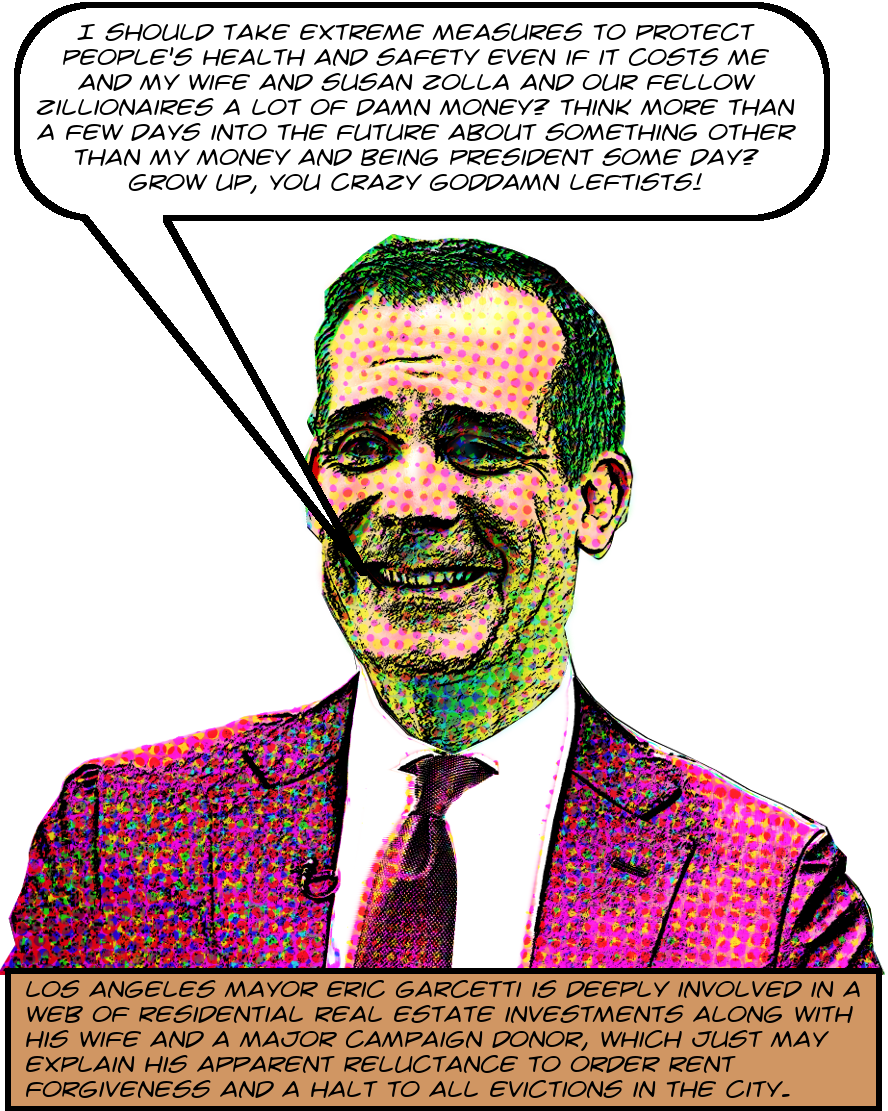 I recently wrote on the fact that at least seven members of the Los Angeles City Council are landlords, which may well have something to do with their reluctance to implement serious and effective protections for vulnerable tenants during the pandemic.1 And in the last few days tenants' rights activists have organized two demonstrations at the home of Los Angeles Mayor Eric Garcetti to protest his failure to implement a blanket eviction ban and rent forgiveness during the pandemic.2
So it didn't really surprise me that much to learn that Garcetti is also a landlord. But I was surprised by the layered complexity of his real estate holdings, at least as compared to the fairly straightforward setups the Councilmembers have.3 It all starts, of course, with his Form 700, which lists three properties on Schedule B.4 One of these is a commercial building in the City of Beverly Hills5 but the other two are residential rentals in the City of Los Angeles.
First up we have 1299 Meadowbrook Avenue, which consists of three units,6 bought by Garcetti and his wife, Amy Wakeland, in 2016 as reported in the Los Angeles Times. On August 8, 2018 Garcetti and Wakeland formed the 1299 Meadowbrook LLC and then a few days later signed over the property to that entity as recorded in this grant deed.7 According to the Times article in 2016 the main house was listed at $5K per month and the two apartments at at least $2K each.8
The next property listed is 1809 W. 37th Place, which is a duplex near Exposition and Western. This is listed as Amy Wakeland's sole property, which is consistent with the grant deed, on which Garcetti's name does not appear. She bought the property on July 10, 2018 and, I guess to be extra-safe, that same day Garcetti filed a transfer deed assigning his rights in the property to Wakeland.9
And then things get really interesting! On Schedule A-1 of his Form 700, which covers "Stocks, Bonds, and Other Interests," Garcetti lists a couple of limited partnerships, which are IPDR Associates and Del Rey Vista Associates. Later, on Schedule C,10 it turns out that IPDR owns a hotel at 435 Culver Blvd and Del Rey owns an apartment building at 11519 Culver. These two corporate entities were formed decades ago by zillionaire real estate developer Edward Zolla and are now owned11 by his widow, Susan Zolla.12
Edward Zolla was apparently an old Garcetti family crony. For instance in 1992 he helped rescue Gil Garcetti's ultimately successful run against Ira Reiner for DA with an emergency $15K loan to the campaign. Since 2001 he and Susan Zolla have given $4.5K to Eric Garcetti's various campaigns. And, apparently, they also support Eric's bank account by letting him be a partner in these two enterprises.
This is clearly a favor of some sort. It's not like owning shares in Starbucks or other publicly traded companies. These Zollas don't need investment partners. They're not running ads trying to sell shares in their partnerships. They have enough capital to go it alone. You and I can't call them up or click on a link and get in on this deal. And yet, apparently, Eric Garcetti can do just that. And as Mayor of Los Angeles he can shape and influence laws and policies in such a way that he, and his wife, and his partners, will benefit.
If that means an eviction moratorium that's limited in various essential ways, or if it means a rent freeze rather than rent forgiveness, well, then that's what it means. And that's the story I have for you today. The moral? As always I'll leave it to you, but I will say that I'm constantly amazed at the endless ways zillionaires have of extracting money from people and passing it around their private social circles.
I feel like not only do I not understand what they're doing, but that I lack even the basic concepts to ever be able to understand. I feel like a tourist from another planet watching some incomprehensibly complex social activity. But of course that's by design, isn't it?

Image of Eric Garcetti is ©2020 MichaelKohlhaas.Org and you know, this.