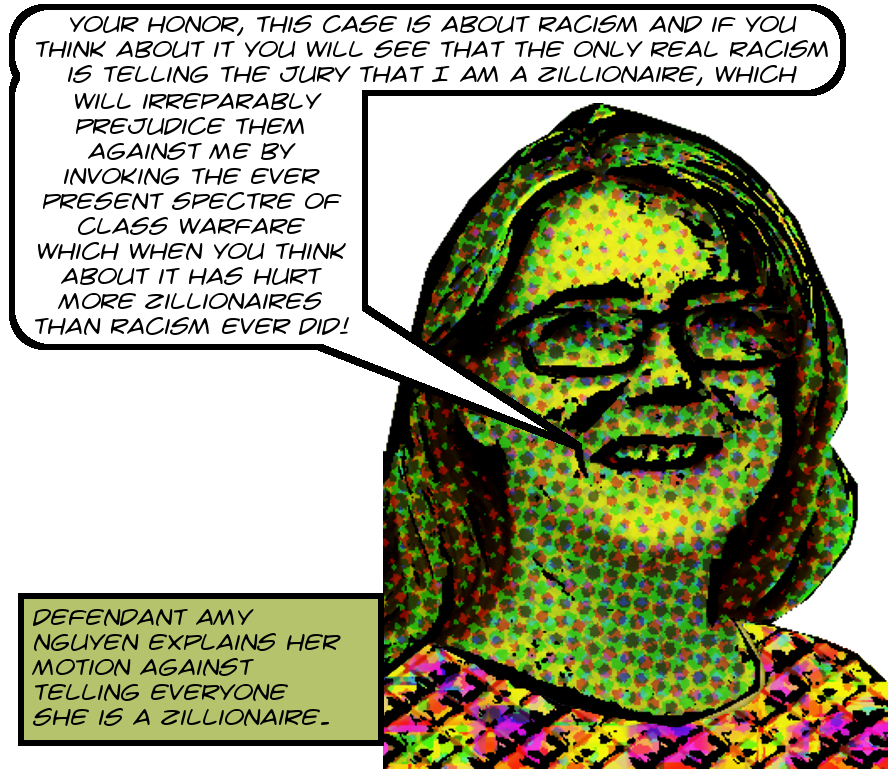 This is just the quickest briefest note imaginable to let you all know the state of the case of Saghafi v. Pali High, in which former teacher Saghafi will seek to prove in court the clearly true but maybe not so easy to prove in court theory that these Pali High folks are a bunch of damn racists and that they due to their damn racism, messed her up big-time. You can read my previous stories for background first here and then here.
And the trial, which was previously scheduled for July, was postponed until August 19, 2019 at 10 AM in the Stanley Mosk Courthouse in good old Department 72. And as is their lawyerly wont, just this very Monday, all the lawyers filed about a zillion motions, because I don't know, perhaps that was the last day to do it. And the Los Angeles County Superior Court charges about a zillion dollars a page for PDFs of pleadings but they give one the first page for free.
I don't have time to write about any of this in detail, but I do have some of the motions and all of the previews, and there are links and some very brief comments below. The motions themselves are to be heard in Department 72 on August 9, 2019 at 8:30 AM. I am not completely sure I can make it but I will certainly try my best!

★ Defendants' motion to exclude evidence of financial status — This one is complete. The zillionaires don't want the plaintiff to tell the jury that they're zillionaires and that she's not a zillionaire.
Allowing Plaintiff to introduce evidence relating to the Parties' financial situations is fraught the danger of undue prejudice and confusing the issues. For instance, the disclosure of PCHS's financial condition is likely to lead the jury to perceive PCHS as a "deep pocket" and lose focus on the actual issues to be decided at trial. Similarly, introducing evidence of Plaintiffs financial situation may engender more sympathy from the jury, again losing focus on the issues to be decided. Further, allowing Plaintiff to introduce such evidence is likely to necessitate the undue consumption of time in that it will force the parties to spend time on a collateral issue which has nothing to do with the merits of this case.
★ Defendants motion to exclude evidence or testimony about all the other racist stuff from Pali High — Also have the complete version of this. How could anyone resist?
Defendants Palisades Charter High School and Amy Nguyen ("Defendants") will, and hereby do, move the Court for an order in limine precluding Plaintiff Roya Saghafi ("Plaintiff') from seeking to introduce testimony or documents, or from making any argument or comment concerning testimony or documents regarding any alleged discrimination of employees other than Plaintiff. Defendants request the Court instruct Plaintiff and her counsel not to refer to, interrogate any witness concerning, or comment on any evidence relating to any such alleged discrimination. Such opinions are irrelevant, based on hearsay, constitute inadmissible character evidence, extraordinarily prejudicial to Defendants, exceed the bounds of the witnesses' knowledge and perception, and should be excluded…
Defendants anticipate that Plaintiff will also seek to testify about past unrelated and irrelevant alleged acts of mistreatment of discrimination and harassment against PCHS students. For instance, Defendants expect that Plaintiff will try to introduce evidence relating to a 2015 incident in which PCHS students made up a rap song which included race related lyrics, a 2016 incident in which a few students defaced PCHS property with racist graffiti and a 2017 incident in which students in a group chat circulated a picture of an African American student with a noose around her neck.

★ Plaintiff's motion to exclude testimony of undisclosed parties, especially minors — The last complete pleading I wanted to pay for

In the days leading to this motion, Defendants' employees testified to the existence of documents directly relevant to Plaintiffs claims, and which were responsive Plaintiff's discovery, but were not produced. Defendants also refused to identify people who were witnesses to relevant events. Such conduct is contrary to the principles of fair play and justice. Plaintiff seeks to exclude all persons not identified in discovery, and evidence that was responsive to Plaintiffs discovery, that was not produced.
And you can find links to the first pages of all the other motions here on Archive.Org where I am collecting material from the case. See you, perhaps, on August 9!

Image of Amy Nguyen is ©2019 MichaelKohlhaas.Org and here's the official Amy Nguyen memorabilical cord.