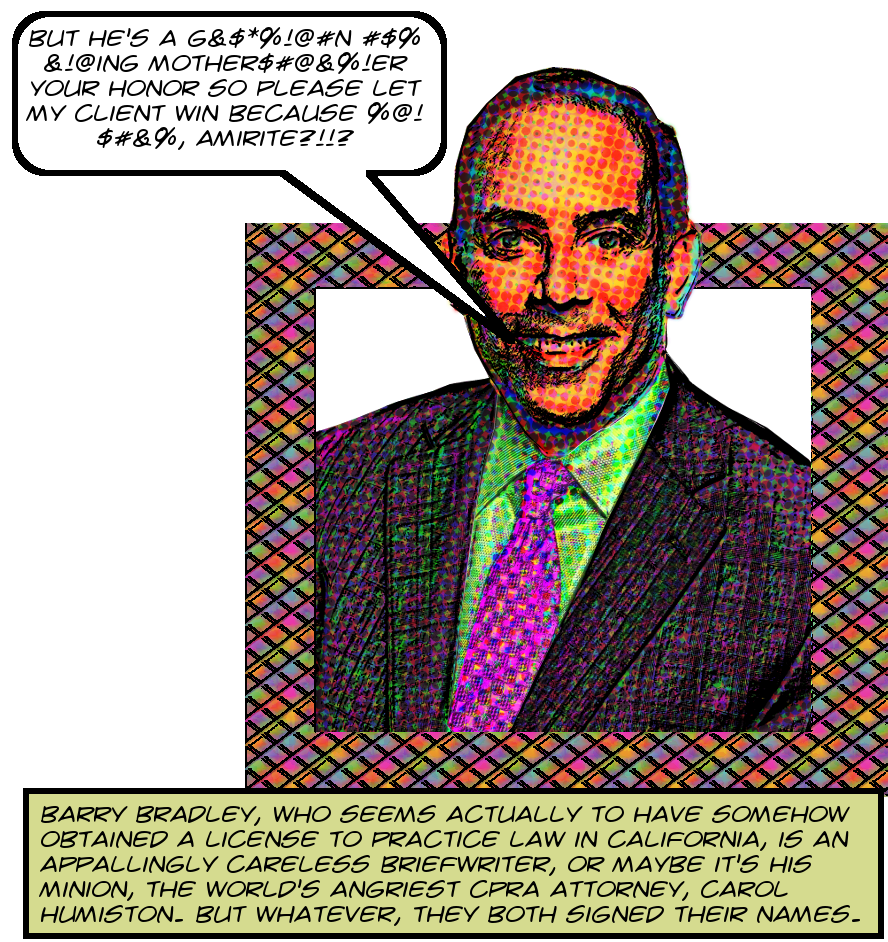 Recall that last August I was forced by the unhinged intransigence of the Fashion District BID to file a petition asking a judge to force them to comply with the California Public Records Act. Things are moving towards the end, and the trial will take place on Wednesday, June 26, 2019 at 9:30 AM at the Stanley Mosk Courthouse in Department 86 before Judge Mitchell Beckloff. It looks to be a barn burner, friends, because these BIDdies are really, really angry.
And the way these trials work is that sixty days before trial my lawyer, the incomparable Abenicio Cisneros, files a so-called opening brief, which lays out the case, only outlined in the initial petition, in full detail with all the evidence, argument, and citations to relevant cases. Then thirty days before the opposition files their reply brief, in full detail with all the obstructionist bullshit for which they're famous. Finally, fifteen days before, we file a reply to the reply and that's that.
All that briefing is done now, and below find links to everything. There's a lot of it, and I'm not going to comment on any of it to avoid jinxes, but I will note that the Fashion District's reply, written by one or both of Bradley & Gmelich galaxy-brains Barry Bradley and Carol Humiston, is an extraordinarily careless piece of work. They consistently misspell the names of cases they're citing and in one especially egregious case they not only get the name of the case completely wrong, but they get the year wrong too.1
This would be inconsequential if the case weren't central to everyone's arguments in this trial and if it weren't a key component of their argument that the case was decided after I made the requests at issue here. In fact the case was decided before the requests. It's really unbelievable that seasoned putative professionals made this kind of error, but it seems that they did. Anyway, I hope to see you at the trial, and I'll be happy to buy you lunch when it's over if you want to hang out!

☆ Everything filed in this case is available here on Archive.Org.
☆ And if you want to get it all quickly this can be done by bittorrent and here's a link to the torrent.
And here are links to the main individual documents filed during the briefing:
☆ Petitioner's opening brief
☆ Respondent's reply brief
☆ Respondent's exhibits to the reply brief
☆ Petitioner's final reply

Image of Barry Bradley Esq-Freaking-Squire is ©2019 MichaelKohlhaas.Org and here's dude's grinning face over on this cop-stanning bootlicker website right here, or at least the archived version of it.

This is City of San Jose v. Superior Court (2017), which they consistently refer to as City of San Diego v. Superior Court (2018).