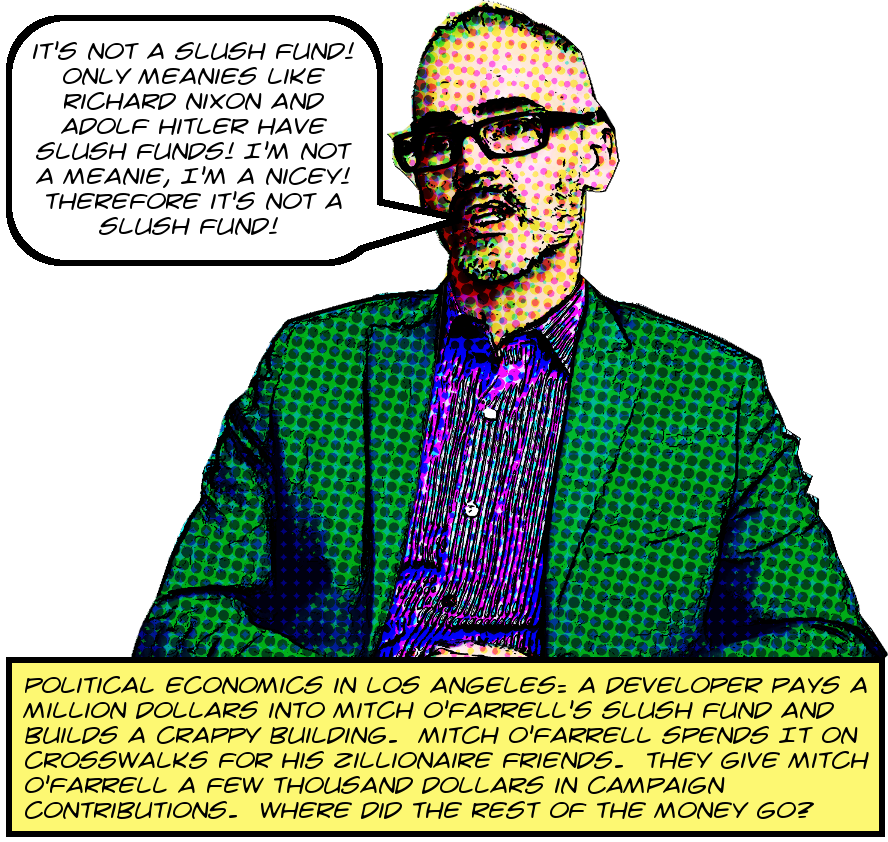 A developer wants to build a building that's taller than the local zoning allows, or has less parking than required. Maybe there are pesky historical structures on the proposed site or the new building will attract enough additional traffic to gridlock the streets around it. There are any number of reasons why a given building might not be allowed. It'll still get built, though.
The developer will just have to pay hundreds of thousands, even millions, of dollars to the appropriate councilmember to get it approved. And these payments are inextricably integrated into our City's building approval process. One might even suspect, and not without reason, that the ultimate purpose of zoning codes in Los Angeles is to induce developers to pay for exceptions to them.
And it's not bribery, at least not the illegal kind. The CM doesn't get to pocket the money. Instead it goes into one of the dozens of City trust funds set up specifically for receiving such monies. Just for instance, Mitch O'Farrell, CD13 repster, has one called the "Council District 13 Public Benefits Trust Fund." It's authorized by the Los Angeles Administrative Code at §5.414 " for the receipt, retention and disbursement of gifts, contributions and bequests for the support of police and community activities within Council District 13."
The fees are imposed on developers by the City Council at the behest of the relevant CM. To see an example of how this works take a look at CF 07-1379, wherein some developers sought permission to build another mixed-use monstrosity in Hollywood, this one at 1540 N. Vine Street.1 The developers got what they came for, which was Ordinance Number 178,836, authorizing construction. And in there, buried among other conditions, will be found paragraphs 26 and 27, stating how much money they're going to give to Mitch O'Farrell in exchange for their zoning changes:


26. Hollywood Mobilty Trust Fund. Prior to the issuance of building permits, the applicant shall deposit $850,000.00 into the (soon to be established) Hollywood Mobilty Trust Fund. The Fund shall be used for community benefits designed to improve the quality of life and foster a variety of mobility options for Hollywood residents.
27. Affordable Housing Fund. Funding in the amount of $1,500,000.00 shall be provided for the development of off-site affordable housing. The applicant shall work with Council District 13 to determine the allocation of such funds to affordable housing developments within 1 mile of the project site that will facilitate a minimum of 31 units of low to very low affordable housing. Such funds shall be provided prior to the issuance of a Certificate of Occupancy for the applicant's project or any portion thereof. Receipt and allocation of such funds shall be acknowledged by the recipient of the funds and Council District 13 in satisfaction of this condition.

And pretty much every major construction project in Hollywood exceeds what's allowed by code, so pretty much every developer is paying this kind of money into Mitch O'Farrell's funds. The first one, the Hollywood Mobility Trust Fund, is a subset of the aforementioned Public Benefits Fund. The second one, the Affordable Housing Fund, is still a mystery to me, so this post isn't about that one.2 And O'Farrell doesn't just accept the money, it's actually required that the City Council pass a motion accepting it. In this case it's found in CF 13-1543.
So to get to this point in tracing the $850,000 it's been necessary to look at two separate council files. And we haven't even gotten to what it was spent on. Well, this fund is administered by the City Clerk.3 And every year, ostensibly for every fund, the Clerk issues a report on what happened with the fund. These reports are PDFs and it's not so easy to extract useful information from them, but they do have all the credits and debits listed.4
Nothing's described in detail, though. It's necessary to look up the actual council files to figure out what the money's being spent on or where it came from. So in order to understand how this aspect of our City government works, I spent a few hours yesterday collating the information for just this one CD13 fund and putting it into a reasonably useful chronological table with links to everything that can be linked to including the council files.5 You can find it below.
Payments from developers into just this particular fund in exchange for exceptions to the building code total $2,790,844.75 from O'Farrell's first day in office on July 1, 2013 through June 30, 2018. This money is nominally to fund projects that compensate the people of Los Angeles for the harm done to them by these exceptions to zoning codes, so the next thing to look at is how O'Farrell spends the money.
Again, this isn't so easy. The Clerk's annual reports list payouts from the fund along with council file numbers where the payments were authorized, but there's no description of the funded projects. It's necessary to go to the council file for details.6 Let's look at some of these in a little detail.
First, consider a 2014 motion to install a traffic signal and crosswalk on Vine Street at Waring.7 This is covered in CF 14-1392. O'Farrell paid out $270,000 to LADOT to fund it, although they didn't need all the money and repaid $184,158.95 back into the fund. The motion states:

The Department of Transportation will also be installing a crosswalk and traffic signal across Vine Street to facilitate the safe passage of students to the nearby Larchmont Charter School. These efforts are of special benefit for the residents of the City and for Council District 13 and deserve financial assistance from the City.

The Larchmont Charter School is a zillionaire-serving institution in Hollywood. One of the founders, Heather Duffy Boylston, is deeply involved in the Larchmont Village Business Improvement District as well. These are the kind of people that get all Mitch O'Farrell's attention and whose desires and felt needs he will gladly spend public money to satisfy.
And look, there's no question that a full signal was needed at that intersection. That's not the problem. The problem is that there are plenty of other signals needed on plenty of other streets that aren't crossed so regularly by zillionaire spawn. The problem is that rather than having, you know, traffic engineers use expert knowledge to decide the most pressing locations for signals based on the idea that the lives of all pedestrians have equal value, we have a process based on the unchecked whim of one man whose main motive seems to be pleasing rich people who can then advance his career.
For contrast, consider Vine Street Elementary School, which is on Vine at Romaine, a couple blocks north of Larchmont Charter School. There's a crosswalk at Romaine with flashing lights controlled by a crossing guard who's there on school days. The students at Vine Street Elementary could also use a full signal. The need couldn't possibly be less than the need at Waring since it's literally the same cars going through both intersections. The need for a signal at Romaine, though, is arguably much more pressing since far, far more of them walk to school.8
In Mitch O'Farrell's (partial) defense, in 2016 he did move to spend $279,900 on a list of projects described in CF 16-1232. One of these projects was a full signal on Vine at Romaine. However, it didn't get built, it's not built now, and at the end of that fiscal year LADOT gave back $227,172.63, which, one hopes, included the price of the uninstalled signal. So yeah, he recognized the need, but without the motive supplied by asky zillionaires, nothing happened. This is no way to run a city, is it?
Next let's look at a project called "Vermont Medians." This is spread out across two files, which are CF 15-1083 and CF 16-1232. The first contains two motions allocating a total of $265,000 for the project. The other funds a list of projects which includes the medians, so it's not possible to determine the actual amount. But it's at least $265,000.
These medians have been a years-long obsession of the East Hollywood BID. Take a look at this (sadly incomplete) collection of EHBID emails about these medians. Also see the BID's minutes since 2012. The earliest mention of the project I've found is in the October 2012 minutes, where they lament the fact that the project may need to be scaled back due to the dissolution of the CRA. After that not a meeting goes by without some discussion of these damn medians, year after year after year.
And here's Mitch O'Farrell, spending hundreds of thousands of dollars to please Jeff Zarrinnam, the head boss man of the EHBID, by funding these medians with money meant to compensate the people of Los Angeles for the harm caused by code-violating buildings. Obviously medians, no matter how pretty, don't actually compensate anyone for anything. But they make Jeff Zarrinnam happy, and that makes Mitch O'Farrell happy.
Again, the problem is that Mitch O'Farrell has sole control over this money, there's no requirement that he seek any kind of public input or even expert input into how it's spent, so it's not a surprise that it gets spent to please rich people. That is, when it gets spent at all. Another interesting thing that Mitch O'Farrell does with this money is hoard it. The last reported balance was more than $2 million.
At the going rate that would seem to be more than twenty full traffic signals.9 It's hard to imagine that there aren't twenty intersections in CD13 that could use traffic signals and just aren't getting them because no zillionaires are asking for them. Is it a stretch to blame O'Farrell for pedestrian deaths at those intersections?
And there are plenty of other dodgy-looking projects that O'Farrell is spending this money on that I don't have time or inclination to track down the details of. For instance there's $88,860 paid out to developer Mott Smith for some kind of study,10 and ongoing payments to a Rotary Club for median maintenance on Highland.
And this is just one fund controlled by Mitch O'Farrell. There are others, also funded by developers. And O'Farrell's ability to use this money to benefit his zillionaire backers is valuable to O'Farrell. So even though it's illegal for developers to give O'Farrell a million dollars to put straight into his pocket, it's legal for them to make a million dollars available to him to spend on something that's worth a lot of money to him. It begins to seem like a distinction without a difference, does it not?
Date
Links are to source report
Council File
Description
Amount
Balance
2013/06/30
$17,654.99
13-1543
Camden Project
$850,000
11-2075-S1
Blvd 6200 Owner LLC
$500,000
10-0703-S1
KR Hollywood LLC
$400,000
13-1602
Park beautification in Echo Park at request of NC

$(5,600)

2014/06/30
$1,769,157.04
14-0392
Mountains R&C Authority
$12,594.75
2014/10/03
13-0906-S1
Civic Enterprises Associates — Strategic parking proposals (?) for Hollywood

$(36,510)

2014/11/24
14-1391
LADOT — Flashing beacons for crosswalk near LeConte Middle School

$(8,400)

2014/11/25
14-1453
LADOT — Restriping Hollywood Blvd for benefit of X-mas parade

$(10,000)

2014/11/26
14-1392
LADOT — Signal and crosswalk on Vine St. at Waring for sake of Larchmont Charter School

$(70,000)

2014/11/26
14-1392
LADOT — Signal and crosswalk on Vine St. at Waring for sake of Larchmont Charter School

$(200,000)

2015/02/18
14-1506
D. Murphy
C-125243 — Hollywood pedestrian safety study

$(23,350)

2015/06/30
14-1392
Reversion from DOT
$184,158.95
2015/06/30
$1,635,687.12
11-2017-S2
Blvd 6200
$500,000
2015/07/14
13-0906-S1
Civic Enterprise Associates
C-124508 — Strategic parking proposals (?) for Hollywood

$(52,350)

2015/09/18
15-1083
LADOT — East Hollywood Vermont Ave. medians project

$(65,000)

2016/01/13
LA Cedars Rotary Club
C-126463 — Medians on Highland Ave. between Fountain and Sunset

$(8,017.96)

2016/06/30
$2,029,830.99
16-0876-S7
Paramount
$50,000
17-0122
Children's Hospital
$13,250
2016/08/05
LA Cedars Rotary Club
C-126463 — Medians on Highland Ave. between Fountain and Sunset

$(28,885)

2016/08/18
LA Cedars Rotary Club
C-126463 — Medians on Highland Ave. between Fountain and Sunset

$(16,697.55)

2016/08/31
LA Cedars Rotary Club
C-126463 — Medians on Highland Ave. between Fountain and Sunset

$(32,256.64)

2016/12/21
16-1232
Public Works — Vermont medians, Romaine and Vine signal, Normandie and Santa Monica left turn arrow, Rodney and Hollywood traffic light

$(45,000)

2016/12/21
16-1232
LADOT — Vermont medians, Romaine and Vine signal, Normandie and Santa Monica left turn arrow, Rodney and Hollywood traffic light

$(234,900)

2016/12/21
16-1232-S1
LADOT — Hollywood/Western streetscape project

$(850,000)

2017/06/28
16-0876-S7
CAO — To establish preferential parking districts around Paramount Studios

$(40,000)

2017/06/30
Reversion from LADOT
$227,172.63
2017/06/30
Reversion from Public Works
$40,111.32
2017/06/30
2,016,385.80
16-0478
Sunset Holdings LLC
$465,000
2017/08/09
17-0848
LADOT — Paseo Plaza (?) Neighborhood Traffic Management plan

$(190,000)

2017/08/31
17-0848
LADOT — Paseo Plaza (?) Neighborhood Traffic Management plan

$(40,100)

2017/10/11
15-1083
LADOT — Vermont medians

$(200,000)

2018/02/08
18-0089
LADOT — Hollywood and Rodney pedestrian crosswalk

$(13,000)

2018/03/06
16-0876-S8
CAO — Preferential parking districts around Paramount Studios

$(10,000)

2018/06/30
$2,110,221.28

Image of Mitch O'Farrell is ©2019 MichaelKohlhaas.Org and is based off/on this Mitch O'Farrell here.