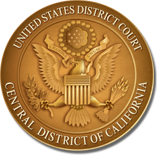 This is just a very short note to announce that mere moments ago a text-only scheduling notice hit PACER which suggests the possibility that ultra-corrupt former ABC agent Will Salao may be changing his plea. You will recall that he was indicted under seal in September and possibly also that he pled not guilty to all charges last month. But as I said, just after 7 p.m. this evening, the following note showed up on PACER:

(IN CHAMBERS) ORDER SETTING CHANGE OF PLEA HEARING RE DEFENDANT WILBUR M. SALAO (2) by Judge John A. Kronstadt: Pursuant to the request of the parties, the Court sets a hearing regarding Defendant's change of plea for November 29, 2018 at 8:30 a.m. THERE IS NO PDF DOCUMENT ASSOCIATED WITH THIS ENTRY. (ake) TEXT ONLY ENTRY

I don't know what it means, but doubtless it means something. Turn the page for courtroom information.

The judge is John Kronstadt. He's in Courtroom 10B of the First Street Courthouse, conveniently located by the Red Line Civic Center station. As I said, the hearing's at 8:30 a.m. on Thursday, November 29, 2018. Maybe I'll see you there?!