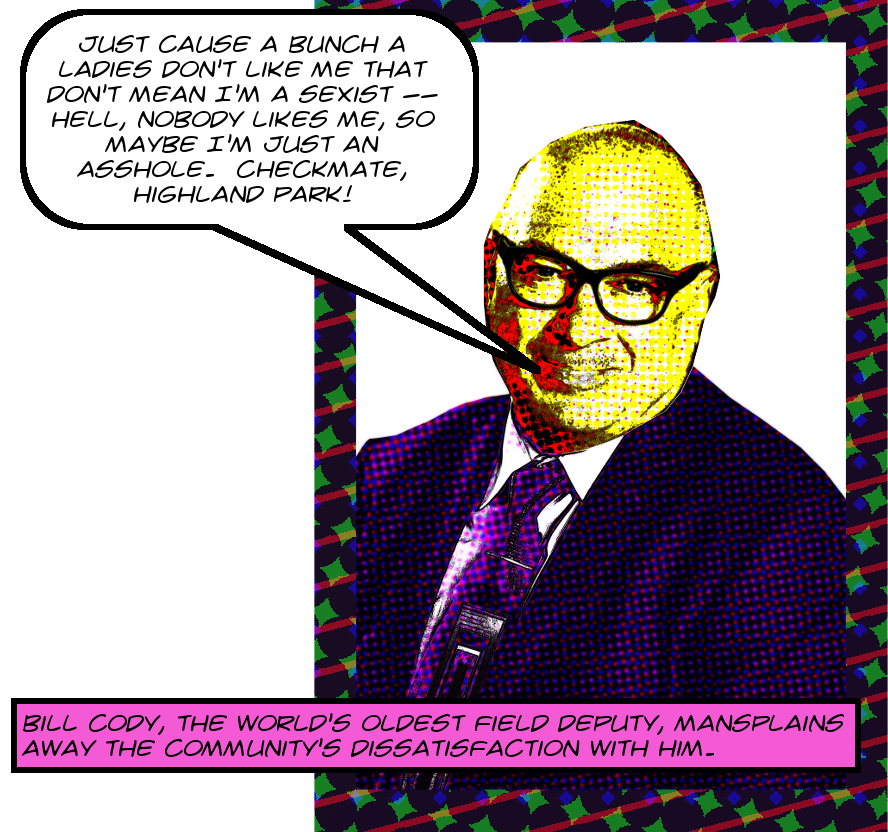 Bill Freaking Cody, where to start? I mean, you've read about how the guy yells at everyone, about how the guy's an inveterate enabler of white supremacy, how he and his BID buddies Facebook-stalk local activists, and so on.
Now read about how the guy allegedly harasses women in Highland Park, the very women he's supposed to be helping his boss, Gil Cedillo, serve as a representative of Los Angeles City Government. In fact, do more than read about it, sign a Change.Org petition asking Gil Cedillo to fire the guy! This petition was started by two of the unsung Heroes of this City, the founders of Restorative Justice for the Arts. And turn the page for some excerpts.


The women of color in the community of Highland Park are being targeted by Council District 1 – Field Deputy, Bill Cody. Mr. Cody works directly for Councilman Gilbert Cedillo and has been on staff since May of 2017. Up to present time, Bill Cody has amassed a minimum of five official complaints for harassment and behavior that is unbecoming and unacceptable from an official who is supposed to serve the community and serve as the liaison between the councilman and his constituents. A Field Deputy cannot be unapproachable, threatening, or instill fear in a community by targeting its members.
Highland Park and surrounding neighborhoods have come together to launch a campaign due to the inaction of Council District 1 regarding these complaints. Field Deputy Bill Cody has been in his current position since May of 2017, and we feel such a short stint in this position further highlights his racial and gender bias.
Our community has been alarmed into action due to the blatant abuse of power on the part of Mr.Cody. We invite you all to join us in raising our collective voice against these types of attacks. Silence is violence. If the women of color within our communities don't feel they are protected enough by Councilman Cedillo to be able to come forward, then we must rise together alongside them. Join us in raising awareness with an end goal of accountability in order to remove Field Deputy Bill Cody from a position where he can continue to do harm. We demand CD1 Field Deputy Bill Cody resigns from his position immediately.


Image of Bill Cody, the world's oldest field deputy, is ©2018 MichaelKohlhaas.Org and is based on/off this Bubbleheaded Toadie here.