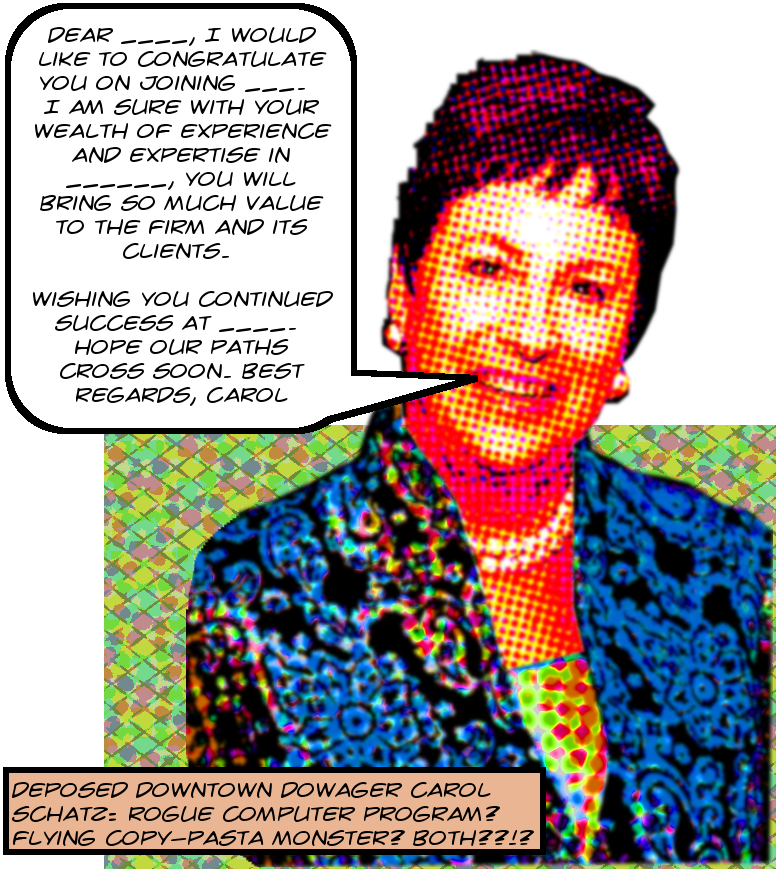 First the substance. I just uploaded about a thousand emails between the Downtown Center BID and either Kindel Gagan or the Downtown News. There are a few other kinds of items in there as well. This material came to me as MSG files and I converted it into an MBOX and also exported the emails individually as PDFs. If you have trouble getting the attachments out of the MBOX file drop me a line and I'll get you started. Now on to the mockery!!
First of all, take a look at this item from February 2017: Nicole Kuklok-Waldman and Kate Hennigan Join Kindel Gagan. A run-of-the-mill announcement that two more urbanist-capitalist-developerist plague-carrying zombies have sold what passes for their souls by becoming partners at Kindel Gagan, a lobbying firm that's so deeply fucked up that I can't even think of nasty names to call it because none of them are even close to nasty enough:

Kindel Gagan is pleased to announce that prominent land use attorney Nicole Kuklok-Waldman and City Hall and public affairs veteran Kate Hennigan have joined the firm. Nicole and Kate bring a combined 20 years of successful land use and public affairs consulting experience, greatly expanding the firm's capacity to serve our clients.

Really makes you want to read on, does it not?! Turn the page for Carol Schatz's deeply professional response to this nonsense, as well as some foofraw about Jessica Lall's takeover of the Central City Association and also some trivial bullshit from putatively journalistic attack puppy Eddie Kim.

And then what happened? Well, at 10:04 a.m. on February 9, 2017, Carol Schatz fired off a kind, welcoming email to Nicole Kuklok-Waldman:

Dear Nicole,
I would like to congratulate you on joining Kindel Gagan. I know with your wealth of experience and expertise in land use, you will bring so much value to the firm and its clients.
Wishing you continued success at Kindel Gagan. Hope our paths cross soon.
Best regards,
Carol

And then, a mere four minutes later, at 10:08 a.m., she fired off another kind, welcoming email to Kate Hennigan:

Dear Kate,
I would like to congratulate you on joining Kindel Gagan. I am sure with your wealth of experience and expertise in public affairs, you will bring so much value to the firm and its clients.
Wishing you continued success at Kindel Gagan. Hope our paths cross soon.
Best regards,
Carol

Well, I don't know about you, but form letters seem so much less meaningful to me than actual human-written letters. I personally would be humiliated to be seen pulling this kind of shit, which is why I would never pull this kind of shit. But Carol Schatz is objectively way smarter than I am, so I have to respect her choices.
Obviously she didn't transform Downtown Los Angeles from the warm, human place it used to be twenty years ago into the seething whiny-baby urbanistic-hipster zillionaire ice-castle trains-on-time hell it is today without being more efficient and less ethical than the average Nazi, so we can be sure that this copy-pasta congratulatory tactic of hers is the end-result of a complex calculation involving the risks of being discovered, the damage done if discovered, the relative value of these two lobbyist flackettes in relation to the time saved by sending them form letters, and so on. We have to assume that Carol Schatz knows exactly what she's doing because, like her or not, and we do not, she surely knows how to get shit done!
Now on to the esteemed Mr. Jon Regardie and his antic shenanigans. Avid students of the Downtown power elite will, of course, recall that erstwhile Southpark BID Bossette Jessica Lall was hand-picked by Downtown's eternal queen Carol Schatz to replace her at the helm of the CCALA, her personal flying monkey stable out there at the famed corner of Wilshire and Hope. Schatz's retirement was announced in January 2016 but her successor wasn't chosen until October of that year. Jon Regardie published this story about it on October 25. But, you must be wondering, how did he find out about it??!?
Well, MK.Org to the rescue, friends! Take a look at the following set of emails:
I mean, OK. Maybe it's not objectively that interesting, but I personally find this kind of stuff fascinating. Look how quickly they answer one another's emails! And here, in case you were wondering, which, if you ever read the guy's work I know you were, it turns out that Jon Regardie actually did learn the fundamental lesson of J-School: What can I do to get it first?!!?!
And let's close with everybody's favorite aspiring writer, Mr. Eddie Kim. Here are a few emails between the Kimster and the queen:
Well, it certainly sucks being Eddie. First she doesn't answer him at all, so he emails again. Then she waits more than three hours to answer him only to tell him she'll call him tomorrow. This is a failed relationship here, friends. Eddie! Take a lesson from your boss Jon! Whatever he's doing to get Carol Schatz to return his emails within minutes, you should do that too! Get on it, friend!!
And that's another episode of the mighty MichaelKohlhaas.Org for today! Or, as our friends in the world of what passes for journalism in Downtown Los Angeles might say, that's Thirty!!

Image of Carol Schatz, or whatever her damn name is, is ©2017 MichaelKohlhaas.Org. It's an artistical reworking of this tasty little item right here.