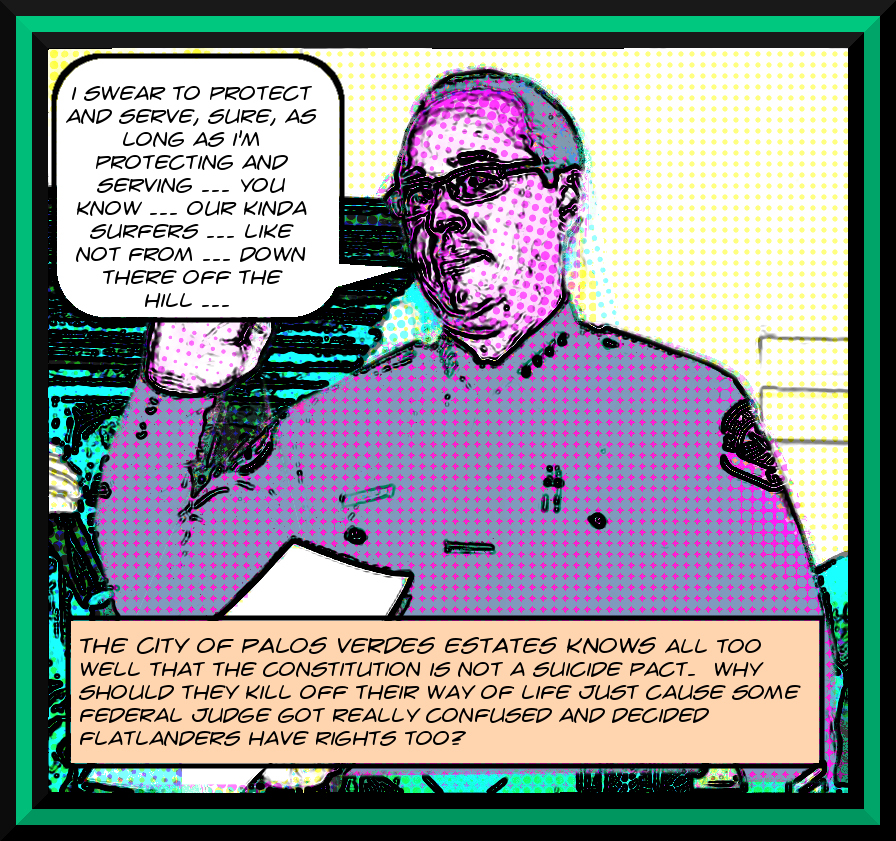 For background take a look at
this excellent article from the Times
on this lawsuit. Also
see here
to download all pleadings in this case.
A few days ago I wrote about a telephonic conference between the Lunada Bay Boys case plaintiffs and the City defendants1 before magistrate judge Rozella Oliver. They were fighting over a report submitted by a private eye hired by the City to figure out who blew a planned sting operation against the Bay Boys' surf thuggery.
At that time Judge Oliver ordered the parties to brief her thoroughly on the matter. Well, it seems that the City decided to just hand over the report rather than fight about it any more. Hence they all filed a joint stipulation asking the judge not to make them write the briefs any more. You'll find a transcription of the stipulation after the break. It's not by any means clear that we'll be able to get our hands on the report itself, although often discovery material turns up in the exhibits to later motions, so maybe we will.
However, all is not peaceful on the PVP!2 Evidently the parties had another telephone call with Judge Oliver yesterday in which they had to admit that they couldn't agree on how to schedule defendant Alan Johnston's deposition. She told them more or less to work it out amongst themselves or everyone would have to have another damn phone call. Here's a link to the minute order summarizing the call, and a transcription of this one is also available after the break.

Joint Stipulation on resolution of discovery dispute:

PLEASE TAKE NOTICE that the discovery dispute (Dkt. Nos. 245, 246) between Plaintiffs Cory Spencer, Diana Milena Reed, and Coastal Protection Rangers ("Plaintiffs") and Defendants City of Palos Verdes Estates and Chief Jeff Kepley ("City Defendants") has been informally resolved by the City Defendants' production of the investigation report that was the subject of the dispute. Therefore, the briefing ordered by the Court (Dkt. No. 246) is no longer necessary, and may be vacated.

The minute order from telephonic conference of June 15, 2017:

The case was called and counsel for the parties entered their appearances. The parties and the Court discussed the pending dispute between Plaintiffs and Defendant Alan Johnston ("Defendant") regarding the scheduling of a deposition of Defendant.
The parties are directed to meet and confer in good faith to attempt to resolve any further discovery disputes. If the parties are unable to reach a resolution about any disputes, they are directed to contact the Court's Courtroom Deputy Clerk to schedule a telephonic conference.
IT IS SO ORDERED.


Image of Jeff Kepley started out in the Daily Breeze and we got it now and done fiddled it until it is ©2017 MichaelKohlhaas.Org. The caption is also due to the Daily Breeze, but we are using it ironically. Got it? Good!