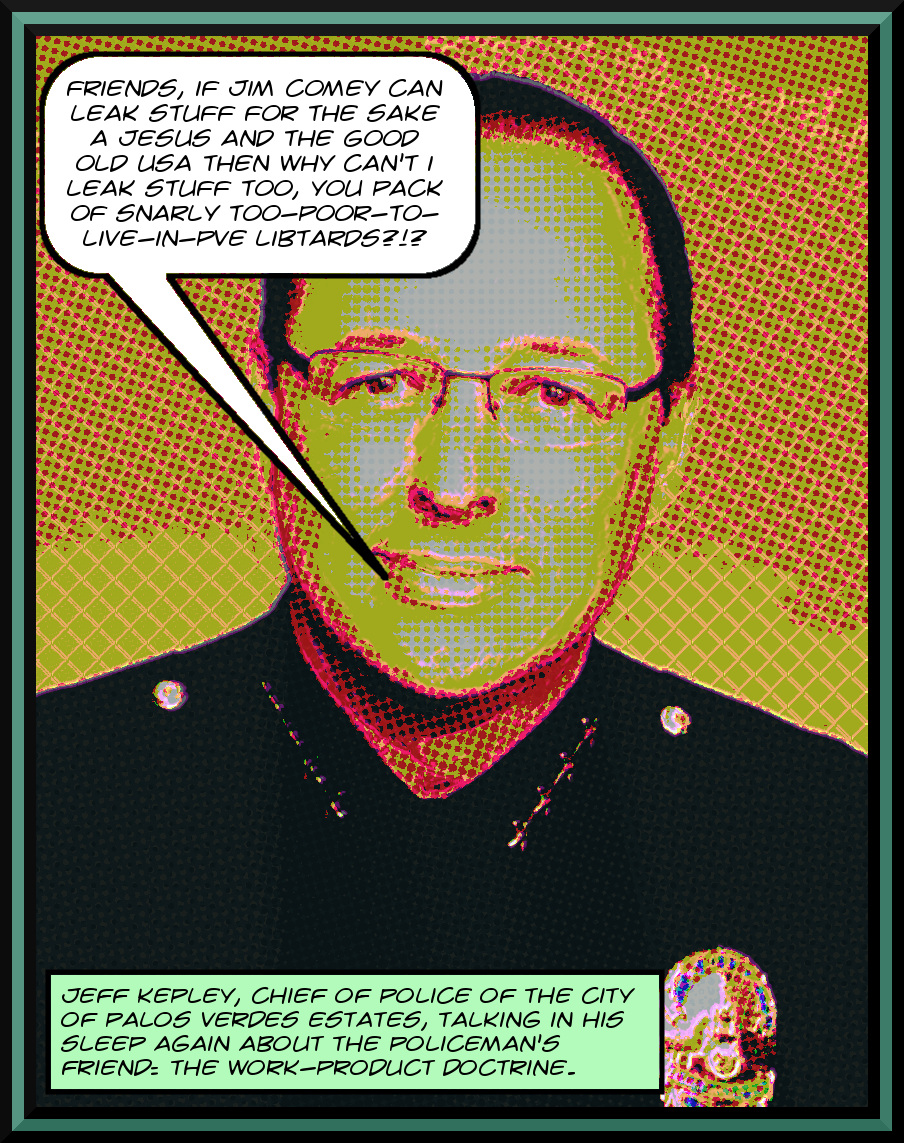 For background take a look at this excellent article from the Times on this lawsuit. Also see here to download all pleadings in this case.
You might recall that in early 2016 the Palos Verdes Estates Police Department organized a sting operation to catch zillionaire surf thugs the Lunada Bay Boys in the midst of their zillionaire surf thuggery but someone tipped off the Bay Boys, no doubt because they're not just all sleeping with each others' spouses up there on The Hill, they also all grew up together like a bunch of hillbillies in a holler and they operate on a need-to-know basis but they have their own ideas of who needs to know what.
In any case, PVE Chief of Police Jeff Kepley hired an outside investigator to find out what had gone wrong, and the plaintiffs in the case want a copy of the report via discovery. The City of PVE and Jeff Kepley are claiming that the report is privileged under the Work Product Doctrine. So they all had a phone conversation with Magistrate Judge Rozella Oliver, and the Judge filed these minutes of the discussion and ordered everyone to submit further briefing by July 6. And if you hate PDFs, turn the page for a transcription of the whole order.


The case was called and counsel for the parties entered their appearances.
The parties and the Court discussed the pending dispute between Plaintiffs and Defendants City of Palos Verdes Estates and Jeff Kepley (collectively, "City Defendants") regarding a report by a third-party investigator retained by the City Attorney on an investigation into the source of a leak of a Palos Verdes Estates Police Department undercover operation ("Report"). Plaintiffs request production of the Report and the City Defendants assert the Report is protected by the attorney-client privilege and the work-product doctrine.
The Court deems it appropriate to order further briefing on this dispute. Plaintiffs and the City Defendants shall file a joint brief addressing the dispute by July 6, 2017. The Court will schedule a telephonic hearing on the matter soon thereafter.


Image of Jeff Kepley started out as a public record here and ended up as you found it, friend. It is now, of course, ©2017 MichaelKohlhaas.Org.